Fetner Properties' 266 West 96th Street recently received unanimous approval by Community Board 7's land use committee. On December 3rd, the proposed development was reviewed and approved by the entire community board. Now it will need to go through city council.

Fetner Properties has released two official renderings of the development: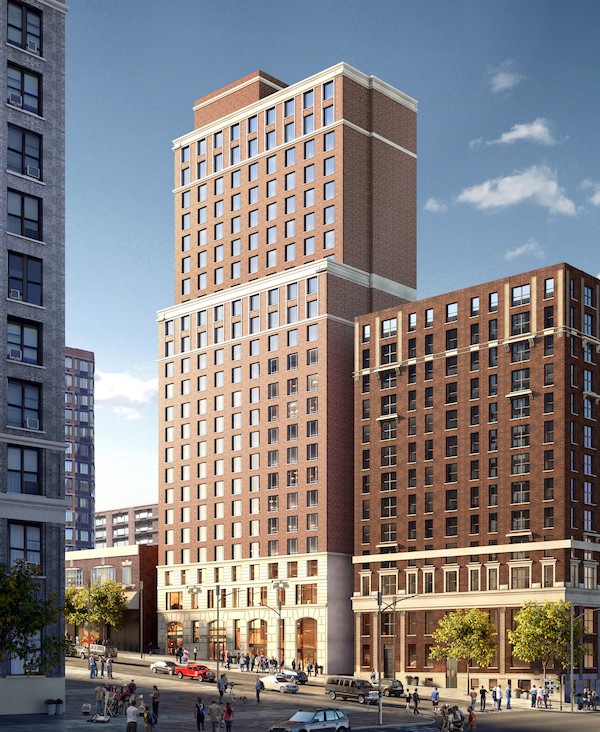 The proposed development will combine the City-owned 266 West 96th Street with two adjacent privately-owned parcels. The end result would be a new building with 171 total apartments. 68 of them (about 40%) will be permanently affordable.
The affordable housing units will be designated for low to middle-income residents (households earning up to 50, 70 and 130 percent of the area median income).
[adrotate banner="58″]
According to a proposal Fetner Properties submitted to the city on May 1st, 80 of the Upper West Side apartments will be "micro-units", while the remaining 91 would be traditionally sized.
There will be approximately 8,000 square feet of community facility space. About 6,500 square feet will be occupied by the Salvation Army. This will be located on the ground floor of the new building, with additional space below grade.
The proposed project is also required to undergo the City's Uniform Land Use Review Procedure (ULURP) because it includes a disposition of city-owned land.
In addition, the development was accepted into the Brownfield Cleanup Program; Fetner Properties is required to remediate the development site under the oversight of the Department of Environmental Conservation.
Earlier Coverage: Old Subway Substation May Become New Development
Get the UWS newsletter for updates: