Every Sunday, the Upper West Side's Grand Bazaar hosts local artisans and donates the profits to local public schools including PS 334, The Anderson School. This Sunday, the donation was higher than usual – thanks to the 7 to 11-year-old members of the Rocket Club Academy, a robotics, coding, and entrepreneurship after-school program on 60th street near Columbus Circle. 

Over the past few months, members of Rocket Club Academy have developed their own businesses. These companies are fully owned by the members of the after-school program and have generated more than $20,000 in the last 2 months alone. Earlier this year, many of these companies were featured on Good Morning America, Forbes, and Entrepreneur.com
On Sunday, November 7, over twenty Rocket Club Academy entrepreneurs attended Grand Bazaar to sell products from their businesses in the hopes they would be able to help raise money for their peers at The Anderson School. They raised $528, which was matched by Rocket Club, totaling $1,056.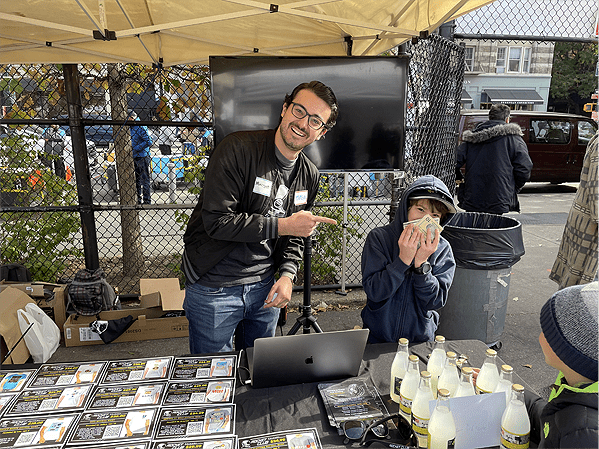 In addition to building their own businesses, members at Rocket Club Academy on 60th Street learn about topics like artificial intelligence, blockchain, climate science, how to build and code robotics, and Python coding.
A notable Rocket Club Academy business at the event was Astronade, a lemonade company founded by four 9-year-olds which won the Rocket Club Business Competition in 2020 (which was judged by Netflix Co-Founder Marc Randolph). Randolph analyzed each team's business plan and interviewed them on the skills they learned in class including financial modeling, branding, and marketing. Randolph was so impressed with Astronade's pitch that he offered to provide an additional $1,000 in startup capital and requested the co-founders to be guests on his Podcast called "That Will Never Work" which will be released later this year.
Rocket Club Academy plans to host future pop-up events for their members at the Grand Bazaar and at their HQ on 60th Street.
Learn More About the Organizations Mentioned Above: