My family thought of West 86th Street – only a few blocks away from our apartment, as if it were a very rich, pretentious relative with whom you found fault, but in some ways also admired. For my mother, "West 86th Street ladies" represented all that she considered "nouveau riche arrogance," wrapped in mink coats, clothes from Saks Fifth Avenue, with gold bracelets hung with large disk-shaped charms embedded with birthstones marking grandchildren's birthdates. This group, I imagined, traveled by ocean liner to Europe with a great deal of luggage, when they were not spending time in Miami or Palm Springs. It's a point of view about the Upper West Side captured in the series The Marvelous Mrs. Maisel and in Herman Wouk's 1955 novel Marjorie Morningstar.

On the other hand, my mother, a Parisian who fled the Nazis with her parents in the early 1940s arriving in NYC as a teenager, did admire the elegance and flair of George Kaplan's 86th Street apartment. Friends with the adult children of the well-known furrier always described with great admiration an engagement party held at that home for which cherry blossoms had been flown from Japan – an incredible luxury.
Advertisement



My grandparents lived on 92nd and Riverside Drive.  My grandfather, who found it hard to say "No," gave in to my begging and bought me a necklace of a type the rest of my family found to be garish in the 86th Street style.
During the many years my father was earning a doctorate in sociology, he was working full-time as a 6th grade teacher at the Bentley School on 86th Street between Central Park West and Columbus Avenue. As the child of a staff member, I was offered free tuition. But, once I was a student there, my parents were appalled as they came to learn of what they thought was an underlying obsession among other parents and children with money. Also, they had no tolerance for casual derogatory attitudes they found in this group, related to anyone considered less privileged or from a different background.
It didn't matter that I had enjoyed going to lavish birthday parties. This was non-negotiable. I was whisked away and enrolled at the Little Red School House where the primary focus was on teaching children respect for others and commitment to fighting injustice. We sang folk songs, studied The South and Civil Rights, Mexico, China and India.
Advertisement



My memories of the Upper West Side begin in 1954, but I know that by the early 20th Century, 86th Street was already evolving as a great boulevard.
The Jewish Center, an Orthodox synagogue with classrooms and recreational facilities, was built at 131 West 86th Street in 1918 to accommodate a growing local community and the surrounding area that came to be known and loved as a Jewish neighborhood. Many shops and restaurants were owned by Jews, and the community included both observant and secular Jewish writers, artists, musicians, professionals and business people.
Actually, however, there was quite a broader mix of backgrounds in and around this mostly prosperous boulevard.
William Randolph Hearst bought an apartment at The Clarendon at 137 Riverside Drive in 1919. Descriptions of his three-story penthouse overlooking Riverside Drive, with two additional floors added later, was filled with treasures and surpasses imagination. Churchill was among notable guests at stupendous dinner parties held there. The property went out of Hearst's hands in the late 1930s. Hearst also owned a grand penthouse on Central Park West.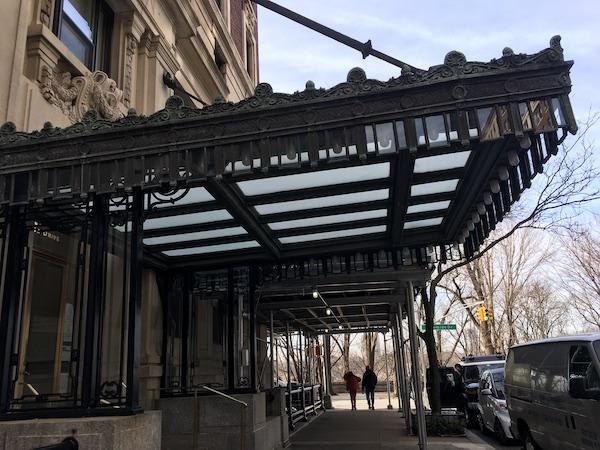 Across the street, at 349 West 86th Street, The Samuel Borchardt House was named for the family who lived there for fifty years until 1950. It was purchased by exiled Russian Prince Serge Bellosselsky who donated it to The House of Russia as a gathering place for anti-communist exiles from imperial Russia. As an adolescent, on a Saturday morning exploration of the neighborhood, my father and I stopped in and had tea served from a samovar in a room hung with larger than life size paintings of members of the Russian Nobility. Today, this building is a
private mansion
.
Aaron Chinitz, real estate developer of the complex of buildings that houses Zabar's and owner of the former Tip Toe Inn, lived with his family at 525 West End Avenue around the corner from the restaurant on 86th Street and Broadway.
Has the character of West 86th Street changed over time? Well, yes and no. The street seemed to keep its equanimity even when 84th Street and other blocks were wracked with crime in the 1960s and 70s. Now, that era is long past. But, some people miss a touch of ordinary, and familiar comfort they formerly found at local pre-Starbucks coffee shops, and others miss the neighborliness they enjoyed doing business at family-owned shops that have closed or are closing.