The Transportation Committee for Community Board 7 met to discuss the safety of crosstown routes through Central Park for pedestrians and cyclists. The meeting began with a moment of silence for Dr. Daniel Cammerman, a beloved pediatrician who was killed while biking along the 96th Street Transverse.

One of the chairs of the committee, Howard Yaruss, introduced the two agencies that were in attendance, the Department of Transportation and the Central Park Conservancy. Both representatives said they were looking forward to hearing community concerns, but could not commit to any changes being implemented.
The first community speaker, Andy Rosenthal, held pictures of Dr. Cammerman. Andy said he has lived on the UWS for almost 30 years. "I'm thankful that you're here tonight, but I'm angry because what I'm hearing is you're here to listen," he said.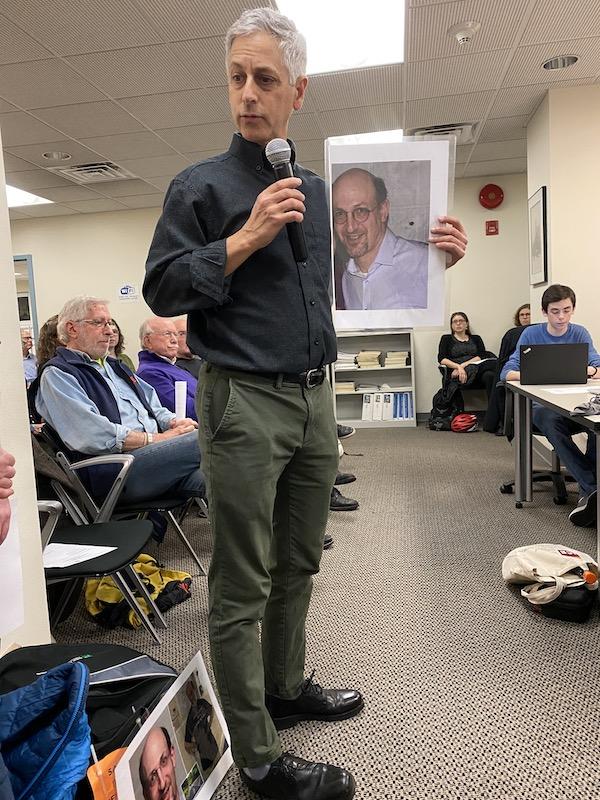 He went on to say that he was at a meeting over 10 years ago in which proposals and suggestions that could have saved Dr. Cammerman's life were made.
"So it's nice that we're all here. But let's not screw up, like we did the last time. Before somebody else or many somebody else's die. We should be able to fix this. There's a lot of things that we could do," Andy said.
Andy kicked off listing the 96th Street Transverse as a disaster. The following speaker said that he had made a few phone calls and had written letters to the Central Park Conservancy about the 96th Street Transverse. He wanted them to know how poor the signage situation was and wanted it to be evaluated. He said that he finally got a letter back saying that they took a look and thought everything was in fair condition. The speaker said that he wished the person who wrote the letter was in attendance so that they could hear all of the testimonies. The representative from The Central Park Conservancy said that many of the signs get vandalized or thrown away.
There were quite a few community speakers asking for a safer way for cyclists to bike through the park.
"I ride across the transverses, not through the park, partially because there really aren't ways through the park that are good for bikes" said one cyclist.
Even one experienced cyclist said that while he does use the 96th Street Transverse, he would not let his wife bike there because it is way too dangerous, especially for those who are not expert cyclists. He asked the committee to work on finding a safer route for people wishing to bike crosstown.
[adrotate banner="87″]
For a little bit of background, the 96th Transverse goes under the park. There are cars that use the transverse to get across town. These transverses were put under the park to avoid disturbing the scenic nature of the park. The architects did not build the park to be used for crosstown commuting. That's not to say that the landscape has been static. There are ways the park has adapted over the years.
Another speaker said he has been living on the UWS for 24 years. He said that there are 60,000 people a day that take busses to get across town. His concern was that if the transverses change over to only going in one direction, then those who ride the bus would face longer commute times. He argued that having bikes there will also increase the time it takes and that what should be considered should be a good path through the park.
"I agree 1,000% that we need to improve the 96th Street transverse. I'd also point out that we don't have horses in the park anymore. We have these beautiful bridle paths, one or two of which could be converted, especially the one around 85th Street, to crosstown."
One speaker came from the Upper East Side. He said that there is a tremendous appetite from his community for safe routes through the park.
"There are a lot of us who are focused on street safety issues over on the East Side and we definitely looked at the West Side community board for leadership. We're looking forward to having you lead on this one and we'll be right there to support your efforts from your counterparts on the other side of the park," he said.
More community members spoke about the woes of having to take the 96th Street Transverse. One member said that it's so confusing to navigate through the park that she had to rely on word of mouth to get the best route, because there was no signage anywhere to be found. She noted that she has to ride past a ghost bike, a memorial for the doctor who died, every day on her way to work.
Overall, the community wanted to know what could be done about this ticking time bomb. One of the board members noted that he will push for action because there was a real and imminent danger.
"We need action immediately while we're thinking about long term solutions. One thing I'm hearing tonight is a lot of finger pointing," he said.

Advertisement
With as many as four different agencies touching the 96th Street Transverse, board members were concerned that no one would take ownership of the issue.
There was also discussion about the safety of pedestrians and making sure they were safe while walking along the "no wheels" paths.
"I welcome the 'no wheeled vehicles' signs on the pedestrian paths. I don't regard them as unwelcoming to cyclists. Cyclists certainly have ways of getting around the park," said one board member.
After the discussion, the board decided it was appropriate to pass a resolution to make sure there is clear signage, stricter enforcement on the transverse, speed signs to show how fast cars are going, and a cross agency task force with representatives from each agency. The resolution would ask the task force to come back as soon as possible with suggestions no later than March. The resolution passed.
Overall, the community and committee recognize a clear need for safer routes to get crosstown, especially for cyclists.