There's a sweet new window display in the Upper West Side window known most for its displays … Apthorp Cleaners (at 383 Amsterdam Avenue, between 78th and 79th Streets)!

Debra Kravet, the store's owner for over 38 years, tells us the new diorama – depicting the Eleanor Roosevelt Statue on 72nd and Riverside Drive (which we coincidentally just published an article about) – will live in the window through July 9.
"I know how much my windows mean to the neighborhood and especially during the pandemic," Kravet said. "I wanted to pay homage to the neighborhood and provide a teaching moment for the parents & children who stop by. This is a moment in time when we should all be embracing good citizenship and Eleanor Roosevelt's advocacy for human rights embodied our better angels perfectly. I wanted to call attention to who she was and what she stood for. I wanted to encourage reflection on and a renewal of that spirit."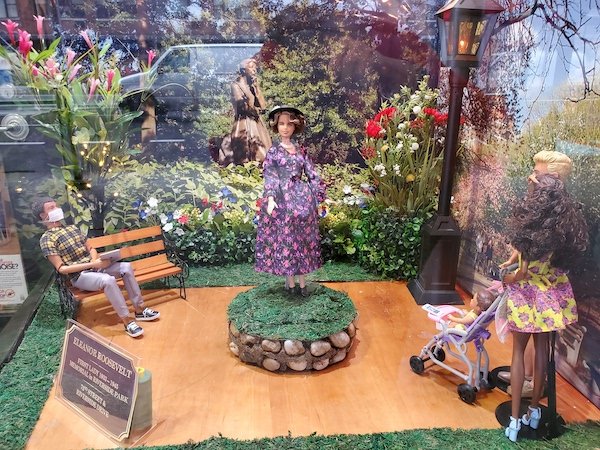 We've covered some of Kravet's previous window work – including a holiday display, a Barbie pool party and a figure of Ruth Bader Ginsburg.