W72 Wellness is now open at 118 West 72nd Street, between Columbus & Amsterdam Avenues. Currently home to two acupuncturists and a massage therapist – with a great physical therapist to join soon as well – the new space offers a completely renovated and tranquil environment spread across 2 floors and 5 treatment rooms. The center is outfitted with a top of the line, hospital-grade HVAC system (MERV-13), and all staff members are vaccinated and tested on a weekly basis.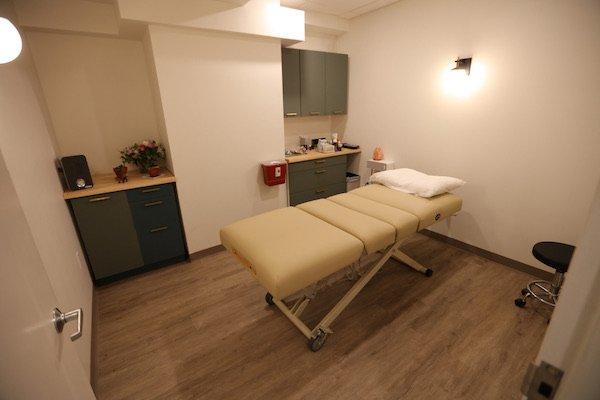 This exciting new concept was developed and launched by Annalisa Brown of AB Acupuncture, who actually opened in a smaller space across the street (133 West 72nd Street) during the peak of the pandemic.
Annalisa grew AB Acupuncture quickly – to the point where she found herself with a very long waiting list early on. So she had to expand, and in the process of locating a larger space, the idea of creating a "wellness community" became a new mission of hers.
A bit more about Annalisa:
Annalisa got into acupuncture after personally benefiting from it for over 20 years, resulting in improved body positivity and no need for western pharmaceuticals. She ultimately decided to learn the practice and pass those benefits on to others.
Today, Annalisa's patients include esteemed medical doctors who actually recommend her services to their patients on a regular basis. And when I say "her patients are happy," what I mean is that not one of her online reviews is less than five stars (that's a perfect score). Here are her Google reviews if you want to fact check that.
Through acupuncture, Annalisa treats conditions including (but not limited to):
Musculoskeletal Pain – Acute and Chronic
Stress/Anxiety
Migraines
Insomnia
Autoimmune syndromes
Also at W72 Wellness: Cosmetic Acupuncturist Jane Bae
Jane, who was previously running Acupuncture by Bae in NoMad, specializes in cosmetic facial acupuncture which intertwines beauty and well-being. Her treatments naturally erase fine lines and wrinkles – the perfect natural alternative to botox. "I want to help my patients shine on the inside and out," she says. "Our face is an intricate, visual manifestation of our internal health. Internal imbalance (physical and/or emotional) will show on our face. In order to improve our skin, we need to improve inside out. Great skin starts from within." Annalisa – who is actually one of Jane's clients – says that "it's not just that your face looks better, it's that you walk away with a real sense of vitality and energy – when you unfurrow the brow, it's like you lift the worries away almost!"
Jane's relaxing and rejuvenating treatments include:
Ultrasonic skin exfoliation (using a device that vibrates at 24,000 RPM)
Cupping / Gua Sha to promote lymphatic drainage and oxygenated blood flow to the face
Acupuncture for the body for internal balance
Acupuncture on the face using certain points to firm muscle tone and help facial appearance
Medical grade Microneedling (using a pen device with needle depth ranging from 0.25mm to 2.5mm)
LED light therapy is included in both cosmetic facial acupuncture and microneedling treatments
To monitor progress, Jane takes photos before and after her treatments, which typically take between 75 and 90 minutes.
"Jane is incredible. Her treatments are the most relaxing, luxurious, thorough," said one of her new patients. "Her technique is gentle and she is so attentive and skilled. I look forward to my treatments with her all week long. I wouldn't trust my face to anyone else!"
Also at W72 Wellness: Massage Therapist Sarah Guffey

Sarah uses a number of treatments – massage, reiki, movement therapy, yoga and more – to help patients dealing with stress as well as new mothers. She calls herself a "nurturer," and is also a post natal doula and mindfulness coach. Her website – www.nest.nyc – covers her extensive work and the story of what led her down the path of healing. "My maternal grandmother and her sister were healers through their hands. Compassionate and gentle women who guided those around them to health. My paternal grandmother birthed her children, all 11, in the hills of KY with only a midwife by her side. She was a strong willed woman, who listened to her body and followed its guidance."
Annalisa is thrilled to be partnering with these practitioners, and looks forward to further expanding W72 Wellness. "The past year has taught me that community is more important than ever," she says. "We are interdependent and need to be able to support each other." 
In the continued spirit of collaboration, W72 Wellness is also:
Featuring soaps made right here on the Upper West Side by Annabelle Santos of Spadet.
Partnering with Zen Medica (137 West 72nd Street) to offer nutrition support and healthy products.
Soon transforming its walls into a gallery space, featuring the artwork of Jason A. Cina, whose work will also be displayed at Corks on Columbus (313 Columbus Ave at 75th Street).
Annalisa has signed a 10 year lease for the space, and is eagerly looking forward to seeing it become a place where Upper West Siders can come to find balance and vitality, to reduce pain and stress, and live the active and engaging lives we have come to enjoy in NYC.
To learn more, visit www.w72wellness.com.