I'm combing through book vendor Charles Mysak's vinyl on Monday and it's a good batch this time. You never know if you're going to find something good and usually at Charles' spot (68th and Columbus), when you find one gem there's bound to be more. That's why it's a good rule of thumb to do a quick flip through, because someone may have just donated something sweet and there you are, bam, score!

I don't even own a record player. I don't collect vinyl either, no. I'd have to reconfigure my living room which I can't fathom at the present moment. No, I buy vinyl for my niece (who turned 2 last July) and nephew (7 months).
They don't have a record player, yet. I'm basically building them a collection for when they get older, if it interests them. Music in my family is kind of a thing so there's hope here.
[adrotate banner="161″]
Anyway, something caught my eye during Monday's flip: Bach Live at Fillmore East, Virgil Fox – Heavy Organ.
My Dad, born and raised in East New York, Brooklyn told me tales of the Fillmore East. T-Rex opening for Humble Pie and Mountain come to mind but I'd not heard of Virgil Fox and this 'heavy organ,' not ever. Charles had an especially good batch of vinyl this time around, nothing I can remember now because I was so fixated on this darn Virgil Fox fellow with this sinister looking album cover.
I whip out my phone and pull up Virgil Fox on Spotify where I hear a recording from Carnegie Hall and I'm instantly sold. My first reaction was that it reminded me of a church organ a little bit. I walked over to Charles, paid him $5, packed the record in my bag and was on my way. I'll be giving this to my niece or nephew.
When I went home I did a quick 'deep dive' on Google to find out more about Virgil Fox. Here's where it gets good, friends, because this is when I find out Virgil Fox is Upper West Side royalty. Fox served as organist at The Riverside Church in Morningside Heights from 1946 to 1965.
Apparently, The Riverside Church's original Hook and Hastings organ, which was installed in 1930, was rebuilt at Fox's insistence with the help of famed organ builder, G. Donald Harrison, Master Builder of the Mormon Tabernacle, amongst others. It's one of the largest organs in North America and the fourteenth largest in the world.
Fox even recorded an album at the church: The Art of Virgil Fox Volume II.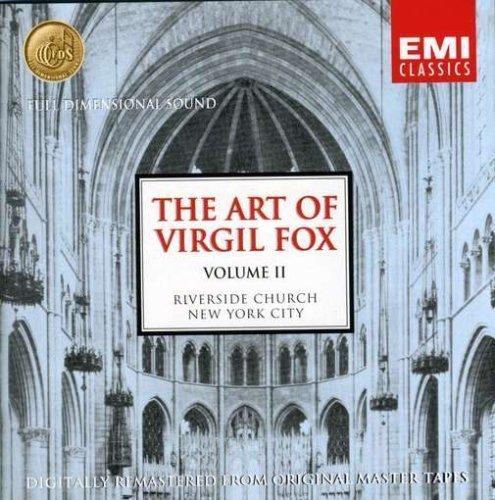 His live shows were apparently a big production too, I was blown away when I turned this on.
Life works in mysterious ways. This gift I picked up for my niece and nephew, a flyer so to speak, as I just took a chance on something random, really paid dividends for me too. Music and an Upper West Side history lesson for added value. This is what it's all about for me.
Thanks Charles!