Today, living on a golf course north of Atlanta, Bruce and Olga Logan long for the Upper West Side. They spent more than 30 years in the neighborhood, living at The Century at 25 Central Park West. As gregarious creators of the West Side TV Shopper (launched in 1976), they came to know dozens of UWS notables and celebrities. Very conscious that New York's Upper West Side drew creatives in every field, they delighted in mining this gold.

There were other TV guides in this pre-wifi, pre-streaming and pre-remote era of big clunky TV sets. But, none carried the West Side TV Shopper's wonderful, well crafted, detailed and informative feature cover stories. The free weekly publication was distributed weekly to the lobbies in the area. "White-gloved doormen handed residents their copies," says Bruce.

Advertisement
The publication was popular. Advertisers were enthusiastic about placing ads. In exchange for free meals, the Logan's also gave ad space to the classy O'Neals
restaurant near Lincoln Center
. "We ate there almost every day," says Bruce, recalling the flow of celebrity diners.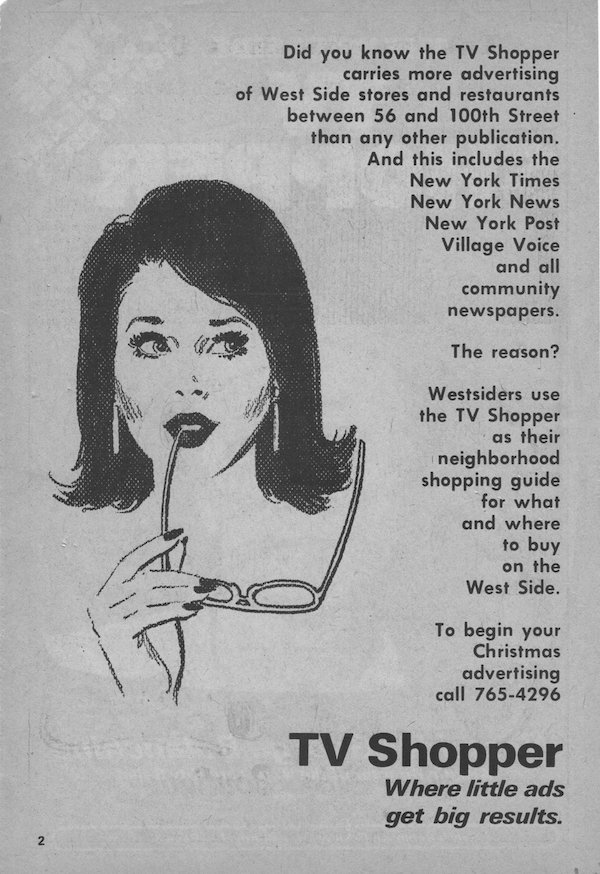 Bruce was the editor and publisher and Olga was an associate publisher. Together, the couple employed 38 people who all worked at an office walking distance from the Logan's apartment. Bruce says he hired many young writers. The pay was not good, but it was a great way to get exposure and amass a portfolio of clips.
Bruce was very supportive of his writers, encouraging them to go right up to celebrities and ask for interviews. One of their young writers, Max Millard, took this advice when he spotted George Balanchine, the extraordinary ballet choreographer, who then lived on West 67th Street. Max saw him at a butcher shop on 73rd and Broadway and asked him for an interview. The sometimes aloof Balanchine responded positively. "Sure," he said, according to Olga. "I read the publication."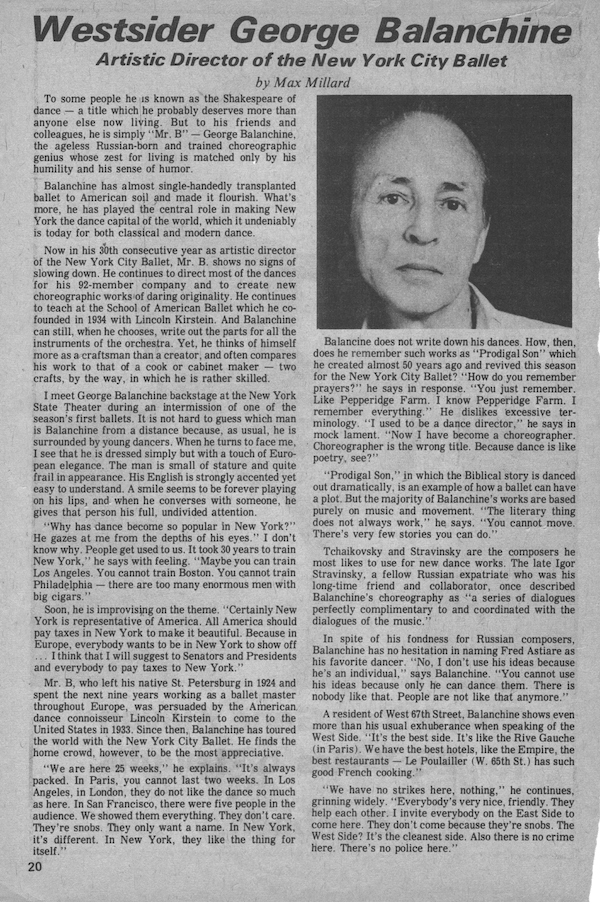 Generous in sharing details of his life and work, Balanchine was also open about his love for the Upper West Side. "It's the best side. It's like the Rive Gauche (in Paris). We have the best hotels, like the Empire, the best French cooking – Le Poulailler (W. 65th Street) has such good French cooking."
Advertisement
Although Millard was occasionally denied requests for interviews, he was astoundingly successful in getting to "yes." Isaac Asimov, the world famous writer of science fiction and other genres, gave a 1977 interview in his apartment at 5 West 65th Street. He explained his technique for writing so many books, having published 188 at that point. As Olga describes Asimov with amusement, "he had multiple typewriters set up in his apartment. He sat on a chair with rollers and rolled from one typewriter to another to work on books relating to different topics."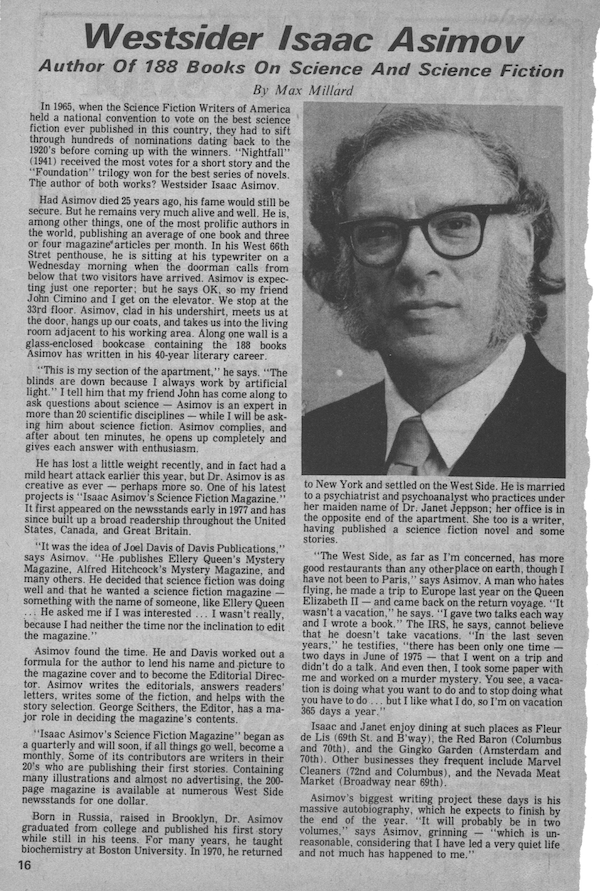 Other notables profiled in the publication included Betty Friedan, Beverly Sills, Roberta Flack and George Stiller, who served as a doorman at The Century for almost 50 years. In 2015, Millard published a book of these profiles called 100 New Yorkers of the 1970's. It is dedicated to Bruce.
A storyteller himself, Logan encouraged his writers not to be shy when asking well known people for interviews. He also connected them with notables he met. Bruce said recently how impressed he was with Asimov when at a literary luncheon both were attending. "Asimov stood up to boast how in the shower each morning, he loved to belt out the full lyrics of the Star Spangled Banner."
Advertisement
Production of the West Side TV Shopper slowed as program listings became available online and programming itself expanded to make listings too numerous. Production stopped in 1992. The cover profiles will always remain as a chronicle of an era's personalities.
The Logan's were movers and shakers when the Upper West Side was just beginning to emerge from a dreary period, in which every daily life was nearly overshadowed by an environment threatened by drugs and lurking crime. Bruce was a proud activist serving on the Chamber and an early organizer of celebratory events like The Columbus Avenue Festival that celebrated diversity. He never tires of speaking about the Upper West Side. "You can imagine how much I miss this vortex of talent, unequaled anywhere in the world."
Like Bruce, always missing the Upper West Side, Olga described a fun, but deeply felt, personal reminder of the neighborhood and going to the Met at Lincoln Center to hear opera. She named the couple's dog, a boxer, Fabio, after Italian Conductor Fabio Luisi.