If you spend most of your days away from home, there is nothing better than coming home and not having to leave to go to the gym, or search for a place to relax and socialize. If you spend most of your days at home, then you want to be comfortable in your environment. Whether you are the former or the latter, you will find what you are looking for at Vandewater, located at 543 West 122nd Street (between Broadway and Amsterdam). The luxury building has allocated 24,000 square feet for indoor and outdoor amenities. Wait until you see what this oasis has to offer. My personal favorite being the Pet Spa!

When you think of luxury amenities in NYC, one of the most luxurious would be a pool. Located in Vandewater's Aquatic Center, there is a 70 foot long, 2-lane, heated swimming pool. Enjoy a swim in this calm environment, sure to wash away any stress. Or check out one of their upcoming aquatic fitness classes!
Beautiful glass walls separate the aquatic center water from the state of the art fitness center designed by The Wright Fit. Worried about missing out on your favorite work out classes? Vandewater will be bringing fun and invigorating classes to the building!
Need some quiet space to work or read your favorite book? The peaceful comfort of The Salon is exactly what you are looking for. Expect The Salon to be the center of fun events like book clubs and exchanges, holiday parties and more.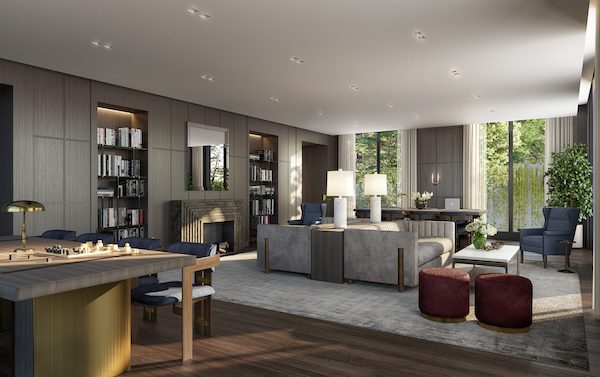 The Club Room is the perfect space to host a gathering. You can be assured your friends will be impressed with this space. There is a large screen TV as well as a bar, the perfect makings for a great night. You won't even want to go out to the movies once you find out about the events Vandewater staff will be planning here!
As any city parent knows, having a place for your kids to play is important. The most luxurious amenity to any parent is having a building with a playroom. The Little Forest Children's Playroom has a dedicated craft center and is beautifully decorated with a custom wall mural by illustrator Rebecca Romeo. This little forest is so fun, your little ones will want to stay and play here for hours!
Does a member of your household play a musical instrument? The Practice Room is fully soundproofed and comes complete with a performance stage for jam sessions. While nothing has been set in stone, we're hearing about some potential music lessons for your little maestros!
If you are impressed by the indoor amenities, just wait until you see the gardens. Created by Michael Van Valkenburgh Associates, this beautifully curated garden is a calming space, perfect to host an outdoor dinner with friends and family. The terrace has a built in gas grilling station and tables so you can eat under the stars.
Not only does Vandewater have beautiful, state of the art facilities, but they have also created a health and wellness program to entertain and provide comfort to you all year round. Vandewater is located  in the heart of Morningside Heights at 543 West 122nd Street (between Broadway and Amsterdam). For more details about living at Vandewater, please contact them here.