Since 2004, Living Well Balanced has been a one stop shop for the holistic health and fitness needs of Upper West Siders. You can find them at 113 West 78th Street, a charming townhouse on a dreamy, tree-lined street between Columbus and Amsterdam Avenues. Many practice members have treated this tranquil space as a second home, and have been coming for over 15 years.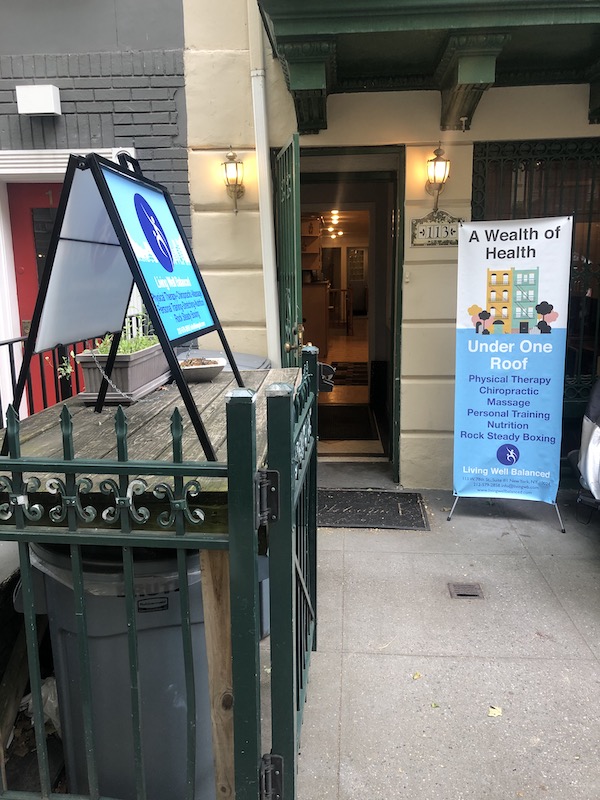 When you visit Living Well Balanced, you don't just get a single symptom treated. Specialists of all kinds will help you reach you reach optimum levels of mental and physical health by identifying and treating the underlying causes of whatever is bothering you. Everything is completely personalized for each patient!
Specialties include physical therapy, chiropractic services, massage, fitness, stretching, nutrition, essential oils and more. They also offer Rock Steady Boxing, the first and only boxing program of its kind which is designed to improve the lives of people with Parkinson's disease.
As an essential business, Living Well Balanced is open. While we know for certain that there's no vaccine or cure for COVID-19, our best bet is strengthening our immune systems. Living Well Balanced offers so many services that, in an integrated and natural approach, provide a salutogenic approach to the support of health and well-being that help foster a strong immune response. With their collaborative approach, they offer tremendous value in giving your body the best chance to prevent and fight disease.
Member reviews speak for themselves, with five-star reviews across the board (find Living Well Balanced on Google and Yelp).
"An amazing place, filled with a wonderful, supportive, and knowledgeable staff ready to help with any problems you may have. I can't recommend it enough, everything you need in one place!"
"I absolutely love Living Well Balanced! I started going to them a little over a year ago, and I cannot say enough good things. I had horrible neck and back pain that I thought had become something normal in my life and something I would just have to live with, but they proved me wrong! I started out working with the chiropractors and massage therapist, Leela (she's amazing!), and I watched my body start to heal. In the last few months I added in their physical therapy and personal training programs, and I can now say I virtually have no pain! Seriously, every staff member is awesome- from front desk to chiropractors, massage therapists, physical therapist, personal trainers and yoga instructor. Dr. Prakash has built an amazing practice and it is truly a blessing. This is your one stop shop to health, and I highly recommend going to Living Well Balanced!"
Living Well Balanced is currently offering two specials:
For essential workers: a $25 wellness exam until July 31st ($300 value)
For all: 25% off chiropractic appointments until June 30th
Please also feel free to contact them for a free consultation!
Living Well Balanced
113 West 78th Street (between Columbus and Amsterdam)
(212) 579-2858
info@livingwb.com
LivingWB.com
Follow on Facebook
Follow on Instagram
Follow on Twitter
Health insurance accepted!