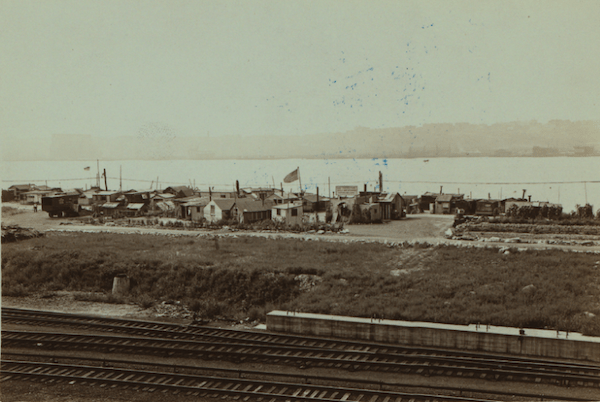 The crash of the stock market in 1929 and ensuing depression wreaked unprecedented widespread devastation for the lives of millions across the country. In the winter of 1932-1933, the New York Times reported 1.2 million people were homeless in the United States, 2,000 of whom were New Yorkers.
Advertisement



Those who were forced into homelessness were hard-working individuals who simply could not afford a roof over their heads. As a result, Hoovervilles cropped up all over the country with several in New York City, two of which were on the Upper West Side – one in Central Park and another along the river.
Camp Thomas Paine was a Hooverville established in 1932 in the West 70s. It was a shanty town; a hard-luck commune. A mini-village built by the hands of its residents, its walls created from and held together by whatever materials could be located or acquired. But most of all, Camp Thomas Paine was a proud community of 100 men who had nowhere else to go because of the worst financial crisis America had ever seen.
The Camp was initially formed in 1932 by seventy-five World War I veterans in Washington D.C. After its expulsion from the nation's capitol by the likes of President Herbert Hoover and his military might that included General Douglas MacArthur, Major Dwight D. Eisenhower, and Major George S. Patton, the group settled on Manhattan's Upper West Side from 72nd to 79th Streets along the Hudson River. Despite being derogatorily labeled as a "tin city," the group earned the respect of the neighborhood with many Upper West Siders contributing what they could to sustain its long-term viability.
Advertisement



Thomas Paine was a men's only camp that consisted of 125 residents – 87 of whom were WWI veterans – and 52 shacks, each numbered and given a tongue-in-cheek name like the "Grand Hotel" or "House that Jack Built." The shacks were constructed by the camp's residents utilizing local materials including partitions from the defunct Bank of the United States and various sets from Broadway shows including the Ziegfeld Follies, A Night in Paris, and Three's a Crowd.
Aside from the housing units – which were decorated externally with flowers and other plants to create a pleasant aesthetic – roads were created and named to separate the various structures comprised of a "large garden, a mess hall with a communal kitchen and cook stove, and a rec hall with a stone fireplace."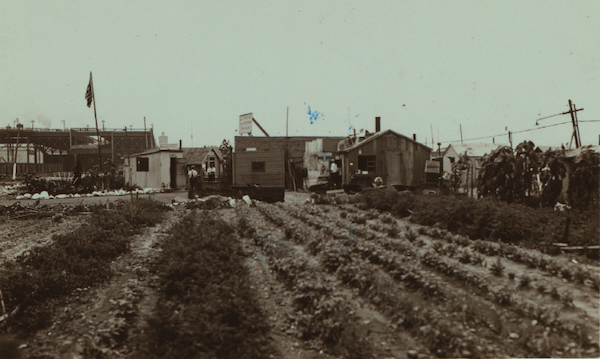 Led by Commander John B. Clark, the miniature town was run in a militaristic fashion with a guard duty rotation and a zero-tolerance policy for alcohol, women, and children. Each member contributed to the community through either manual labor for the camp's upkeep or with money earned from odd jobs. Anyone who obtained steady employment had to donate a third of his first week's paycheck to the camp before moving out at the end of that week to make way for others in need. Monies earned by the residents were placed into a savings account for food essentials.
Other food items were provided to the men through donations from the community. Horn & Hardart, an 1888 Philadelphia-based company whose coffee brand still exists today, provided various baked goods daily. Neighbor Charles Schwab donated produce from his Pennsylvania farm, and community leader Lewis S. Davidson ensured the men had meat, seafood, and vegetables. In November 1933, the Times reported that the men received so many donations from their Upper West Side neighbors that they had over 100 pounds of turkey for Thanksgiving for less than one hundred men.
Advertisement



Despite its self sufficiency and community donations, the camp still wanted for basic necessities. The city donated a faucet for running water and street lamps but there were no showers. Essential and weather-appropriate clothing was not readily available. The summer months were particularly grueling due to the large number of residents in tight quarters without proper ventilation or cooling instruments.
Robert Moses slated the camp for obliteration in April 1934, much to the outrage of the neighborhood. "On April 30, the Board of Aldermen passed a resolution censoring Moses for ordering the eviction." Community leader Davidson sought to delay the camp's destruction through a publication in the New York Times to Moses in hopes that "a few more weeks" would allow for the men to arrange for "proper provision" for their future. Moses ignored the pleas and backlash and determined "West Side Improvement" was more important than the "encroachment along the river."
The men of Camp Thomas Paine were evicted and the camp was leveled and demolished in May 1934. According to The Hatching Cat, only eight of the 100 former Paine residents moved to a farming colony later named Camp LaGuardia in Greycourt, New York. "Most of the veterans told the press that they did not apply for the colony, because they had once been white-collar professionals and were not cut out to be farmers." Camp LaGuardia would serve as a men's shelter for more than seventy years before it, too, was shut down in 2007 at the hand of another famous New Yorker, Michael Bloomberg. The former camp site remains abandoned to this day.