Looking for a new do, new you? Give The House of Beauty a try at 2197 Broadway (at the southwest corner of West 78th Street).
Founder, owner, and stylist Marjana Cekaj brought her one-stop-shop for all things beauty to the neighborhood in April 2021 and has since grown a loyal customer base (and a 4.9 star score on Google).
"I just started going to Julie about 6 months ago and love her! I moved back to NYC 3 years ago and had yet to find a hair stylist I really liked. I use her for hair cuts and blow drys. She always does a fantastic job and the blow drys have lasted me up to 2 weeks! I recently had a baby so being able to treat myself to a blow dry and also have it be so low maintenance and still look great 2 weeks later is amazing! I've definitely found my go to salon in NYC." – Google Review by Erica Anderson
Customers can expect to find just about anything they need at The House of Beauty. There is a shampoo or conditioner for every hair type and condition. The same goes for creams, gels, oils and serums as well as sprays and mists.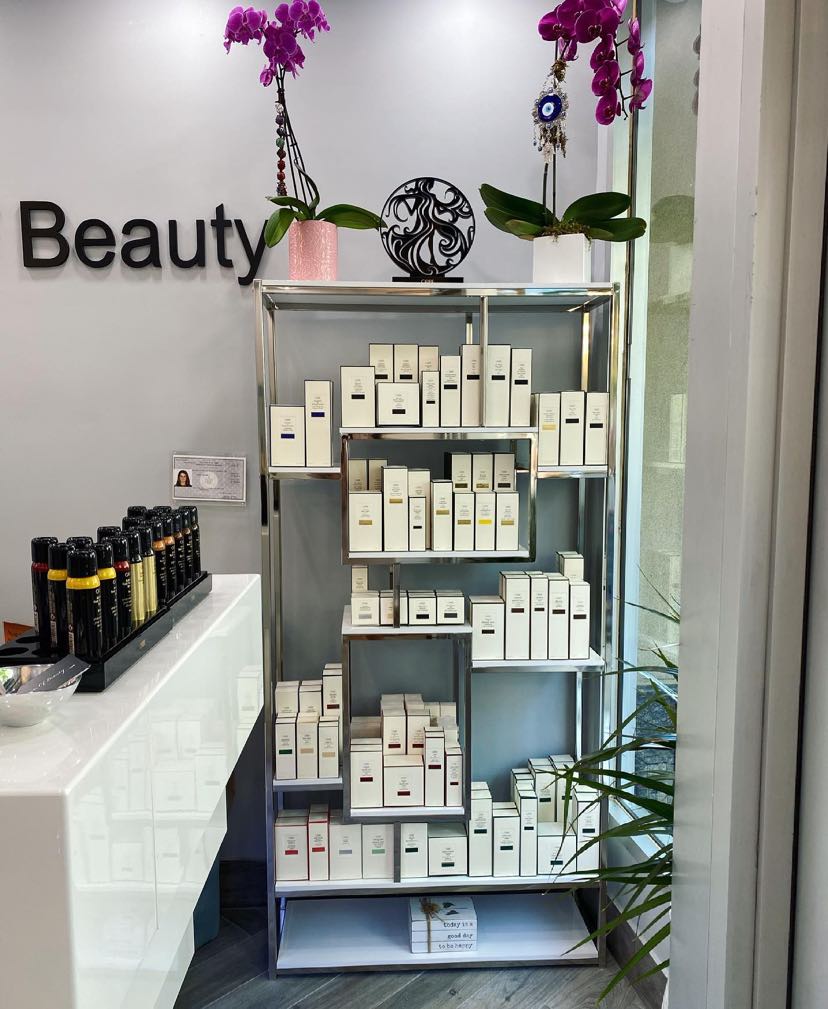 Looking for a treatment, masque, or a wax? The salon offers all three and has a variety to choose from – eight treatments, five different masques, and seven waxes. Treatments range from $48 to $76, masques from $49 to $66, and waxes from $39 to $42 .
Ready to dust some dead ends, lighten your locks, or correct some color? Trust a team of pros with years of experience. Hair services for men, women, and children are available. Shampoo or blow-dry cuts, highlights, balayage, keratin … the list goes on with prices starting as low as $30. Take a peek at some of their work here.
The House of Beauty does more than just make its clients look good. It's a beautiful and expansive space – highlighted by light gray chevron wood flooring and plush leather seating throughout – with a killer cup of free cappuccino that one customer says is "the best I've had since Italy."
"This salon is amazing. It's hard to find a salon that gets the job done exactly how you want it but this is the place for just that. I continue to come back regularly. The workers are very friendly and comfortable. I definitely recommend everyone try out the House of Beauty. You won't regret it!!" – Katrina Vukaj


"I've been going to Marjana for many years now, and was so thrilled and happy when she opened up her own salon! Her work is fabulous! From everything to hair washing, color, glaze/gloss, haircuts, to blow dries and styling. I always leave feeling gorgeous and completely pampered after seeing her. The rest of her staff is also amazing as well! You will always feel like you are their top clientele. Everyone there is so warm and lovely, greeting you and servicing you with utmost care! Please go see Marjana or any of her lovely staff you will not regret it!!" – Cache Goodman
The House of Beauty is now offering a 15% discount on color services (which also come with free treatments).
A new you is just a click or call away.

Learn more at thehouseofbeautynyc.com and contact the salon at (212) 401-0051 or
thehouseofbeautynyc@gmail.com.