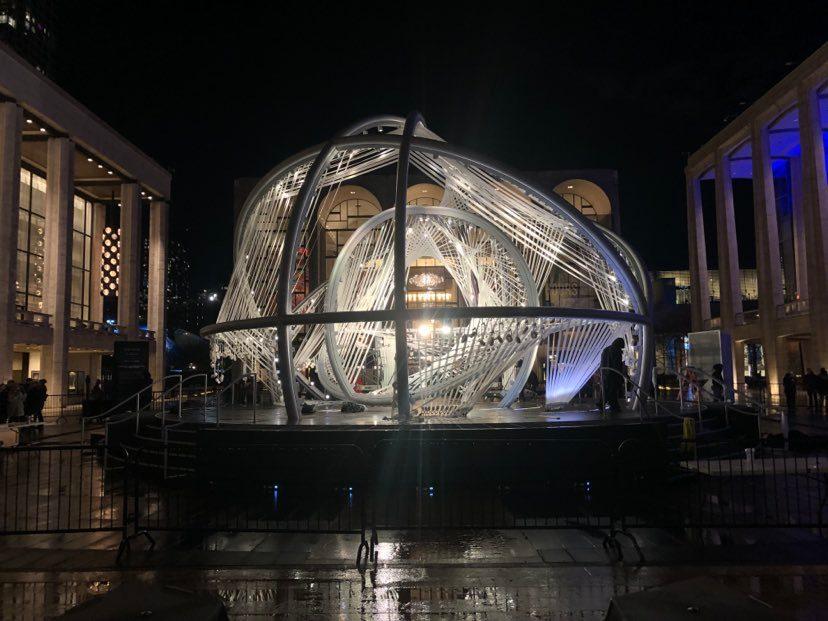 Lincoln Center has been working on another fresh installation for Josie Robertson Plaza. From "The Green" during the summer of 2021, which gave people a fun new way to share space outside amidst the pandemic, to "The Oasis" circa summer 2022, which brought people together to dance the night away, now on the horizon for the holiday season is an experience titled "Your Voices" by British contemporary artist Es Devlin.

Advertisement



At first glance, the setup looks like something you might find at space camp called an Aerotrim—that device you strap into and get spun around every which way on. What Es Devlin is working on here at Lincoln Center is much larger and has more bells and whistles.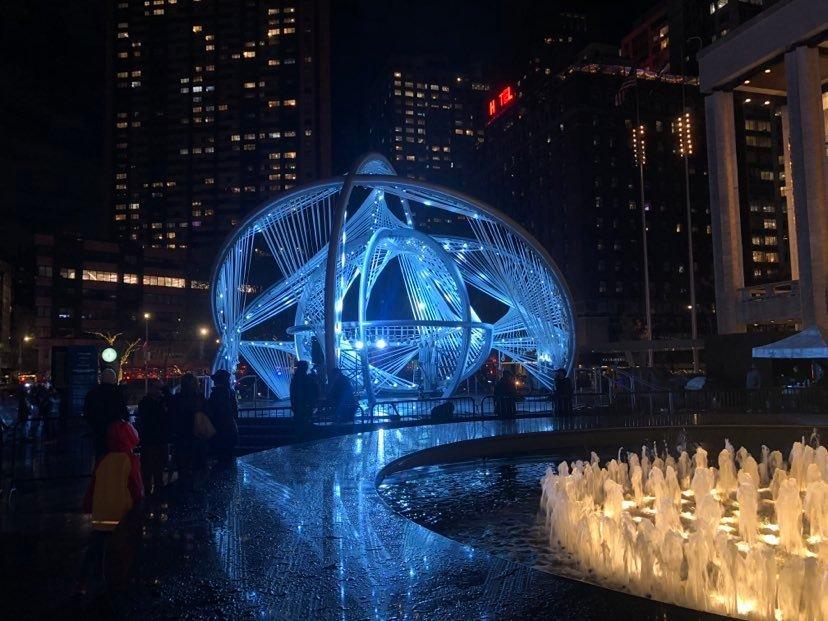 "The illuminated revolving sculpture celebrates the strength and resilience of New York while honoring its linguistic and cultural diversity," details the Lincoln Center website. "The sculpture is formed of 700 glowing cords, expressing 700 of the languages currently spoken in New York City, tensioned between a series of structural arcs, enveloping visitors within a revolving illuminated network as it rotates north, south, east and west through a multilingual choral soundscape which interweaves languages drawn from all over the city, from Algerian Arabic, Alsatian, Azeri and Ashanti to Zapotec, Zarma and Zulu."
Advertisement



The installation will be open for the public to view from December 6-18. At 6 p.m. on December 6, 9, 10, 11, 16, 17 and 18, Lincoln Center for the Performing Arts has curated a series of choral groups from New York to perform live from inside Es Devlin's sculpture. All events are free; admission will be on a first-come, first-served basis.
It's highly likely you've seen the work of Es Devlin before. In 2022, she designed the set that was used by Dr. Dre, Eminem, Snoop Dogg, Kendrick Lamar and Mary J. Blige for the Super Bowl LVI halftime show at SoFi Stadium in Los Angeles. The production won three Emmy Awards including Best Production Design for a Variety Special. Es Devlin also worked with Adele on her Observatory performance last year, which took home five Emmys. To top it off, the London-based artist, acclaimed for her work with kinetic sculptures, scored her first Tony Award in June 2022 for devising a rotating glass structure that served as a midcentury office in the play "The Lehman Trilogy," directed by Sam-Mendes.
Check out this 2019 TED Talk Es Devlin gave titled "Mind-blowing stage sculptures that fuse music and technology."
To learn more and for updates about the upcoming display, visit lincolncenter.org/series/lincoln-center-presents/your-voices-49.