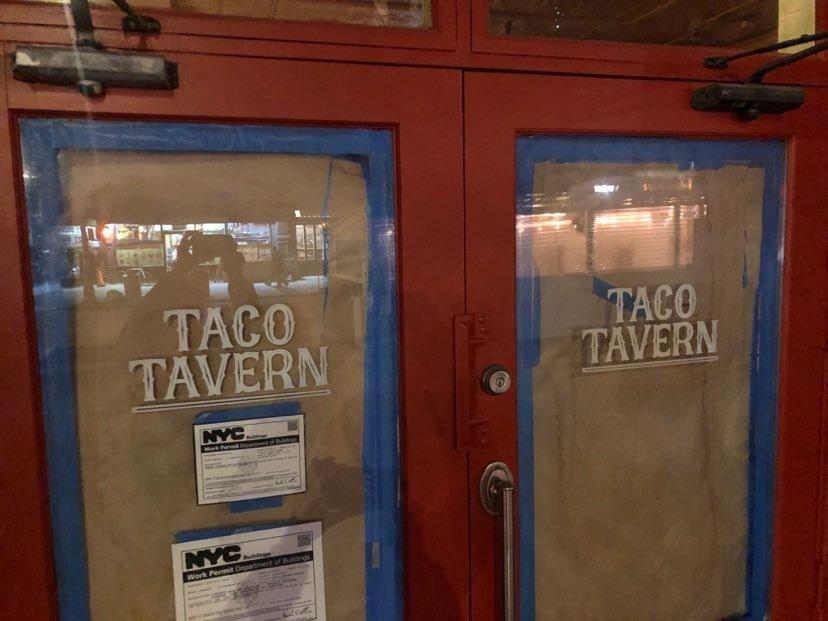 Less than two years ago, Mexican restaurant Barnacho replaced JG Melon at 480 Amsterdam Avenue on the corner of 83rd Street. Barnacho's Upper West Side presence is no more, but the same owner and chef are preparing to open Taco Tavern at the Amsterdam Ave storefront. Thanks to Melissa Adams for the tip.

Advertisement



ILTUWS reached out to Barnacho's Second Avenue location and an employee told us Taco Tavern's menu will be 90% identical to Barnacho's. "Same chef, same consistency," they said.
Some new items to make a Taco Tavern debut will include chicken wings, which will come in six piece ($12), ten piece ($18), and twenty-five piece ($36) servings — along with a choice of BBQ, milk, siracha honey, hot or lemon pepper sauce. The Queso Fundito with Chorizo also sounds pretty sweet. That's Mexican Monterey jack & cheddar cheese fondue with chorizo, served with serrano salsa and corn chips for $15.
There are new Taco Tavern 'specialties' as well. Take the Casa Burger for $19 which boasts an 8oz patty, guacamole, pepper jack cheese, lettuce, tomato & jalapeños. And the Southwestern Wrap for $19, which comes with grilled chicken, sliced avocado, pico de gallo, pepper jack cheese, lettuce and crispy tortilla. And a Prime Rib Sandwich (no price listed).
Taco Tavern will still be serving Barnacho favorites like its chicken sandwich for $18. Their taco menu also features a similar lineup of options including: carne asada, al pastor, Baja fish, shrimp, blackened tuna, fried avocado and soy chorizo; served on a corn, flour or lettuce tortilla. Tacos range from $5.25 to $6.50 each.
And there will still be a nice selection of margaritas, beer and more.
Like Barnacho, Taco Tavern will offer brunch, but a final menu hasn't been decided on yet.
Barnacho still has two East Side locations: one at 937 Second Ave (at 50th Street), one at 239 Park Ave South (at 19th Street).
We'll provide an update once we know more. In the meantime, feel free to visit tacotavernnyc.com or follow @tacotavern on Instagram.