The Purim saga lends itself to a dramatic retelling of the story, as anyone who has participated in a Purim Spiel can attest. But for the first time, there will be a Purim Play on the move … in Central Park!

Inspired by Shakespeare on the Run, Sarah Alevsky of Chabad Family Programs of the West Side is producing a Shushan on the Run Purim play, which will take place on Thursday, March 17 at 4:45pm.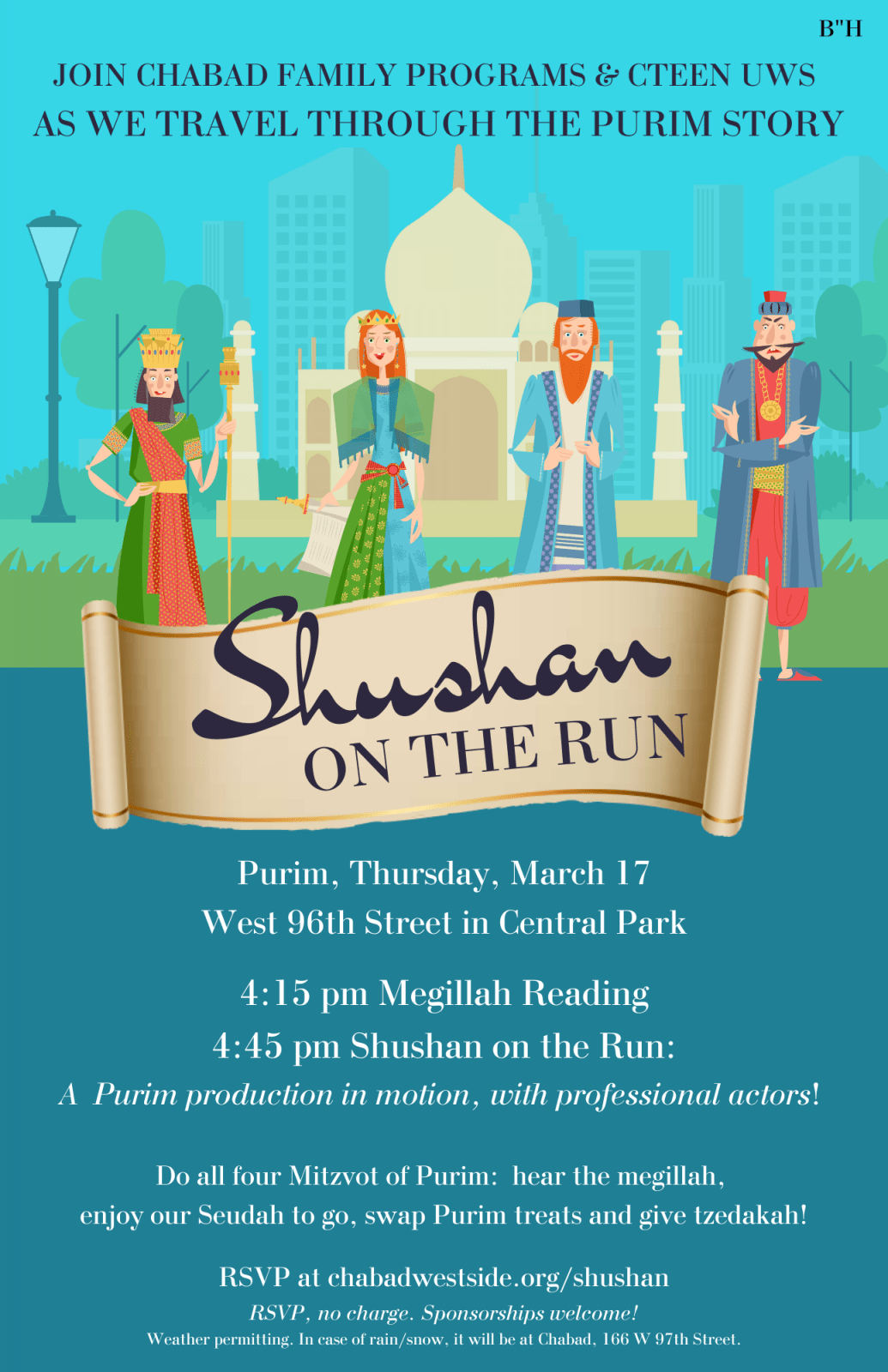 Starting  at the West 96th Street entrance in Central Park, the actors will take participants on a journey through time, to ancient Persia. A dastardly Haman, a clueless King Achashverosh, a brave Queen Esther and a wise Mordechai round out the cast of characters.
"Our actors are all young and Jewish, familiar with the storyline and bring their own unique twist to this traditional retelling of the Megillat Esther story," says Sarah. "UWS local Amelia Sylvor Greenberg, Bina Bodkin, Michael Mestechkin and Jarred Apper are our talented team of actors and we can't wait to see them in action!"
CTEEN UWS volunteers will be on hand to help make sure the performance is moving smoothly.
Right before the "moving performance," Chabad will be hosting a Megillah reading at 4:15pm at the same location. Children will be given Mishloach Manot (Purim baskets) to exchange with a friend. The other Mitzvot of Purim, to give charity and have a festive meal, will be observed as well.
For more information and to RSVP, please visit chabadwestside.org/shushan. It is free of charge, but reservations are requested.
If you have any questions, please email sarah@chabadwestside.org.
Chabad Family Programs is a division of Chabad of the West Side.