A new ramen popup will be launching on the UWS on Friday, January 22.

Good Ramen To Eat will be located in the tent outside of 522 Columbus Avenue, at 85th Street (next to Good Enough To Eat).
Currently, two other restaurants – King Wang's and The Great Burrito – are also offering take-out and delivery from this address. We have been told that eventually, a full-time Japanese restaurant will be taking over the space. At this point, Good Ramen To Eat will close, but King Wang's and The Great Burrito are expected to continue offering delivery and take-out services. 

Advertisement
Good Ramen To Eat will be a "Tachigui" style restaurant, which means customers will eat standing up. High-top tables will be separated so that patrons can socially distance under the heated tent.
The menu will include four types of ramens and several snacks (Gyoza, Char Siu Bao and Takoyaki, for $8 each).
Ramen options include Miso Ramen ($18) with house miso blend, pork chashu, bean sprouts, Chinese chives, butter corn, garlic puree and six-minute egg:
Shoyu Ramen ($18) with shoyu tare, beef sukiyaki, blanched mizuna, six minute egg, and nori:
Advertisement
Mazemen ($16) tossed in ginger oil, pork chashu, diced white scallions, shiso chiffonade, six-minute egg and nori;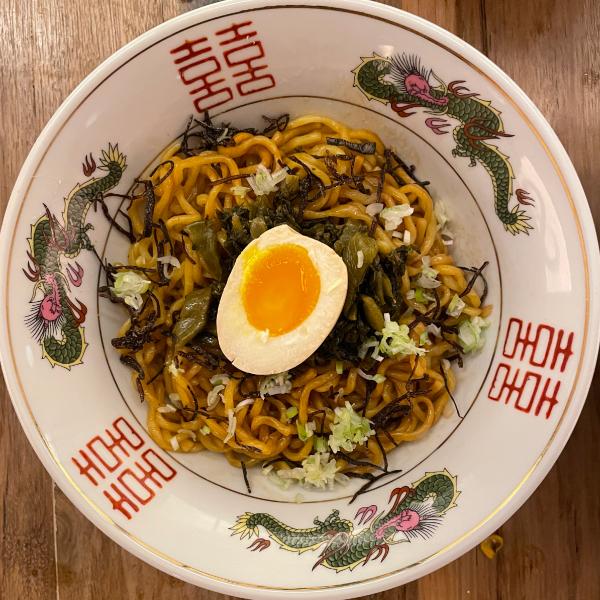 And a "Midnight Diner" (aka Hangover) Ramen ($16) which is Instant Shin Ramen with Spam and Kimchi, six-minute egg and furikake.
Good Ramen To Eat will be open seven days a week beginning Friday, January 22 through Sunday, January 31 from 5pm to 9pm. Beginning February 1, it will be open daily from 12pm to 9pm. In addition to standing outdoor dining, the restaurant will be offering takeout and delivery. Learn more at goodramentoeat.com.