November 22 marked the 59th anniversary of the assassination of President John F. Kennedy. News coverage at that time was obviously very different than it is now. However, for people who were alive then, when asked where they were located upon receiving the news, most of them remember the day as if it had just happened.

I was in my early years of elementary school but had stayed home that day to have a medical test. Upon returning home from the procedure, I was with my mother watching the then live televised soap opera, As The World Turns.
Advertisement



Suddenly, Walter Cronkite's announcement that Kennedy had been shot interrupted the program.
Sadly, many assassinations have occurred since that time.
One of them occurred five years later when the victim was the president's brother, Senator Robert F. Kennedy.
RFK's murder was followed by many more, including one that occurred on December 8, 1980 at 10:50 p.m., when former Beatle John Lennon was shot.
As was the case with JFK, those who were around during the time of Lennon's death remember it with distinct clarity.
Paul McCartney compared the senselessness of Lennon's assassination to the senselessness of President Kennedy's.
Evidently, a number of people heard about Lennon's death while watching Monday Night Football when Howard Cosell broke the news during live coverage of the Miami Dolphins vs. Patriots game.
I have never seen a football game on television, so that is not how I received the news. Rather, like Paul McCartney, I heard about it the following morning (December 9, 1980).
I was picking up a skirt at a dry cleaners to wear to a job interview. They had the radio on, and the broadcaster was discussing the fact that the subway at 72nd and CPW (which was the one I needed to use to get to my interview) had been temporarily closed due to investigations related to Lennon's assassination.
This, even though I lived very close by, was when I first heard the news.
Advertisement



The radio program then began to play John Lennon singing "(Just Like) Starting Over."
Lennon's lyrics, "I know time flies so quickly…" echoed through my mind as I made concerted efforts to meet my obligations of the day.
However, it was hard to do so knowing John Lennon had been shot and killed in front of The Dakota, where he lived with his wife Yoko Ono and their son Sean.
Now, 42 years after the tragedy, I'd like to remind folks that Lennon's widow, Yoko Ono, "prefers to focus on October 9th (as) the date of her husband's birth, rather than the grim anniversary that arrives each December."
Therefore, out of respect for her wishes, and to avoid focusing on any other "grim details," here are some memories I have of seeing John Lennon on the UWS, as well as a few brief reflections on his legacy.
Lennon could often be found at places in my 'hood such as West Side Pharmacy, where owner Said Saber still has a Lennon shrine of sorts (photos and memorabilia) in the store's window.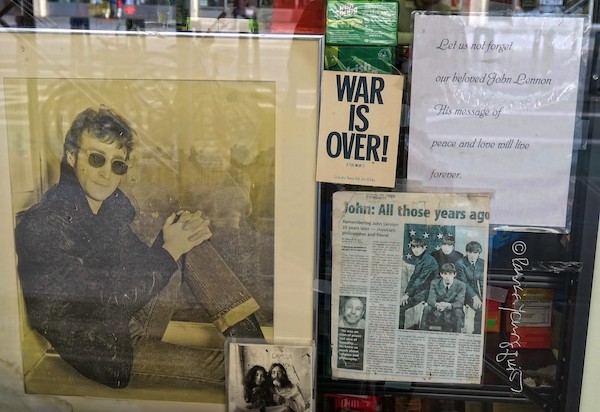 Additionally, Saber has made inspiring comments about the late musician and his widow.
During some of the years Saber refers to in his remarks, Lennon spent many hours with Yoko Ono enjoying coffee at Cafe La Fortuna, a place which had a colorful awning – and a place where I saw him on many occasions (including a time when my mother traveled to NYC to visit me).
Advertisement



Nine years after his death I moved to a one room apartment above that cafe. It had no windows, a tub in one closet and a toilet in another.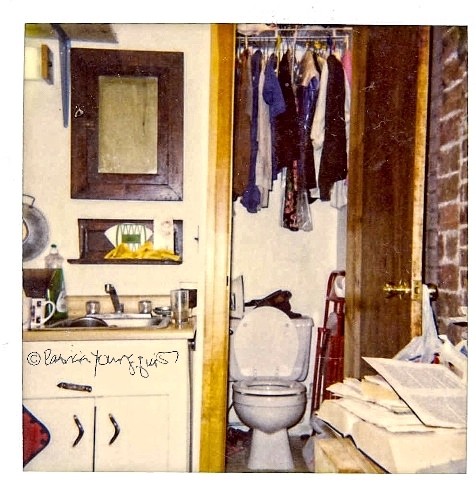 Upon living in such digs, I began to wonder if the term "water closet" might've originated from situations like the one I had in my apartment.
But I digress! Returning to John Lennon's legacy, like many an Upper West Sider, Lennon would often take walks in Central Park.
Five years after his death, the area directly across the street from his home ultimately became "Strawberry Fields" (on what would've been his forty-fifth birthday — October 9, 1985).
Within Strawberry Fields one can find an area known as the Imagine Circle (part of the aforementioned 1985 dedication and named for Lennon's song Imagine).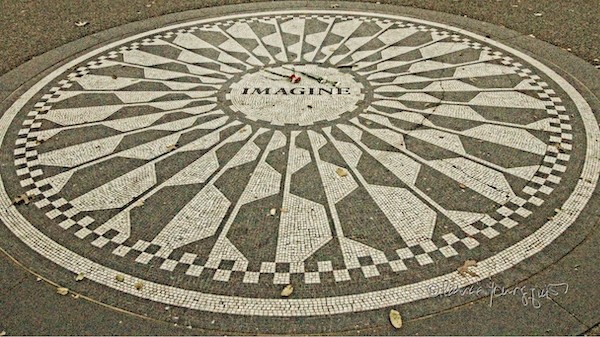 However, 1985 was not the only time the song was given a nod in Central Park! Less than three months before Lennon's assassination, Elton John performed "Imagine" in Central Park.
The rocks that border the northern portion of Strawberry Fields and the short road leading to Hernshead Cove (a former boat landing in the park) are the inspiration for my kaleidoscopic photograph, Rocks by Strawberry Fields.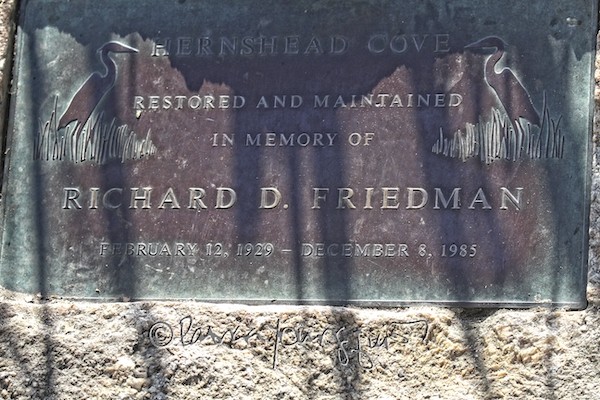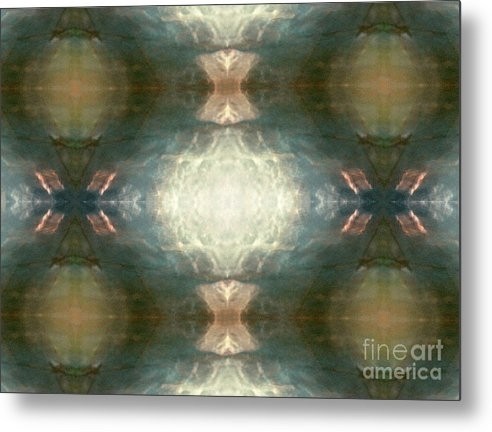 I'll confess: it does feel a bit odd to discuss my art work in an article that I've written to commemorate the anniversary of Lennon's death, but my piece, Rocks by Strawberry Fields, is my small way of contributing to his legacy. And my way of honoring Yoko Ono's wishes of recalling the inspiration John Lennon provided to others.