Mike Mishkin
Founder and Editor
Mike Mishkin created I Love The Upper West Side to celebrate his favorite neighborhood and birthplace. He grew up in Lincoln Towers and has lived all over the neighborhood. He writes about everything: new restaurants, real estate developments, cultural events and more.
Outside of living in Boston for several years during college, Mike has lived on the UWS for his entire life. He uses his intimate neighborhood knowledge and connections with long-term locals to create the kind of stories you won't find on larger websites.
Some of Mike's passions include Riverside Park, old architecture, small business, and his two cats.
Contact Mike!
Adrienne Cooper
Adrienne is a native Upper West Sider who's a self-proclaimed Funny Female Foodtrepreneur. She brings her love of entertaining, history geekery, and food passion together on every tour she runs for her own Fun Foodie NYC Tour Company. To find more of her writings and goings on you can check out her profile on Chefsroll.
Contact Adrienne!
Evan Rabin
Contributor & Owner of Premier Chess
Evan Rabin was born and raised on the Upper West Side. After a 7 year stint in Boston and a short time in Queens, he moved back to his roots in July 2017. He acts as the CEO of Premier Chess, which offers schools programs, corporate classes, private lessons and more. In his free time, he loves going to concerts at the Beacon Theater and elsewhere, taking long walks, trying new restaurants and traveling abroad.
Evan writes primarily about Jewish living on the Upper West Side. This includes Kosher restaurant openings and reviews, holiday events, and more.
Contact Evan!
Jori Rose Schwartz
Contributor
Jori Rose Schwartz is a proud Upper West Sider. She enjoys ice cream, little dogs, long walks in Central Park, and getting lost inside Duane Reade. You can follow her adventures on the Upper West Side at @UpperWestUpperBest on Instagram.
Contact Jori!
Edgar Catasus
Contributor
Edgar Catasus is a a film fanatic, a food lover, and an Upper West Side enthusiast. After working in PR and marketing in Chicago, he is pursuing his dream of becoming a writer. He loves photography and on his spare time you can find him hiking or biking the great outdoors (while also snapping some pretty awesome Instagram pics!).
Here are a couple of articles he's particularly proud of:
A Better Transportation Plan Needed For The Autistic Population (icare4autism.org)
The Best Restaurants in Haleiwa, Hawaii (TheCultureTrip.com)
Contact Edgar!
MJ Goff
Contributor
Freelance writer and author, MJ Hanley-Goff, found her life's passion while composing high school essays. Since then, she's enjoyed a successful writing career which began at Long Island's Newsday, and then moved to the Times Herald-Record in Orange County. She's a regular contributor to Orange Magazine which covers the talented craftspeople of the area, and to the award-winning site, WomanAroundTown.com, which features entertainment, book reviews, and trending topics of interest to its New York City audience. The mom of "the best two daughters," MJ is also a writing teacher, high school essay helper, and book coach. Read her blogs at www.JoyfulWriting.com.
Contact MJ!
Hannah Rosenfield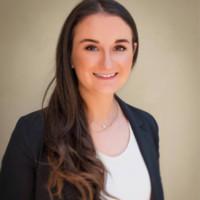 Contributor
Hannah Rosenfield  is an avid writer and new resident of the Upper West Side. She graduated from Binghamton University in May of 2018, after studying Creative Writing and works in advertising. In her free time, Hannah loves reading the New York Times food section, petting all the dogs on the Upper West Side, and strolling through Central Park. To connect with Hannah, click here.
Contact Hannah!
Dana Schulz
Contributor and Managing Editor at 6sqft.com
Dana Schulz is an Upper West Sider, writer and urbanist with a passion for all things New York. After graduating from New York University's Urban Design & Architecture Studies program, she worked as the events coordinator at the Greenwich Village Society for Historic Preservation. She's currently the Managing Editor at 6sqft, a NYC-based media outlet that covers the places, people, and ideas shaping the city. In her free time, she works as a licensed tour guide, leading walks on the cultural, social, and architectural history of the city's diverse neighborhoods.
Contact Dana!