The Upper West Side has it's fair share of sweets – from ice cream, to fro-yo, to donuts, the neighborhood has enough to fill the stomach of even the biggest dessert enthusiast.

Bakeries line the streets between 59th and 110th, but some are sweeter than the rest. Here are our recommendations for the best of the best.
Best Cupcakes – Magnolia Bakery
200 Columbus Ave (between 69th and 70th Streets)
For the best cupcakes, look no further than 69th street. Magnolia Bakery offers beautifully frosted cupcakes, each one decorated perfectly. For any occasion, they make a great gift, and can even be customized to fit the occasion. Pro tip: while we recommend their cupcakes, you CAN'T walk out of Magnolia without trying their banana pudding. It's creamy, sweet, and has crisps of vanilla wafer throughout – so perfect it'll convert even the biggest pudding skeptic.
Learn More
Advertisement
Best Gluten Free Bakery – Modern Bread and Bagel
472 Columbus Ave (between 82nd and 83rd Streets)
An Upper West Side newcomer, and already a popular spot, Modern Bread and Bagel is the place to go if you are gluten-free. They offer a variety of both savory and sweet treats to satisfy all kinds of customers. While some gluten-free treats can be dry, Modern Bread and Bagel customers swear by their food. Hits include the bagels, babka, and coffee cake. They also offer a full food menu for a more sit-down meal.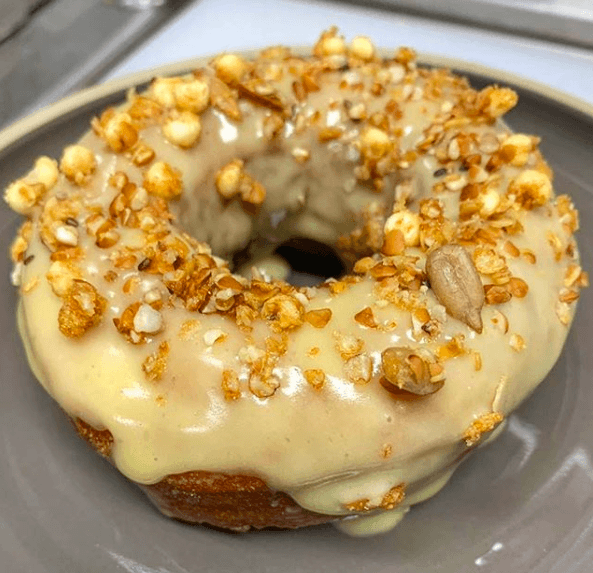 Learn More
Best Cakes – Billy's Bakery
410 Columbus Ave (between 79th and 80th Streets)
Another cute new edition to the Upper West Side, Billy's Bakery takes the cake – literally. With 20+ options of cakes to choose from, Billy's offers a great assortment for special occasions. Customers get to choose, so whether you're a fan of red velvet, pineapple upside-down, confetti, or salted caramel cake, there's something for everyone's birthday. We especially love their cookie sandwich cake – two cookies with cake and frosting in the middle!
Learn More
Best Cookies – Levain Bakery
167 West 74th Street (between Amsterdam and Columbus Avenues)
351 Amsterdam Ave (between 76th and 77th Streets)
With two locations on the Upper West Side, and more locations opening throughout NYC this summer, Levain is an Upper West Side staple. On the weekends, tourists and locals alike line up to wait for their cookies – and it's definitely worth it. Their cookies are gooey, warm, and fresh. While most people order the popular walnut chocolate chip cookie, the dark chocolate peanut butter chip is worth the wait too!
Learn More
Best Restaurant for Cake – Maison Pickle
2315 Broadway (between 83rd and 84th Streets)
While Maison Pickle may be most well known for its comfort food and cocktails, don't overlook the real star of the menu – its 24 layer cake! This cake, made famous through Instagram and other forms of social media brings visitors to the UWS in throngs. The cake comes in vanilla and chocolate, and is decadent and delicious.
View this post on Instagram
Learn More
Advertisement
Most Classic Cake Spot – Cafe Lalo
201 West 83rd Street (between Amsterdam and Broadway)
Tucked away on 83rd Street, Cafe Lalo calls itself the most famous cafe in NYC. Although not technically a bakery, the real reason that most people come here is for the dessert. The super cute cafe, and film location of "You've Got Mail" boasts a huge glass case where you can stare at the endless choices of cakes, pies, and tarts as you wait for a table. Although a bit pricey, this cafe is a classic, and is a great place for a date and a slice of cake.
View this post on Instagram
Learn More
Opening Soon To Satisfy Your Sweet Tooth:
Get more UWS food tips by joining our newsletter!