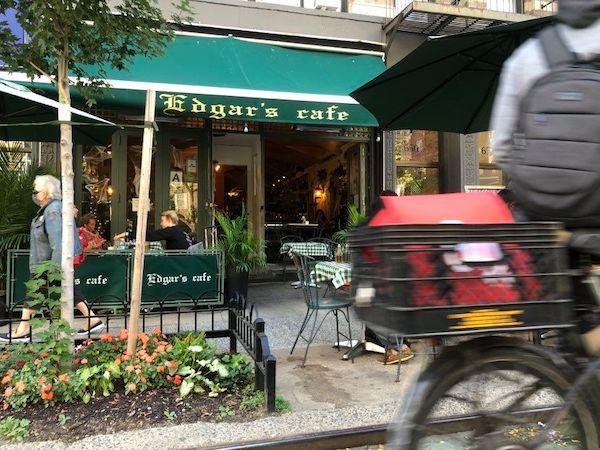 We took a recent trip to Edgar's Cafe at 650 Amsterdam Ave (between 91st and 92nd Streets) after the New York Post published a story titled "Customers allegedly turned away by NYC's new 'Soup Nazi' at popular cafe."
The Post wrote that "Some are even saying 'Nevermore!' to the petulant proprietor" who goes by Bennie – stating that he "allegedly chased and banned customers who dare to dine elsewhere."
Advertisement



The Post cited multiple alleged claims including one from "Allen Sisk, 72, an Edgar's regular for six years [who] says he got the heave-ho last week after Bennie found out Sisk recently ate two doors down at the Italian restaurant Scarlatto."
We discussed the allegations during a sit-down meeting with the team at Edgar's Cafe on Wednesday.
In regards to Allen Sisk, Ben described him as a "nuisance," telling us that he had been a difficult customer for a long time, constantly complaining about the food or its preparation. It was always something with Sisk, Ben told us, and they'd had enough of his business, suggesting he could go anywhere else, like Scarlatto next door. Ben didn't care where – as long as it wasn't Edgar's. Allen Sisk had worn out his welcome, according to Ben.
Sisk told the Post that after getting the boot, "The waitress came over and begged me to stay and ignore him. I won't be going back."
ILTUWS spoke to the waitress, Pamela Verdesoto, who Sisk is referencing above. She confirmed that she did try to get him to stay at Edgar's in that exchange, but indeed, Sisk was not a model patron. "All the time he made complaints about the food, drinks, cakes when he knows how it is," she told us.
Verdesoto, who's been a waitress at Edgar's Cafe for three years, went on debunk the claim that DiBenedetto or Ben ever actually "chased" anybody out of Edgar's Cafe. "Nobody chased anybody out."
But Sisk is far from alone in his claims.
"Great food but owner with an attitude. G-d forbid he catches you eating nearby. To him it's all about loyalty. Visit if you dare," wrote a recent Google reviewer. (It should be noted that this review was posted after the New York Post article came out).
Another former fan wrote that while she used to love Edgar's – stating that "Bennie the owner was very friendly to us" – things had changed. "In the past I had heard from a number of friends that he went crazy screaming at them if they were on iPods or phones. Recently I too have seen him in action: yelling at customers, waitstaff."
Due to the pandemic, a lot of people who would typically work in an office were now going to Edgar's to conduct their business. A lot of these people were coming to Edgar's and not really buying anything, Ben tells us. This dramatically altered the classic old school aesthetic of Edgar's Cafe and was ultimately costing them money.
In June 2020, amidst the first wave of the Covid-19 pandemic, Edgar's Cafe instituted two new rules to address these issues: No laptops and a $5 minimum. There's a sign on the door but it's still a constant struggle, the team told ILTUWS, and it's been a source of tension between patrons and staff.
"Now we have problems with the customers for laptops because they don't want to order too much and they want to stay the whole day," Verdosa tells us.
Advertisement



Pamela says it's still an ongoing problem. "People don't understand how this is a business."
Ben says business has actually increased since the Post article was published – although they did receive threatening phone calls for a few days, they think from the same person. This had thankfully calmed down by the time we spoke on Wednesday.
Edgar's Cafe opened at 255 West 84th Street in March of 1989. A famous "Sex and the City" scene was filmed at this spot and according to Ben, the team behind You've Got Mail wanted to film at Edgar's – perhaps to be the 'Shop Around the Corner' – but they needed the location for a month and weren't willing to pay, so he declined.
Readers: can you tell us about your recent (and not-so-recent) experiences at Edgar's?