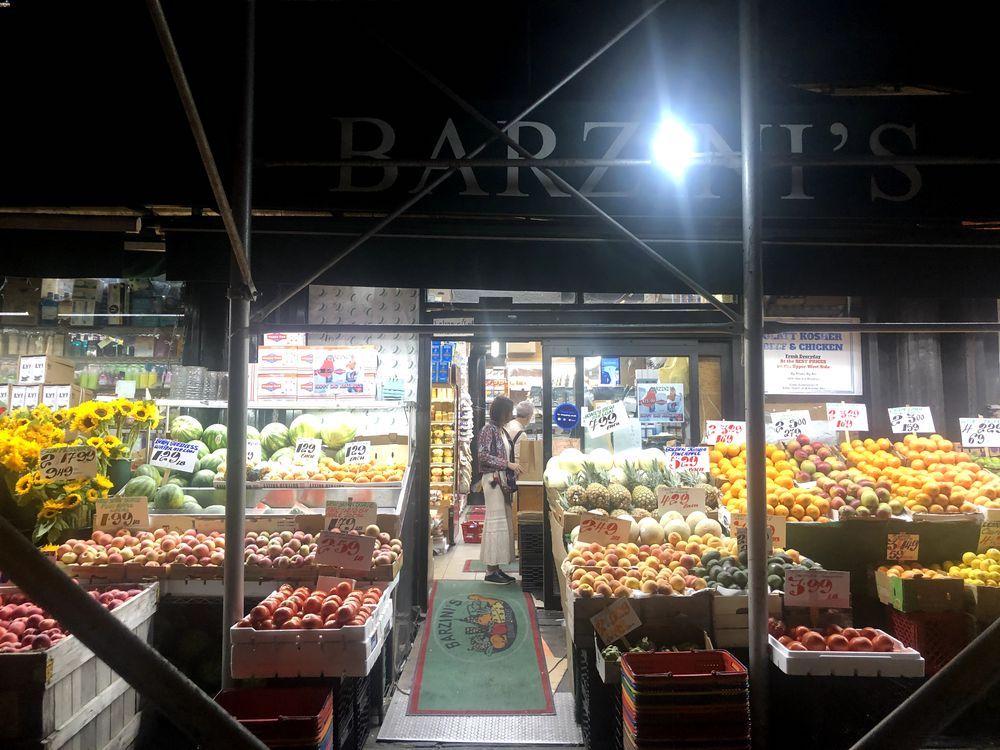 Barzini's, the 24-hour grocery store at 2451 Broadway (between West 90th and 91st streets), has been the topic of some online message board dialogue recently. Over the past several months, a number of customers have accused the market of mislabeling expired items and overcharging their credit cards.

Advertisement



"Confirmed! BARZINI'S changes the best by dates and misleads its customers about product freshness," wrote one Nextdoor user in a September post. "I peeled off their fake sticker and the original packaging stamped date stuck to the bottom of it." Based on the pictures shared in the post, it's unclear if the user has a real case of expiration with evidence. The same user – "Mr Cooper" – shared a very similar post about a year earlier, in August 2021. (Perhaps he stuck it out with Barzini's due to a lack of other options, but maybe Mr Cooper will say goodbye once the Key Food opens at 88th and Broadway.)
One response does a good job articulating what others appear to have noticed for some time now: "It's sort of fun to watch people realize this. Selling expired and near-expired food has been Barzini's business model for decades. I've always suspected they buy near-expired food from other grocers or distributors, then see if they can clear it (or fudge the dates). This works for some people. Others are horrified. You're now in on the neighborhood secret!"
If you go by the comments, you'd count a lot more people complaining about Barzini's than supporting them. Nextdoor, similar to Yelp in some fashion, could be seen as a place where people go to voice their frustrations over songs of joy. But at what point does it start to become glaringly one-sided? Well, Barzini's has a shoddy two-and-a-half out of five stars on Yelp. The majority of reviews are one star.
On December 9, however, one customer started a positive thread titled "An honest shopkeeper: Barzini's on 91st Bway." Here, a story is shared by a customer who bought a "bunch of grapes" for around $12 the day before. While she didn't get a receipt, the next day she noticed when checking her credit card statement that instead of being charged $12, she was charged $42.78. "I was shocked when he immediately said he would refund me the overcharge of $30 … Thank you to the manager of Barzini's and I am a customer for life."
Advertisement



Others who've noticed similar overcharges haven't been quite so positive about the experience."Their modus operandi is to overcharge in that manner," responded one user with a similar story. "Enough people do not realize it so they make a lot of extra money that way. Amex does not require a receipt-they will take your word for the overcharge. Of course they will refund you graciously, as they are fully aware of the reason for the overcharge- I was overcharged $70."
On December 9, another Nextdoor thread gets into a credit card billing situation. "When checking my Amex statement, I found 5 charges from Barzini's that were on dates which I have been in New Jersey taking care of my parents. I was not even in the city. I called Amex and reported the charges. They have changed my card # and are looking into fraud."
A Discussion of bogus Barzini's charges also appeared in a Facebook group called "Being Neighborly, UWS, W60-90." On October 25, a member of the forum wrote, "PSA: A friend of mine went to Barzini's this past week and bought an item for $2.55. She was given a receipt that said $2.55, but her credit card was charged $22.50 … This evidently has been going on for months and people have already called it to their attention, but it continues to happen."
Advertisement



ILTUWS has been monitoring these discussions for months. Following accusations of selling mislabeled and/or expired cheese on September 19, we visited Barzini's at around 11:30 p.m. on September 21. We found no evidence of expired or mislabeled cheese at the time, but based on the history of comments, that's not to say it doesn't happen there.
Once posts about credit card issues started, we went back to Barzini's on Thursday, October 27, and spoke to the manager, Parvis Abde, who said he didn't know of any issue with their cash register and credit cards. When the comments kept coming in, we checked in with Abde again on Friday, December 16, this time on the phone.
Abde said he remembered when we visited in October. We discussed the visitor who bought the grapes and then came back without a receipt and got credited. He admitted there have been credit card issues at Barzini's.
Advertisement



"We had an issue in May. The lady gave her credit card and her credit card declined, and we did it again. So, she came back and said she was charged two times." Abde said they looked into the matter and "if American Express does not give you credit let me give you money back. And I did a couple other times and I'm sorry for that. I don't know what to do we try to change our machine. To have an updated better machine. We don't have an experienced guy behind the register."
We asked Abde if the credit card issues will go away with this new system. His response was "Yes," while noting the newly updated machine went into effect "two weeks ago."
As for the bad cheese, "That was not accurate either," claimed Abde. He said that someone called the health department on the store and the "health department came to me and they checked me out and everything, they don't see nothing."
Abde continued, "It's not a brand-new store. It's an old-fashioned store, it's one of the old times. If you need to make it 100% right, you need to spend tons of money and there's no money … We don't want to borrow money from bank and put the money in a store then close it and go. That's the problem. There's a lot of issues today … Honestly, it's very, very difficult to make everybody happy."