After a 15 month renovation, Belvedere Castle's reopening will take place on June 28th with some exciting upgrades.

The Central Park Conservancy has undergone a $12 million project in order to modernize and beautify the iconic structure; one of the most recognized in Central Park.
Belvedere Castle Upgrades
The Conservancy is rebuilding the terrace walls and installing new flooring. They've deep-cleaned the inside and out, and have upgraded the mechanics, waterproofing and cooling systems.
They've also replaced the former windows and doors with clear pane glass for better views. In addition, they have recreated a decorative wood tower which was originally part of the large pavilion at the northwest corner.
But the most exciting upgrade is the newly installed interior lighting. This will provide park-goers with magical nighttime views from across the Turtle Pond.
Here is a rendering being help up by Elizabeth W. Smith, the Central Park Conservancy's President.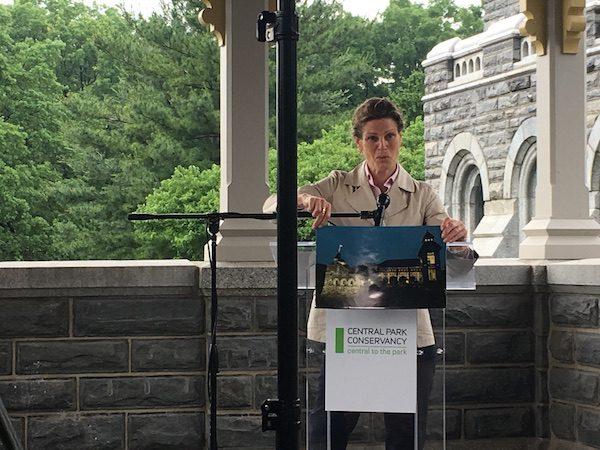 The next phase of the project is to make Belvedere Castle fully accessible to all. There are currently preliminary designs to rebuild the pathway between Belvedere Castle and the East Drive.
Here's a video about the project:
This is the second complete restoration of Belvedere Castle. The first was in 1983, which came after it had been neglected for almost twenty years.
Join our newsletter for more local updates:
Featured images care of Central Park Conservancy