We've updated our list of some of the best calamari on the Upper West Side because it truly is one of the greatest appetizers of all time. Whether you love your tentacles grilled or fried, we're positive you will find a dish that you love from at least one of these neighborhood restaurants.

Crave Fishbar
428 Amsterdam Ave (between 80th and 81st Streets)
If you're looking for good seafood, a restaurant with "fish" in its name is a sure place to start. As we've mentioned before, Crave has great happy hour deals for drinks. The go-to dish that I love to pair with my spicy margarita is the rice-dusted calamari. It's the perfect combination of crunch and tender calamari with the added texture of bean sprouts and subtle spice of Aleppo chile. Even more, they give you a generous portion so you don't have to worry about sharing a few pieces with someone who's just as hungry as you are. Needless to say, the calamari at Crave is a must.
The Boilery Seafood & Grill
710 Amsterdam Ave (between 94th and 95th Streets)
This new addition to the Upper West Side has recently opened and it's a Cajun-flavored treat to the neighborhood. Their calamari, for starters, is big and seasoned to perfection with the right amount of spice and flavor without going overboard; pun intended. If you go for a lobster roll, a pound of snow crab legs, or anything in between, you need to start off with an order of their calamari, hands down.
The Mermaid Inn
570 Amsterdam Ave (between 87th and 88th Streets)
For the grilled calamari lovers, The Mermaid Inn has the dish for you. Their seared calamari salad is made with frisée, feta cheese, cremini, and shiitake mushrooms. It's the perfect start to a summer meal, especially if you're sitting outside enjoying a happy hour cocktail because it's light and refreshing, without being too filling from the fryer. Whether you come here by yourself for a happy hour treat or want to spend an evening with friends, you really can't go wrong with the grilled calamari at The Mermaid Inn.
Carmine's
2450 Broadway (between 90th and 91st Streets)
Serving a rather classic yet still delicious fried calamari is our good friend Carmine's. This is the calamari that you remember from childhood; the dish of freshly fried goodness with a hot cup of marinara sauce balancing on the side of the plate. It's authentic and reminiscent of good times with a big family, which is the entire atmosphere Carmine's presents. And because they serve everything family-style, you're probably going to get the biggest portion of calamari here, as compared to everywhere else on this list. But whoever said that'd be a bad thing?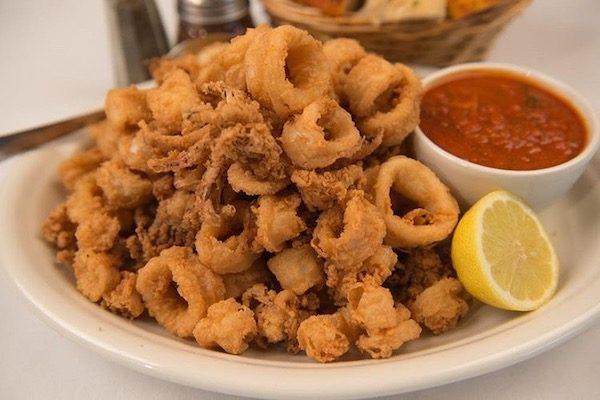 Parm
235 Columbus Ave (between 70th and 71st Streets)
Another classic Italian restaurant is Parm, serving crunchy calamari with long hot peppers. The curls of the calamari tentacles are my favorite part, but some people tend to stay with the classic-cut round pieces. With Parm's calamari, the crunch you get from the tentacle pieces is fresh and might even make former picky eaters change their ways. So do yourself a favor and check Parm out soon. After all, it was named the "Best Fried Calamari in NYC" by New York Magazine back in 2012.
Advertisement
Pappardella
316 Columbus Ave (corner of 75th Street)
We round off our list with another option for our anti-fried calamari lovers. We give to you the sautéed calamari from Pappardella, served with tomato jam, swiss chard, raisin, and pine nuts. It's a refined taste from your standard fried calamari antipasto, but that's exactly what makes it such a perfect place to start your meal. You can follow up with a pizza, or maybe even a hot bowl of handmade pasta (gluten-free options available). Either way, you're sure to find something that will make you feel warm and full, regardless of the weather outside.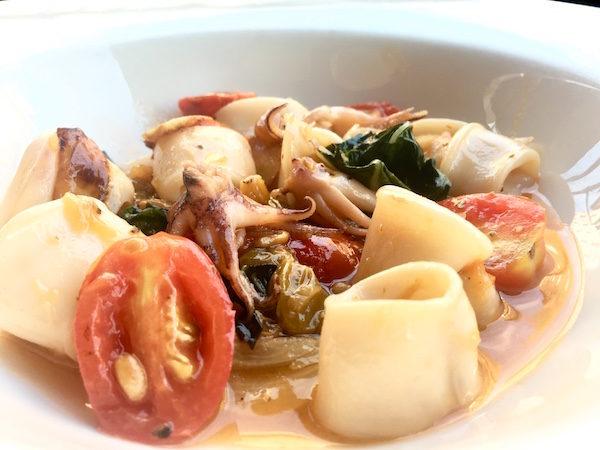 Join the newsletter for more Upper West Side food tips!