Cheesecake is one of those desserts that you either can't get enough of or can pass on. For those of you who are in the former group, we have curated a list of some of the best cheesecake on the Upper West Side. Some of them are standard (with dairy) cheesecakes, and others are raw/vegan which, surprisingly, can be competitively delicious.

Modern Bread and Bagel
472 Columbus Ave (between 82nd and 83rd Streets)
This entirely gluten-free and kosher restaurant makes their flour from scratch, ensuring that each sweet and savory treat is made with care and is full of flavor. New to the already vast menu is the classic cheesecake made with a chocolate chip cookie crumb base and topped with fresh berries and figs. The s'mores cheesecake is a chocolate cheesecake with that same cookie crumble base, topped with a toasted marshmallow top. And the caramel walnut cheesecake is just what it sounds like; rich with just the right amount of sweetness and crunch. It's a must for gluten-free eaters or anyone looking to eat deliciously.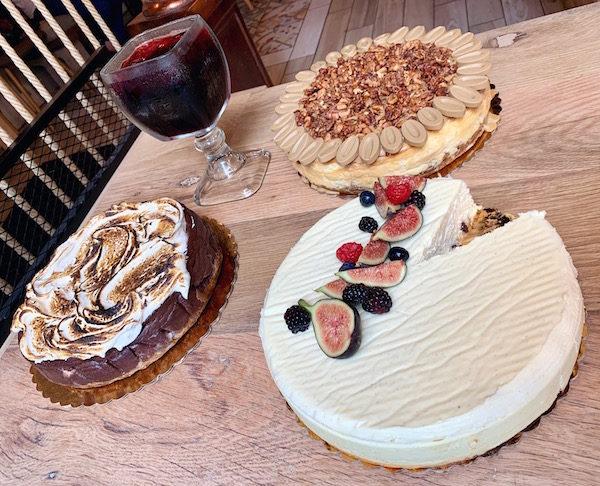 [adrotate banner="83″]
Peacefood Cafe
460 Amsterdam Avenue (between 82nd and 83rd Streets)
Serving vegan food entirely, this cafe is a must-go for anyone wanting to eat a filling plant-based meal. And to top it all off, Peacefood has an equally robust menu for their desserts. You can find both regular and gluten-free options, but what stands out are their two options for cheesecakes: strawberry and peanut butter. Everything is Peacefood is delicious (they're on our list of best UWS restaurants). You can't go wrong here!
Blossom on Columbus
507 Columbus Avenue (between 84th and 85th Streets)
Another Upper West Side restaurant that is entirely vegan, Blossom on Columbus is a dining experience that will make you forget you're eating plant-based foods. Aside from their to-die-for dinner menu, their desserts are just as exceptional. For cheesecakes, you can either enjoy the classic cheesecake with coconut or the Blossom cheesecake. Both are sure to bring you back for more.
Carmine's
2450 Broadway (between 90th and 91st Streets)
If you've never been to Carmine's, know what you're getting into before making a reservation. This family-style Italian restaurant serves warm homestyle vibes and hot food that feels like Sunday at Grandma's. If you can get through dinner and have room for dessert, I highly recommend their Italian cheesecake that serves four people. It's made with ricotta cheese instead of cream cheese and adds texture to the bite while still remaining creamy. Another must!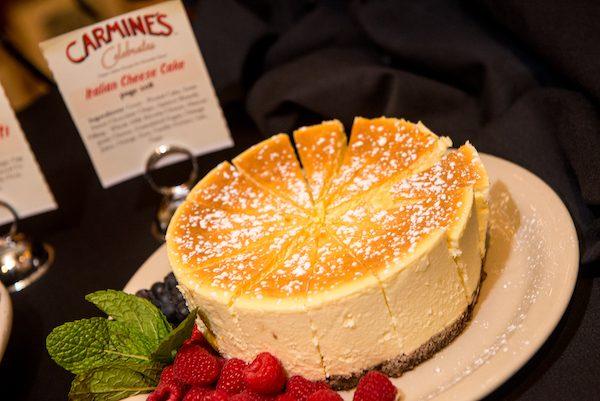 [adrotate banner="84″]
Cafe Lalo
201 West 83rd Street (between Broadway and Amsterdam)
This well-known café serves almost any type of dessert you might be interested in – easily earning a spot on our list of best places for cheesecake on the Upper West Side. From cakes and tarts to rugalach and of course, cheesecake, you're sure to find one or a few things that satisfy you. With over twenty cheesecake options, you might have to eat a slice in house and order to-go for future indulging. Featured here is their signature Apple Crumb Cheesecake, with a bottom layer of sweet apple slices, sandwiching in thick and creamy cheesecake, topping it off with a hearty layer of crunchy crumb. It's a genuine treat.
Join our newsletter for more UWS food tips and restaurant news!