February is the month of chocolate, and though it's easy all-year round to pick up your favorite cacao treat, pigging out on the sweet stuff seems a bit more acceptable for Valentine's Day. But instead of just sitting home with your heart-shaped box of candies, why not get out there and learn all about chocolate and even make some yourself? Grab your honey or your best buds, and head over to one of NYC's best chocolate events. From bean-to-bar making to a Brooklyn bus tour, we've rounded up the top melt-in-your-mouth experiences the city has to offer.

Li-Lac Chocolates
40 Eighth Avenue (at Jane Street)
Li-Lac Chocolates opened its first location in Greenwich Village in 1923. Today, it's Manhattan's oldest chocolate house and still uses all those original recipes with shops in Greenwich Village, the West Village, Chelsea Market, and Grand Central. They also opened a factory in Industry City in 2014, where you can go and take a tour of the old-school chocolate making in-person.  The tour is $85/person and lasts 90 minutes. You'll learn how Li-lac crafts their 140+ chocolate items, try your hand at making one of your own, and sample treats right off the enrober. Plus, each guest gets to take home a box of freshly made chocolates.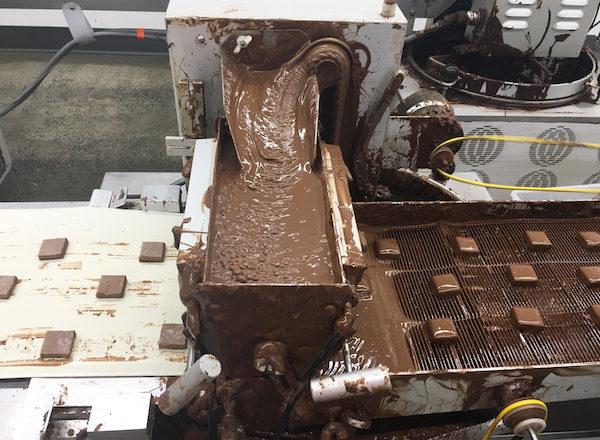 Advertisement
The Chocolate Lab at ICE
462 Broadway (by Grand Street)
Located in the Financial District's buzzing Brookfield Place, the International Culinary Center is home to the nation's first education-focused bean-to-bar facility. What this means is that, unlike a lot of the chocolate makers in NYC, ICE's creations start from the raw beans themselves. In addition to intensive weekend-long trainings and professional courses, the chocolate lab also offers some fun dates for more amateur chocoholics. Just a couple days before Valentine's Day, you can take part in "Chocolate 101: Intro to Chocolate," where the Lab's head, James Beard Award-winning pastry chef Michael Laiskonis, will take guests through every step of the chocolate-making process (sampling included!). And if you want to wait until the V-Day rush is over, in March, there's "Plated Desserts: Techniques in Chocolate" and "Chocolate 102: Fundamental Techniques."
Raaka
64 Seabring Street (in Brooklyn)
Over in Red Hook, another bean-to-bar company has been taking the chocolate scene by storm. Raaka is unique in that their bars are made from unroasted beans; they're also committed to their Transparent Trade process. If you want to learn more about this–or just think their flavors such as bananas foster, cabernet sauvignon, or oat milk are downright delicious — you can head over to the factory for a tour, class, or combo of both. For a basic 45-minute tour with tastings included, it'll only cost $15. For $75, the "Chocolate Making 101" class lets guests make their own bean-to-bar creation, and for $100, true aficionados can partake in the advanced class.
Cacao Prieto
218 Conover Street (in Brooklyn)
Also in Red Hook is Cacao Prieto, another bean-to-bar factory. In addition, the company uses the beans to distill a line of small batch, cacao-based liqueurs and rums. Founder Daniel Prieto Preston, who is interestingly an inventor and aerospace engineer, comes from a family who has been farming organic cacao in the Dominican Republic for more than 100 years. The family-run Carolina Farms provides all of the cacao, and they also source their sugar from the DR. To dive into this, sign up for one of their weekend factory and distillery tours. The tours are only $20 and include a look at the history of cacao in the Dominican Republic, the machinery used to make their chocolates, and a lesson in their distilling process. A tasting flight of chocolates and spirits is also included.
View this post on Instagram
Advertisement
The Jacques Torres Chocolate Museum
350 Hudson Street (between Charlton and King Streets)
For many Americans, Jacques Torres is the chocolate king. And lucky for us New Yorkers, he has six locations throughout the city. At the Hudson Square location, you can sink your teeth into Choco-Story, New York's first ever chocolate museum. Tickets are $10-$15, which lets guests take a self-guided tour of the entire chocolate journey–from tree to bar–observing original artifacts, watching a bon-bon-making demonstration, and sampling eight tastings, including hand-ground Mayan hot chocolate. There's also an educational kid's corner. The museum hosts hands-on chocolate-making classes for $40 or $45.
The Chocolate Bus Tour of Brooklyn
Meets in Union Square
If you don't want to get your hands dirty and just want to stuff yourself with chocolate, we've got the tour for you. Hosted by A Slice of Brooklyn Bus Tours, the Chocolate Bus Tour of Brooklyn brings you to the "finest chocolatiers in Brooklyn," including Jacques Torres, the Chocolate Room, Raaka, and LI-Lac Chocolates. The $55 tour runs two hours and includes two to five samples at each of the four stops. On the bus, you'll watch a multimedia presentation of fun chocolate-related snippets.
This post comes from 6sqft.com.