Scrolling through Yelp reviews and wondering where you should be having dinner on the Upper West Side right now? You've come to the right place. This is your guide to the five best new restaurants that every Upper West Sider should be trying right now.

How do we know they're the "best ", you might ask.  We know. We've tried them all, and have narrowed it down to the places worthy of telling your friends and family about.
Use this list when you want to find a place when you're sick of going to the same Upper West Side restaurant for the tenth time. Or when you're looking to shake things up.

Advertisement
Best New Restaurants of 2019 (so far!)
Le Petit Rooster
491 Columbus Ave (between 83rd and 84th Streets)
People who live in New York City always think that there's a cool hidden new spot that they don't know about. And they're always trying to figure out what it is. Usually they're right. While most people don't want to tell others about they're "hidden gems", we're here to let you in on our newest secret place, right on Columbus Ave.
Le Petit Rooster is a sleek French bistro located between 83rd and 84th Streets. From the first moment we went, we were torn between keeping it all to ourselves, or shouting about it from the rooftops. From the outside, it looks like a classic French restaurant, but inside, they serve up some serious eats. Their chef, Alex Tobar, has been a sous chef to Jose Andres, and it shows.
The dishes are classic French cooking, but with a modern flair. It's the kind of place where even the bread and butter wows you. And you'll be thinking about the poulet roti or chicken cooked in lemon and white wine brine long after you leave. Le Petit Rooster is a sophisticated and romantic restaurant, and gets just about everything right.
The Tang
920 Amsterdam Ave (between 105th and 106th Streets)
Next time you're looking for a cool place on the UWS that brings a fun environment along with great food, we recommend The Tang. The restaurant has an outstanding ambiance. Neon lights illuminate the kitchen area and food is served in trendy platings. They've racked up tons of Instagram followers for their visually stunning presentations, and have been noted by Thrillist, the New York Times, and more.
And although we've never been to China, we imagine that The Tang lives up to the authentic taste of the Chinese food they aim to serve. The menu is filled with hearty noodle soups and platters, and small plates packed with protein. Add on dumplings, a generous sake list and a slew of desserts.
The braised pork belly melts in your mouth. So order anything with pork, and you'll be thankful. Especially the fried pork buns. You can't go wrong with their roasted eggplants either – elevated by soybean paste and bonito flakes. The scallion oil noodles are a fan favorite too.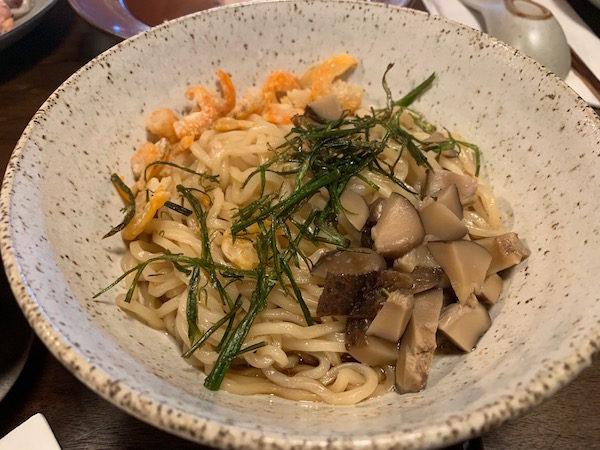 Leyla
108 West 74th Street (between Amsterdam and Columbus)
There's no shortage of Mediterranean options on the UWS, that's for certain. Despite the abundance, Leyla tops the charts. If you're looking for an upscale and ambient option, look no further.
Noted for its phenomenal hospitality, Leyla is a modern Turkish place that can cover lots of occasions. Think Mother's Day brunch, romantic date, or cocktails at a modern bar. The space is big enough to fit you and your extended family. And the dining room is attractive and spacious enough to guarantee you can always get a table with a date. For just about everything, this is the spot.
It also happens to be the spot for things like like flatbreads, lamb shank with mushroom risotto, and eggplant caviar. All of which are delicious. The options for ordering plates to share are endless. Pick between "mezzes", "pides", or artful salads for healthy eaters. Those looking to indulge can feast on flavorful branzino, Turkish pasta, and lamb shanks alike.
Advertisement
Nobody Told Me
951 Amsterdam Ave (between 106th and 107th Streets)
Like the name mentions, maybe you still haven't heard about this vibrant new cocktail and elevated food spot on the UWS. Located at 106th and Amsterdam, Nobody Told Me is a great new restaurant and one of the most exciting new Upper West Side bars. They've brought a much-needed cocktail menu to an area filled with dive bars, whiskey bars, and pubs.
Nobody Told Me's atmosphere is trendy, dim, and buzzing. A brick wall highlights a bright white neon sign of the bar's logo, and floral walls wrap around the room. The bar has several table tops and booths, and probably enough space to fit 50-60 people. Despite this, it maintains an intimate and cool feeling.
The drinks are all between $12-$15, and the menu has several which really stand out. Our personal favorite is The Sidecar Killer –  a tasteful blend of citrus and cognac, which tastes like a lemonade on vacation. The Dia De Los Zombies is memorable too – it's a tequila drink that's served in a Mexican prayer candle.
While the drinks are well crafted, the food is what really seals the deal. Nobody Told Me offers a unique menu of sharable snack plates. Most are less than what you'd spend on a drink at a bar, and all are delicious. Serving up things like truffle queso, Hawaiian shrimp rolls, and blistered shishito peppers, you'll be wondering why nobody told you about this place sooner.
8th Hill
359 Columbus Ave (between 76th and 77th Streets)
Good things come to those who wait. Well, not always. But 8th Hill was definitely worth the long wait. After months of anticipation, 8th Hill has brought a beautiful new restaurant to the UWS. Elegant and sophisticated, with an art-deco flair, 8th Hill opened at the end of May.
The food is all very fresh, and brings interesting Mediterranean recipes and flavorful combinations. When was the last time you saw ripe figs on an arugula salad? Or falafel squares? From short ribs to lamb dumplings to octopus, everything is served in portions large enough to share, and in a beautiful airy setting.
And don't forget to order dessert. The baklava is worth every penny, and the Turkish coffee is a delight.
We feel these are the best new restaurants of 2019. At least so far!
Opening Soon:
Get non-stop Upper West Side food news delivered to your inbox:
The following two tabs change content below.
Hannah Rosenfield is an avid writer and new resident of the Upper West Side. She graduated from Binghamton University in May of 2018, after studying Creative Writing and works in advertising. In her free time, Hannah loves reading the New York Times food section, petting all the dogs on the Upper West Side, and strolling through Central Park.
Connect with Hannah on Linkedin.
Contact Hannah by email.
Latest posts by Hannah Rosenfield (see all)
Advertisement