House plants are having a moment. Filling your apartment with greenery not only brings in likes on Instagram but actually benefits your health (says NASA). And in a city like New York, it's important to surround yourself with as much clean air as possible. Thankfully, the city is home to some great garden shops that not only sell pretty houseplants but teach us how to care for them. Ahead, we've rounded up the eight best NYC plant stores, from classics like PlantShed and Union Square Greenmarket to newer innovators like The Sill and Rooted.


Advertisement
The Sill
448 Amsterdam Avenue. UWS
84 Hester Street, Lower East Side
Delivering New Yorkers plants like pizza since 2012, The Sill has helped streamline the process of becoming a houseplant parent. The store, which started online, opened its first brick-and-mortar location on the Lower East Side's Hester Street in 2014. A few years later The Sill opened on the Upper West Side, bringing a "plant on every sill." In addition to delivering plants to your doorstep, The Sill also offers workshops for green-thumb newbies, from DIY terrarium classes to succulents 101.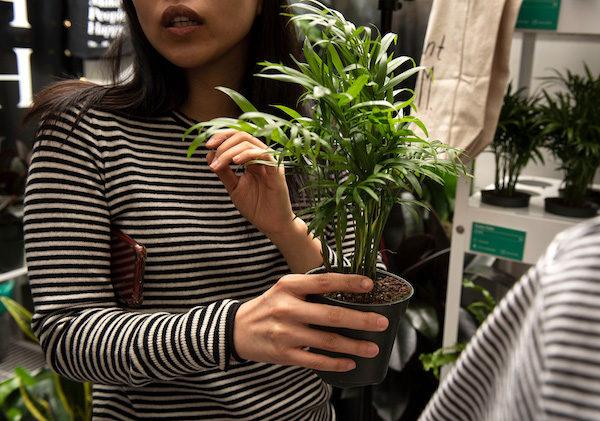 Learn More
PlantShed
209 West 96th Street, UWS
555 Columbus Avenue, UWS
1 Prince Street, Nolita
Since 1981, PlantShed has served the Upper West Side and beyond with a wide variety of plants and stunning floral arrangements. Last year, the family-run plant store opened a new location in Nolita, which also features a coffee bar. Easily one of the best NYC plant stores, PlantShed's expertise truly shines when planning a corporate event or wedding, and the store has been known to work with high-profile clients.
Learn More
Chelsea Garden Center
87 Havemeyer Street, Williamsburg
444 Van Brunt Street, Red Hook
Another NYC staple for the plant obsessed, Chelsea Garden Center has been in operation since 1984. The store, which also has a location in Red Hook next to the Fairway, recently moved its Manhattan store to Williamsburg, expanding its Brooklyn presence. Chelsea Garden Center specializes in landscaped installation and garden designs. Plus, the 35-year-old shop delivers across New York City, as well as Brooklyn and New Jersey for an extra charge.
View this post on Instagram
Learn More
Rooted
135 Kent Avenue, Williamsburg
What started as a make-shift garden shop in an apartment has grown into one of the best NYC plant stores, located in an impressive Williamsburg brick-and-mortar. Formerly located in Greenpoint and then on Quay Street in Williamsburg, Rooted moved earlier this month to a new spot on Kent Street, attracting the same hip millennial crowd that first helped the store grow its roots. Pre-potted plants can also be ordered online from Rooted and delivered to your doorstep.
View this post on Instagram
Learn More
Advertisement
Green Fingers Market
5 Rivington Street, Nolita
You don't just grow a green thumb at this Nolita plant shop, you grow green fingers. Located at 5 Rivington Street, Green Fingers Market is an eclectic store founded by Japanese plant artist Satoshi Kawamoto. Not only does the plant shop offer fresh selections of succulents and orchids, the store doubles as a boutique with clothing and housewares made in Japan for sale.
View this post on Instagram
Learn More
Sprout Home
59 Grand Street, Williamsburg
A transplant of Chicago, Sprout Home is one of the most aesthetically pleasing shops on this list. Located near the Williamsburg waterfront, the plant shop sells picture-perfect plants that not only are easy to maintain, but also look awesome on your Instagram. And Sprout Home offers lots of fun classes and events, from terrarium workshops to ladybug releases.
Learn More
Union Square Greenmarket
Union Square Park
Considered one of the city's best farmers markets, the Union Square Greenmarket offers items from about 140 local farmers, fishers, and bankers during peak season. In 1976, the year-round market became the city's first Greenmarket, paving the way for the more than 50 that exist today. In addition to locally-grown produce and baked goods sold, the Greenmarket also offers a ton of cut flowers and plants. According to Grow NYC, ,the market sees about 60,000 people on a typical day.
Learn More
Foliage Paradise
113 West 28th Street, Chelsea
Aptly located in the Flower District, Foliage Paradise greets you way before you reach the front door. The plant shop overflows onto the sidewalk, luring in passersby with smells of freshly cut flowers and potted plants. Orchids, outdoor plants, palms, succulents, Foliage Paradise truly lives up to its name.
Learn More