The Upper West Side has plenty of places for a resident or visitor to have a drink. From divey sports bars, to local neighborhood haunts, to creative cocktail bars and cute places to take a date, the neighborhood really has something to accommodate everyone. If you need a place to go after an unforgiving day at the office, these are, in our opinion, the best bars on the Upper West Side!

George Keeley
485 Amsterdam Ave (between 84th and 85th Streets)
George Keeley is the definition of a neighborhood haunt. The casual and unpretentious pub has a huge, high quality beer selection (including many hard to find beers on tap) that is constantly rotating. Their friendly staff serves up above average bar food too, so it's the perfect place to meet with a group of friends who may want to order something to eat along with their drink. Or you can just eat their free popcorn! George Keeley gets bonus points for their beer club: drink 100 different types of beer and you'll get to show off your name on the pub's wall (although we wouldn't recommend doing so in one sitting).
View this post on Instagram
Advertisement
Crave Fishbar
428 Amsterdam Ave (between 80th and 81st Streets) 
Although technically more of a restaurant than a bar, Crave Fishbar makes our list because they may just have some of the best happy hour specials on the UWS. From 5-7pm during the week, Crave has $1 oysters that pair perfectly with their happy hour cocktails: bloody marys, delightful pink drinks, and oyster shooters (a shooter topped with an oyster). Crave Fishbar has outdoor seating where you can watch passersby and sip on a drink; and it's the perfect place to bring a date.
View this post on Instagram
Prohibition
503 Columbus Ave (between 84th and 85th Streets)
With live music every night of the week (for free!), Prohibition is one of the UWS's most lively lounges. Their decor is Jazz-age themed, so you'll feel like you're taking a step back in time when you enter. The music is pretty consistently good, so it's a great place for a first date, a friend who appreciates music, or some dinner and drinks with Mom and Dad. They have an impressive list of cocktails too, and bonus points for the giant pretzel on the menu.
View this post on Instagram
Blondie's Sports
212 West 79th Street (between Amsterdam and Broadway)
From the outside looking in, Blondie's looks just like any other old neighborhood bar. However, step inside and be pleasantly surprised. The bar is always full of people, without being too crowded, and there's a reason why. At Blondie's the secret is the wings – people come from all over Manhattan to enjoy them. The food and drinks are affordable too, and for watching a professional or big college game, Blondie's is the perfect place. The crowds are fun, the service is friendly, and with over 30 TVs, you can't go wrong with picking Blondie's for your next sports game.
View this post on Instagram
Advertisement
The Owl's Tail
215 West 75th Street (between Broadway and Amsterdam)
The Owl's Tail takes the win for best cocktail bar on the UWS. It serves well crafted and creative drinks, and it could easily pass for a downtown Manhattan bar, given its trendy atmosphere. Signature cocktails include the Stormy Owl (made with rum, coffee essence, and house made ginger juice), and seasonal cocktails change with the weather. The Owl's Tail also offers small plates, including roasted oysters and meatball crostini. It's very comfortable yet modern at the same time. Given its location near the Beacon Theatre, it's a great place to grab a drink before or after a show. In the nicer weather, the large front windows open up, giving the bar a patio-like feel.
View this post on Instagram
e's BAR
511 Amsterdam Ave (between 84th and 85th Streets)
There are regular neighborhood bars, and then there is e's – a place so deserving of a positive review that you just can't wait to write about it. I'm torn between wanting to tell the entire world about e's and also wanting to keep it a secret because that's how great of a place it is. Where to even begin! From the great bar food, excellent happy hour ($5 burgers!), to the bar games that are scattered throughout the entire place, e's is good for just about anything. The bar is huge, has ample seating, and is always filled with smiling friendly people. What more could you ask for?
View this post on Instagram
Gebhard's Beer Culture
228 West 72nd Street (between West End and Broadway)
The first thing to talk about is the huge and amazing beer list. Gebhard's has an arsenal of 250 bottled beers and 16 drafts; you could go every day and discover something new. It's truly the Disney World of beer. This earns Gebhard's an easy spot on our list of the best Upper West Side bars. They also sell bottles and growlers to go!
The atmosphere is really chill and casual, and the interior is spacious with two levels. The downstairs section has an enclosed patio and two bars.
The upstairs has games including table hockey, billiards and a dart board.
The food is awesome: definitely try their burgers, nachos and fish tacos.
Gebhard's offers trivia on Monday nights at 8pm for fun and prizes.
View this post on Instagram
Advertisement
Vin Sur Vingt
66 West 84th Street (between Columbus and Central Park West)
With 250 wines available on a rotating basis, Vin Sur Vingt on the Upper West Side is a wine-lover's dream. 50 wines are available by the glass, and are complemented perfectly by their French bistro-esque menu, full of tartar, fromage, and even escargots. It has a cute, warm ambiance that will make you feel like you've been transported to a sidewalk cafe in Paris. In the warmer weather, the front of the restaurant opens up, creating a sense of outdoor seating.
View this post on Instagram
Caledonia Bar
424 Amsterdam Avenue (between 80th and 81st Streets)
This sleek Scottish whiskey bar comes with over 250 whiskey selections (and most notably a fantastic scotch selection). The space is beautiful with a high end feel, making it ideal for client meetings (if you're in the type of business that calls for hard drinks!).
Very pleasant, friendly and knowledgeable bar staff.
Their food menu consists of a number of small plates … with their scotch eggs being among the most popular.
View this post on Instagram
Dive Bar
732 Amsterdam Avenue (at 96th Street)
Open since 1989, it really doesn't feel like a dive bar (though the exterior sports charming neon lights). Commonly referred to as "Dive 95", this massive bar has a massive menu. Drinks include 82 bottles, 32 drafts, and tons of whiskeys and scotches. The food menu is two solid pages; breakfast is served at all times, and some of the more popular items include their poutine and burgers and wings. And they've got tons of sandwiches! Some less expected foods include their blackened salmon tostadas, catfish tacos and their catfish banh-mi Vietnamese sandwich. Dive Bar has a large counter at the front, and tons of booths and tables for sit-down meals in the back.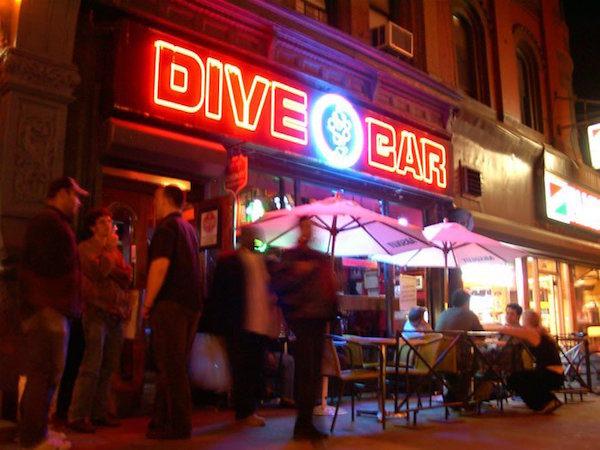 Join our newsletter for more food + drink tips!