Scenes are being filmed this week for Better Nate Than Ever, an upcoming movie adaptation of Tim Federle's book series of the same name.

This came to our attention from Anna Altheide (@atsymbolanna on Instagram). Thanks for tagging us in your story!
Anna's story mentioned that "Pittsburgh" is the name production has been using publicly. This is also mentioned on thedisinsider.com, in which the author of an early May write-up wrote that they'd "learned the project, which has geared up production in New York, New York under the working title 'Pittsburgh' is being made as a Disney+ original movie."

Signage states that scenes will be filmed between Monday and Wednesday, and that the production crew will be holding parking at the following locations: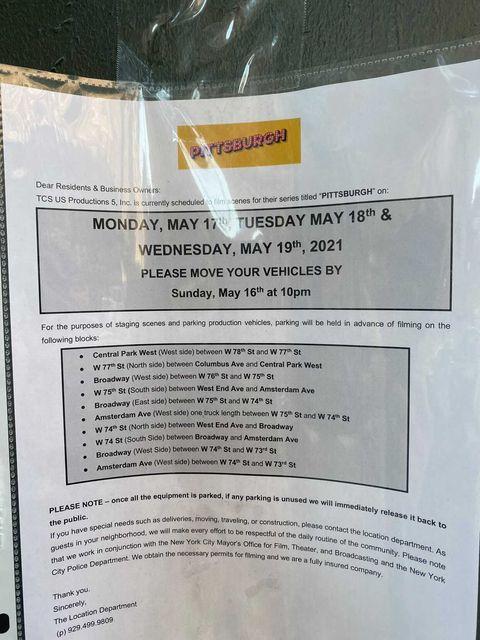 In January 2021, the film put out a casting call for actors to play the roles of Nate and Libby, the 13 year old main characters, also mentioning that filming would begin in May. According to backstage.com, some scenes have already been shot at 47th Street and 8th Avenue and in Port Chester, New York.
Nate and Libby's character descriptions can be read below:
View this post on Instagram
Here's the synopsis of the film (via castittalent.com), which is being directed by series author Tim Federle:
13 year old NATE FOSTER is an unpopular Midwestern kid who entertains vivid fantasies of becoming a big Broadway musical star.  In the meantime, however, Nate can't even get a decent role in his middle school's drama productions, getting cast as a tree in the chorus instead of the lead role he craves.  However, when he and his best friend LIBBY mastermind a daring trip to New York City, without their parents' knowledge, to audition for "Lilo and Stitch: The Musical," Nate may be on the verge of fulfilling his lifelong dream.  But first, he has to overcome a series of comical obstacles that threaten his Broadway adventure with disaster at every farcical turn….
No official release date has been publicly announced by Disney+, but several publications indicate the movie is expected to be out in early 2022.