With so many pizza shops decorating nearly every block of Manhattan, it's easy to get lost in the crowd. On the Upper West Side, Amsterdam Ave is one of the busier streets filled with restaurants. Finding something you'll enjoy isn't that hard, but we have just the spot for you that is more than just a good meal.

Bettola 'Rock and Roll' Italian is located at 412 Amsterdam Ave, between 79th and 80th Streets. Under new ownership since November of 2018, Bettola has an added flare with the head chef and rockstar, Vlado Kolenic. He is a seasoned musician with hit records and his zest for life is evident in both his cooking as well as his presence throughout the restaurant.
Because of their fun and inviting approach, Bettola's new owner Giga and Chef Vlado ensure that each meal you eat at Bettola is time spent laughing, smiling, and living musically. They celebrate nearly every American holiday and others including Mardi Gras and Oktoberfest, establishing a fun and welcoming space for all.
There's so much to experience at Bettola and with outdoor seating, you can choose to eat freshly made wood-burning oven pizza as people walk by, or take your meal inside where the real party starts.
Upon entering Bettola, you'll be pleased to find a warm seating display with detailed decorations everywhere you look. I had the treat of sitting at the "chef's table" which bordered a small brown keyboard. Here is where Vlado comes to play music whenever he likes.
Patrons love the environment of Bettola for its liveliness and energy. The bench I sat on was a refurbished church pew, which adds an unmistakable dash of character that you can't forget. Brass instruments hang from the ceiling as light fixtures, and some of Vlado's records and awards don the walls.
As for the food, I wasn't disappointed there either. I started with the stir-fried curly shrimp that is marinated in a chili garlic sauce. It's a great appetizer with subtle yet present citric undertones that wakes up your palette just enough to get into the next course.
I loved the Salsiccia pizza, made with a thin crust and slightly spicy sausage. It was the perfect amount of pizza to share with one other person if you're getting an appetizer or another entrée as well. If you're eating solo, then it's a great personal pie!
Next, I had a wonderful take on risotto, the Bettola original of Couscousotto. It's a rich veggie pearl couscous with diced filet mignon, shrimp, and mushrooms. And it is simply outstanding. I highly recommend it to share so you can get the taste and have room for other items on the menu!
Lastly, I enjoyed the fondly named "Fuzzies" dessert, which is essentially a big chocolate truffle with a sort of cake-pop texture, covered in a chocolate shell. It is rich and dense, but oh so good.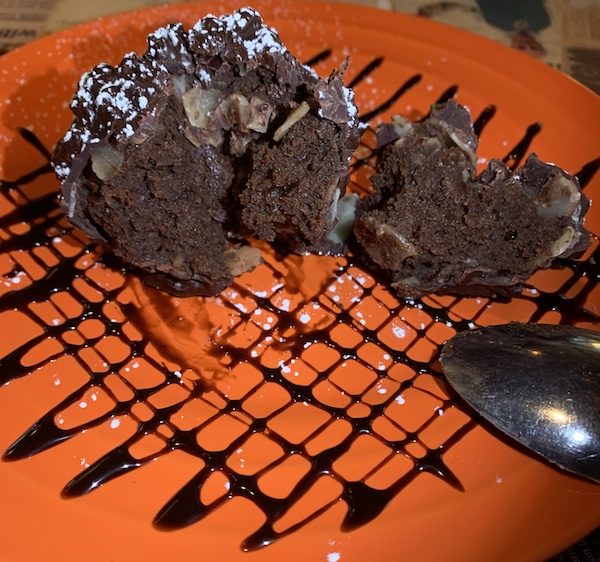 The afternoon I spent at Bettola was simply delightful, and I would absolutely go back with friends and family. The food is great, but the ambiance really makes the place stand out amongst other restaurants in the area. If you're looking for a new go-to dinner or lunch spot, Bettola is it!