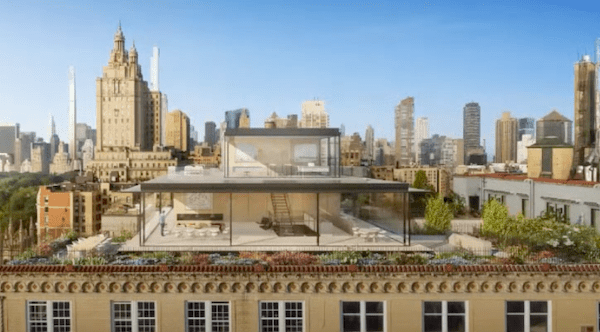 Hedge fund manager Bill Ackman is no stranger to controversy. He recently claimed that social media chaos ensued when he tweeted his belief that accused murder Kyle Rittenhouse is innocent. On the business side, the Financial Times deemed him a "veteran of corporate raids and rancorous short selling campaigns." But closer to home, Ackman struck a decisively softer tone as he spoke about his dreams for his family on the Upper West Side during the Manhattan Community Board 7 virtual meeting on November 3, 2021.

Advertisement



The founder of Pershing Square Capital Management wants to build a two-story glass house atop 6-16 West 77th Street, a landmarked building that sits steps away from both the New-York Historical Society and the American Museum of Natural History. Ackman believes demolishing the current pink penthouse will be an "enhancement," and that allowing his glass palace will "do something special" where his family can live. He claimed his building would be less visible from the street than the current pink stucco, and reported that his plan includes offers to modernize the building's fire safety system and elevators.
READ MORE: Ackman Sent Back to Drawing Board: Glass House Must Be Scaled Down
Many of the residents who attended the meeting earlier this month were not sold.
John Richards told the board that he and other neighbors at No. 6-16 found Ackman's plans "risky and inappropriate," voicing concern that 93-year-old "sensitive building" will suffer from leak and support structure issues if the project moves forward. Richards noted that the co-op had an extensive replacement of building's vertical steel support columns "only recently." He also expressed his fear that allowing Ackman's glass house will set a bad precedent for "plopping down such inappropriate structures on other historic buildings in the district when there's enough money on hand."
Another resident identified as Mrs. Smith echoed Richards' concerns about precedent, calling it "dangerous" to the historic district. She labeled Ackman's proposal as "glaringly striking to the style of the building" and believes it looks like a house in Malibu or a restaurant pavilion. Smith has no objection to renovating or sprucing up the current structure, but she was adamant in her opposition to a "Malibu house on the top of the building."
Roberta Gratz, a seven-year veteran of the Landmarks Preservation Commission, feels allowing the construction will flood similar rooftop additions and that any boards considering future alterations will have a hard time ignoring the precedent Ackman's penthouse could set. Shareholder Kenneth was a bit more direct. "It looks like a flying saucer landed on top of the roof," he said in reference to the design plans.
Advertisement



A number of others in attendance supported Ackman. Notably, only one person who spoke in support is a current shareholder at No. 6-16. "It's crystal clear that this would be a massive improvement" to the building and neighborhood, said David, a resident of the building for a decade. He called the current pink penthouse an eyesore and claimed that residents like Richards, Smith, and Kenneth represent "a small group of very vocal people who don't like change."
Ackman backed David in this assertion, claiming that those in opposition are not concerned about architectural integrity. "They just don't want noise."
The board members ultimately backed Ackman with a vote of 25 to 7 (with two abstentions, none for cause). Those in support feel that Ackman's glass house will blend the past and the present; those opposed, obviously, don't. Board member Page Cowley acknowledged that Ackman's intentions seem honorable but reported that the building will lose its landmarked purpose. She added that the building is designated as a whole and that it cannot let the "top go to hell."
Ackman's plan is headed for a vote in the Landmarks Preservation Commission on November 16.