Bobby has been a seafood expert on the Upper West Side for over 35 years. He originally ran Jake's Fish Market on 89th and Broadway, after which he started manning the seafood station at Broadway Farm, located at 2341 Broadway (between 84th and 85th Streets).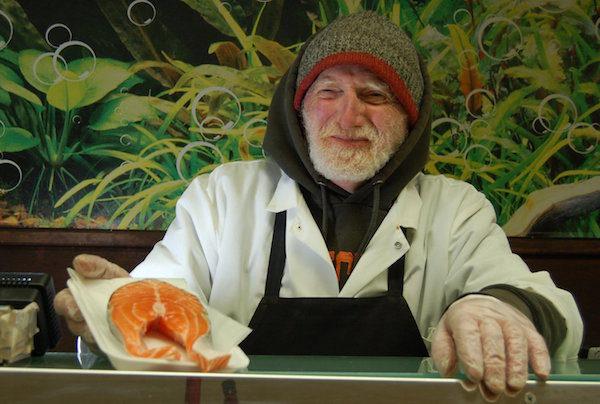 One of our readers recently emailed me about Bobby. She started telling me about his history in the neighborhood. Then she mentioned that he's recently been struggling to keep his job. Which finally leads to an exciting new plan they've got in place:
I met Bobby thirty plus years ago when I was managing Docks Oyster Bar at 89th and Broadway and he and Billy ran Jake's Seafood next door. They were our lifesaver, our resident experts, the neighborhood icons as well as really good, regular customers.

Everyone from every demographic and income bracket knew who Billy and Bobby were, and our block was always buzzing and rife with smiling faces, high-fives and happy customers from the cross-promotion of both our businesses.

Well, of course times change and as new businesses moved in and even the core group and seemingly "solid" culture eventually drifted away, Bobby remained a fixture on the UWS.

Now running the Broadway Farms fish-market at 85th and Broadway, new residents have absolutely no idea that they are speaking with an Upper West Side icon and seafood expert who served and educated a predominately A-list clientele in the past and is one of the most humble, kind humans they will ever meet.

Opting instead to order their fish online for convenience, people don't realize they can be getting fresher fish, more variety, cooking tips, accessing his "insider only" fish-connections, hearing intriguing back-stories and juicy UWS details and history from Bobby himself.

They also don't realize, as they are walking past the store, that Bobby could be losing his job in just a couple of months.
Advertisement



Broadway Farm's seafood sales have been lagging. Which means they may soon do away with this part of their business. Which means Bobby could soon be out of work.
But fear not … this is the Upper West Side. And as demonstrated recently, we fight to keep small businesses (and their employees) running strong.
Just like Upper West Siders recently helped save Westsider Books, and are currently working to revive Whispers Restaurant & Bar, this local is working hard to keep Bobby in business.
But her plan doesn't involve a fundraiser. Instead, she's helping Bobby enter the digital age.
And the result is the perfect new service for those seeking streamlined seafood solutions.
So here it is: Starting now, you can message Bobby through Facebook to order your fish twenty minutes before you arrive! And you can message him for recipe tips and insider info on the freshest catch of the day.
Just send Bobby a Facebook message and your order will be cut and waiting for you!