What do I love the most about living on the Upper West Side? The walking. Fuhgeddaboudit!

We've got beautiful gothic architecture between two of the most beautiful parks in the world, and then all the fun shops and eateries to enjoy along the way. Believe me, I probably would've lost my mind by now if not for the therapeutic bliss I find walking through the UWS.
Having lived here for over a decade now, I have my favorite walking routes, for sure. I call them loops. If it's a glorious sunny morning, a classic loop would take me north from my apartment to 72nd and Columbus Ave, where I make a left and cruise the south side of the street so I can say hi to the Gray's Papaya team and pick up a coffee and maybe a breakfast sandwich if I ran out of waffles or Greek yogurt at home.

Just before I get to the entrance of
Riverside Park
on West 72nd Street by the Eleanor Roosevelelt Monument, I've got to see what's in the window of
Westsider Records
. They always have really cool books, vinyl and tote bags, and they give me inspiration for the music I might play during my trip – which basically winds me through Riverside Park, to the water, through the Boat Basin from the bottom steps up, and down the two long and lovely walkways with the fancy flowers aplenty – ultimately making it to
Absolute Bagels
for the good stuff, the reward! An everything bagel with lox, tomato onion and cream cheese. I highly recommend, it's worth walking for.
Get The Upper West Side Newsletter
Then I'll make a quick stop at the gorgeously gothic Cathedral of St. John the Divine before I walk south, inevitably returning to my apartment after a likely pop in at Pioneer Supermarket and a stop at the fruit stand on my corner.
As fun as that loop is for me, I need variation in life, so I keep plenty of other walking routes in my arsenal. Something for every occasion, I think. I love walking Central Park right after it rains because hardly anyone is there, and things have a nice glisten now, especially if it's sunny.
Sometimes I get lucky and an added 'spice' is added to a classic walking route. Most recently, it was The Green at Lincoln Center.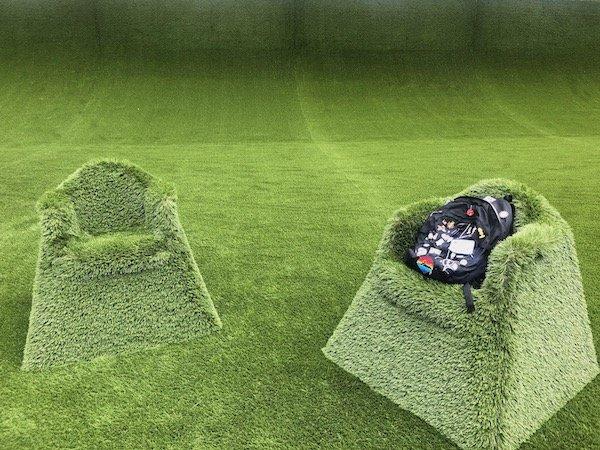 I was there when it opened on Monday, and I was actually nervous that I'd be stopped and told to leave, as there were only a few people on it with lots of photographers taking pictures from the outside (I thought it was a photoshoot).
A lot of staff members were there looking around, and perhaps it was because so many people, myself included, had these astonished looks on their faces. "Wow, I've been here a million times but I've never seen it like this! I've never felt it like this!" Reminded me of 'The Gates' in Central Park by Christo and Jeanne-Claude.
On 'The Green' at Lincoln Center, the turf feels in many ways natural, and has a nice give to it. I imagine sports teams practice on terrain like this. Nobody is going to have their heels sliding through the mud here.
To experience something, especially for first time, something totally brand new and so especially unique, at a venue that you love and is adored by so many… that doesn't happen very often. So to quote Adam Sandler playing Billy Madison, "You gotta cherish it."
[adrotate banner="161″]
The Green is only going to be there until September. I consider this Green a gift; to see something you love in a new light is fun. I felt like a kid on that grass. I went back later in the day and sat on the fountain, listening to The Strokes on my headphones to chill and see how others were enjoying the space. Children using the green half pipe to run back and forth, building momentum to get higher and higher takes the cake for smiles. And there's a library somewhere in there too!
A nice way to exit the space when you decide to move on is to head northeast – through The Opera House and David Geffen Hall – to enjoy the 'Reclining Figure' on water. Also, notice the real grass above Lincoln Ristorante: it's not that much different from what you were just walking on – except you can see the erosion, those light dirt spots from years of use, so they rope that area off for long periods of time. This Lincoln Center green should be able to handle, no problemo, consistent use and enjoyment from locals and visitors alike … until September. I'll be cherishing it, looping it in.