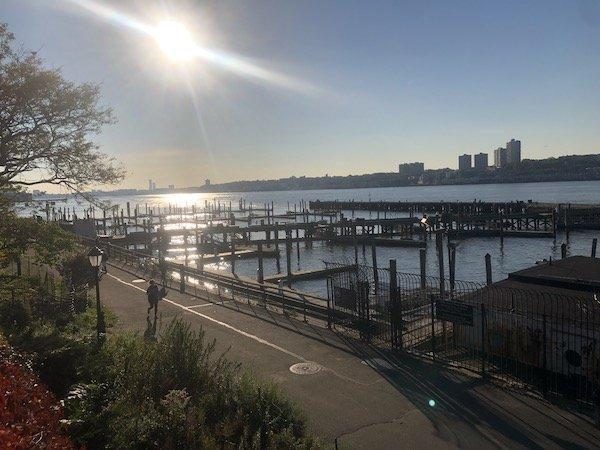 When my cousin moved from Chicago to the Upper West Side in May 2017, I took her for a walking tour of what our beautiful neighborhood had to offer. It's strange because I only remember one particular stop on this journey, the Boat Basin in Riverside Park. A can't-miss no matter what.

Advertisement



"This is a great date spot," I remarked, stating the obvious, but I was in tour guide mode so I was doing my best to call it all out.
We got drinks at the Boat Basin Café and then made our way to the railing, past the grand stone archways, gazing out over the ships in the marina on the Hudson, and beyond. Beautiful day. If I had known then that the Boat Basin Café would close in 2 years (2019), I may very well have said we should wait for a table so we could cherish it longer.
Which brings me to one of my favorite memories at the Boat Basin. It took place during the pandemic at a time when vaccinations had been going on for a little while. I was walking north along the walking/bike path and took the side steps up the Boat Basin to the 'Café level' where it used to operate. To my surprise, I came across a group of friends who had set up a pot luck dinner by the railing overlooking the water. They brought tables and chairs, candles; the whole nine yards for a feast. I relished that idea of creative companionship considering the circumstances. Marvelous.
Another interesting happening that I witnessed at the Boat Basin took place after midnight several years ago. I was enjoying Riverside Parks splendor, seemingly all by myself, when it dawned on me that it was getting close to past curfew at 1am and I wasn't looking to get my second ticket for being in a park after hours. I was once again traveling north along the walking/bike path, so naturally I took my favorite cut up to the street, through the Boat Basin.
Advertisement



As I got towards that railing overlooking the water and turned right, looking into the café area, I noticed a strange light further out in the distance where the gazebo would be set up. The light was moving around a lot too. This was out of the ordinary and as I walked slowly closer to the light I could hear someone yelling.
My curiosity piqued, I proceeded on and discovered a man in what appeared to be an intense business negotiation. I'm not sure what that business was, but the man on the Boat Basin stage was the seller and was possibly looking to hit his end of quarter quota and needed to close this particular deal to do it.
He seemed to have enough rapport with the person on the other end of the line, and that someone had enough familiarity with what they were selling that there was hope for this call to end well.
Why they chose this particular spot at this particular time, I'll never know. I've seen this kind of thing in the park before; it's usually a mix of having a little privacy and being in a strong position, like on top of a stage. Always be closing, even at 1am.
With so many changes to the Boar Basin of late, what I'm missing right now is seeing the boats docked in the marina. I had a dream that dates back to my High School days in the early 2000s. I dreamt that someday I would write a book titled, "How I Bought the Boat and Wrote the Book." The book would essentially detail how I earned enough money to buy the boat. The book would be written at sea and delivered upon my return.
When I moved to the Upper West Side in early 2010 I remember seeing the marina at the Boat Basin and my dream came back to me. "That's where I'll dock Jenny 13," I joked with myself.
Forrest Gump had 12 Jenny's. I performed a 1-man show of Forrest Gump for my 5th grade talent show, jumping back and forth between characters but that's a story for another time.
There's a whole lot of check boxes that need to get ticked before I can even think about this boat again. And no, I won't skip number 13 because it's supposedly unlucky if you were wondering. Okay, moonage daydream time is over, the story must go on.
I wish all the boat captains the safest of travels on their voyage, however long or short it will take them to dock again.
As NYC Parks prepares construction for a new marina in 2023, I hope I see you captains again.