Early childhood literacy center Book Nook will be opening its third location at West 59th Street on March 22, and they'll be offering some free trial classes during the first week. This will be the company's second location in the neighborhood; Book Nook can also be found at 167 West 81st Street and at 23 Warren Street in Tribeca.

Located at 557 West 59th Street (at West End Avenue), the new center will offer reading enrichment classes for all levels during the school year, with multi-day enrichment programs offered during the summer months.
Book Nook welcomes children between 6 months and 12 years old, with age-appropriate classes available for all.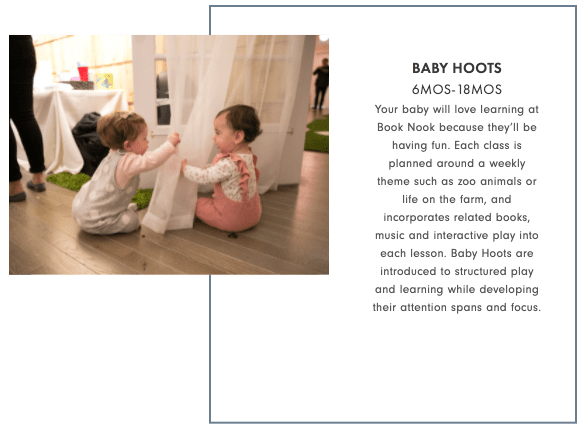 Book Nook is a family-owned business run by Rina and Andy Collins, Upper West Siders with two kids and a third on the way.
"We are so excited to continue expanding the Book Nook Enrichment community with the introduction of our third literacy studio at W59 @ West End Avenue," says Rina. "This area is becoming more and more family-friendly, but there are still very few programs for children nearby. We knew that Book Nook could be a vital addition to the neighborhood and look forward to opening our doors to countless children who are ready to learn."
While they were expecting to open this location much sooner, Rina and Andy are thrilled that opening day is finally around the corner.
"We went against the hardships of the pandemic and powered through the construction, almost two years in the making." All health and safety precautions have been put in place; you can read more about the steps they have taken here.
"Book Nook is the most magical place for kids to learn and grow! Not only do children learn important reading and writing skills, Book Nook also teaches kids how to be kind and courteous in the classroom. It is the perfect place for students of all ages!"


– Tara F

Here's a peek inside the new center!
The new studio is conveniently located near the 59th Street – Columbus Circle subway station via the A/C, B/D, and 1 trains, or a short walk from the Lincoln Center subway station via the 1/2 trains.
To sign up for free trial classes during the first week, please click here.