A Northern Italian restaurant and pizzeria called Bosino has opened at 201 West 103rd Street, between Broadway and Amsterdam. This space was formerly occupied by Buschetta.

Bosino was actually open between late September until early November. This was a soft-opening to test out different dishes. They temporarily closed for renovations and came across quite a few bumps in the road which they had to solve before opening.
The restaurant comes from Davide Pupillo, whose father Giuseppe has run a pizzeria in Varese, Italy for over forty years. Davide is looking to bring the same authentic Northern Italian cuisine to NYC.
The restaurant has seating for 18, and David has partnered with two people to open Bosino: Sandro Giusiano, the owner of Bettolona, and Marco Gallotta, an artist and wine enthusiast.
[adrotate banner="84″]
The menu starts out with an antipasti section with eggplant parm, caprese and a meatball plate.
There are four pastas to choose from: lasagna, gnocchi with tomato sauce and mozzarella, fettuccine, and cheese tortellini with mushroom cream sauce.
And they've got quite a robust selection of pizzas!
Here's the Battipaglia pizza (with mozzarella, broccoli rabe, sausage and parmigiano)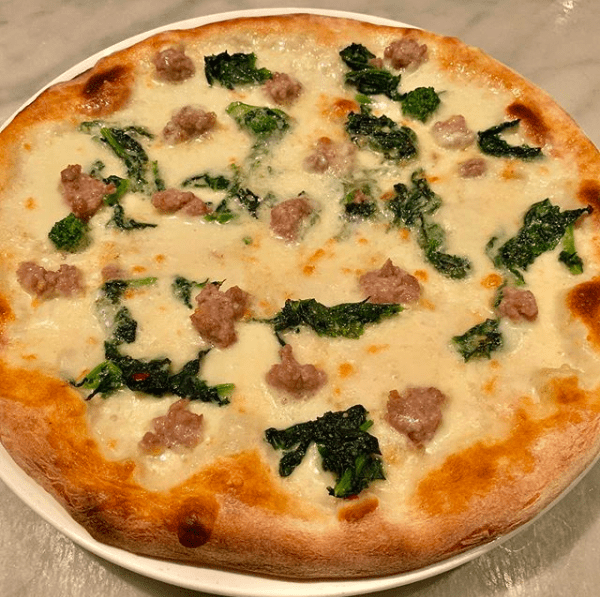 And the Regina Margherita (with tomato sauce, fresh Mozzarella and basil)
The dessert menu includes panna cotta, nutellino and tiramisu (pictured)
Learn more about Bosino and check out their website and Instagram page.
More exciting openings:
Get the UWS newsletter for more food news!