Cuppa Joe… bean juice… java… Whatever you call it, coffee is an essential part of any New Yorker's diet. What else will fuel us as we power-walk up a broken escalator or give us the strength to catch that getaway M86 bus?

With no shortage of fancy coffee spots in our neighborhood, we thought we'd list out the best places on the UWS to get your boutique caffeine fix. Nothing against your classic bodega drip, but if you don't mind dropping a few extra bucks, or are simply looking for a spot where they really know their beans, try one of the places below!

Advertisement
Birch Coffee
750 Columbus Avenue (between 96th and 97th Streets)
Birch Coffee knows a thing or two about roasting beans. Every single cup at this hip and popular Columbus Avenue spot is hand-roasted in nearby Long Island City before it becoming a part of your brew. The beans vary with the seasons and harvests, but each is held to a high standard of excellence. Try their cortado or flat white, and don't miss out on their beloved almond tea!
Bluestone Lane
417 Amsterdam Avenue (80th Street)
The neighborhood collectively lost its jazz cat-level cool when Bluestone Lane finally opened on the Upper West Side. And for good reason! This Australian-inspired coffee shop, brunch destination, and lifestyle brand (seriously, what CAN'T they do?!) serves up yummy, healthy, and Instagram-friendly food and drink, including a must-try flat white.
View this post on Instagram
Plowshares Coffee Roasters
2730 Broadway (between 104th and 105th Streets)
Up Broadway and just a stone's throw from Strauss Park, you'll find some of the neighborhood's most attentively-crafted coffee. Plowshares Coffee began roasting their beans in upstate Ramapo Valley in 2009, and their small shop has been serving specialty coffees sourced from all over the world since 2014. Their Modbar espresso machines can serve up incredible pour-overs, and their pastries are not to be slept on.
View this post on Instagram
Blue Bottle Coffee
279 Amsterdam Avenue (corner of 73rd Street)
Blue Bottle tends to elicit a strong reaction from New Yorkers in either one of two ways: it's either "There goes the neighborhood," or "Hooray, we're getting a great coffee shop!" We choose to look on the bright side here, as the coffee shop that arguably kicked off the still-booming fancy coffee trend is popular for a reason — the coffee is just so good! You can't go wrong with an espresso here, of course, but in warmer weather, the cold brew is where it's at.
Advertisement
Irving Farm
224 West 79th Street (between Broadway and Amsterdam)
Two distinctions set Irving Farm on the UWS apart from the other coffee shops in this city: One, the cafe boasts a La Marzocco MP espresso machine, which gives your barista an unparalleled level of control over the brewing process. Two, this location boasts the city's first-ever Kalita brew bar for Japanese-styled pour-over coffee. A small selection of wine and beer rounds out the menu, making Irving Farm a perfect choice by morning OR evening!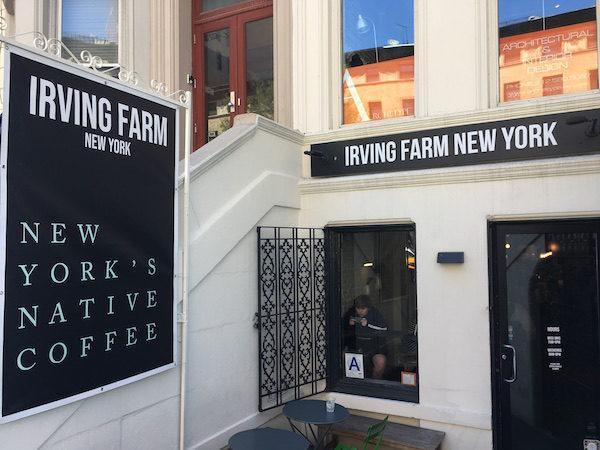 Filicori Zecchini
2541 Broadway (corner of 95th Street)
Certain countries just make EVERYTHING taste better, and Italy is definitely one of them. Thus, count on Filicori Zecchini for all your Italian coffee needs! This coffee shop is an import of an Italian chain running since — drumroll please — 1919! The beans in their blends are carefully selected, and each single-origin blend is roasted separately to balance and produce the best flavors.
View this post on Instagram
Join the newsletter for more food + drink tips!