Summer is coming to an end, and it's time to get into that fall vibe.  If you need some inspiration for the upcoming season, here are a few Broadway shows paired with UWS restaurants and bars to get you in that pumpkin spice mood.

Moulin Rouge + Café Luxembourg
Moulin Rouge's dazzling spectacle of deep reds and bright lights is perfect for the upcoming season. As you arrive to you seats, the performers are already sauntering on the stage to get you ready for your wild ride ahead.
For those of you who are fans of the movie, maybe you are cautiously optimistic about how the show will compare.  I have always considered Moulin Rouge my favorite and I had high expectations for this show. I am happy to report they were met.
The female lead in the show, Satine, played by Karen Olivo, comes in hot as a brunette, instead of a Nicole Kidman's red head portrayal in the movie. This departure from the movie was a pivotal moment for me because it demonstrated that the play was not going to replicate the movie, but instead be it's own creation.
The musical mashups were so good, I left the theater wanting to hear the songs again.
The best of the mashups was "Shut Up and Raise your Glass" featuring the songs "We are Young" by Fun, "Shut up and Dance" by Walk on the Mood, and "Raise your Glass" by Pink.  All of the songs the show kept from the movie were better in the movie, most specifically "Come What May."
You will find yourself singing along to most of the show. Have fun, but please remember to sing to yourself, because no one paid to come to your karaoke night! You can hear all of the songs in advance of the show because the Moulin Rouge on Broadway album just came out last week.
The lead dancer, Robyn Hurder stole the show. Her dancing is unlike any Broadway performance I've seen, and I couldn't take my eyes off her. The costumes are risqué, but tasteful, and the set makes you feel like you are peering into a fantasy world.
Overall, if you are looking for an excellent way to spend a dreary fall night, see the red hot Moulin Rouge. Get tickets here!
Before the show, I recommend going to Café Luxembourg at 200 West 70th Street.
This French café will fill your belly with the best French comfort food, perfect for a chilly fall night. Try the French onion soup, which I believe is the best in NYC.

Advertisement
Beetlejuice + The Dead Poet
Excited for Halloween? Beetlejuice is a show about death. There are ghosts, demons, and of course laughs, because Beeltejuice is hilarious. Alex Brightman, as Beetlejuice, starts the show by speaking directly to the audience about what to expect. If you don't like it, he will probably call you out on it, like he does every so often to people sitting in the front rows.
I enjoyed walking into the theater, which was set up with green lights, eerie music and the most festive audience members I have ever seen at a Broadway show. If you want to preview your Halloween costume, this is the place to do it. There were lots of black and white stripes, purple hair, and of course bright green ensembles. Pretty much everyone in attendance did something to pay homage to this cult classic.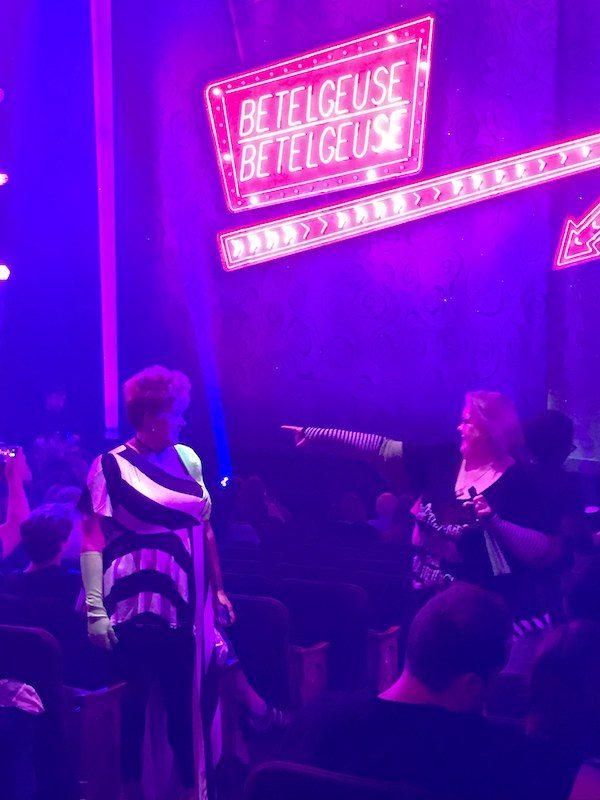 This Broadway show really stands out because of the amazing acting.
Unlike other Broadway shows, which might have a great plot, amazing music, or breathtaking dancing, this is all about the powerhouses on the stage pulling you in. Leslie Kritzer as Delia and Sophia Anne Caruso as Lydia were very talented. When asked who the breakout star was of the show, I'd have to say it was a tie.
The set had a mind of it's own. Large snakes and devilish creatures appeared and disappeared. There were a few screams and surprises a long the way. If you feel like getting a little creeped out, then for this Halloween make plans to go see Beetlejuice on Broadway. Get tickets here!
Before the show I recommend stopping into The Dead Poet, 450 Amsterdam Ave, for drinks.
All of the drinks are based on dead poets and the atmosphere is perfect for fall. A popular cocktail is the Edgar Allan Poe, which is given the following description: "Poe was both glorifies as an angel and maligned as the devil, because of his dark, mournful tales of horror and his mysterious, complex personal life. Tito's Handmade Vodka, Chambord, sour mix and a squeeze of fresh lime, shaken with ice and served in a martini glass."

Advertisement
Harry Potter and the Cursed Child + The Dakota Bar
Nothing says back to school like the magic of Hogwarts. If you grew up reading the books or watching the movies, you will get that nostalgic feeling walking into the theater. Instead of getting ready to go back to school myself, I can relate to Harry and Draco Malfoy as they send their kids off to school, as the show is set 19 years in the future from where the book and movie end. This story focuses on Harry's son, Albus, who is nothing like his dear old dad. The show begins with Albus preparing to be sent off to Hogwarts. He anxiously awaits receiving his fate of being sorted into a house.
Let's take a pause here.
If you have no idea what I mean by being sorted into a house or who Draco Malfoy is, you may be wondering if this show is for you. The answer is yes. You can still enjoy the show even if you have never read the books or seen the movies. I went with my dad, who knows nothing about the backstory and he still enjoyed it very much. That said, if you happen to be sitting next to a Harry Potter fan, be prepared to hear them add a few lines of commentary as the play goes on as they will be making connections they may not have expected to make.
Recommended:
Once the new class has been sorted into their houses, the real drama and magic begins to unfold. Family dynamics and old wounds make for some haunting scenes. The special effects make it seem like you are watching a magic show, yet also feel like you are in a haunted house.
Many audience members come to the show dressed up. So if you are planning to go, feel free to break out your best cape and preppy back to school outfits, no matter your age.
The show is broken up into parts. You can see the entire show in one day or broken up into two days. To see both parts in one day is a huge, well worth it, investment of your time.
Through September 29th you can catch:
Parts 1 and 2 on Wednesdays at 2pm and 7:30pm,
Part 1 on Thursday at 7:30pm,
Part 2 on Friday at 7:30pm,
Parts 1 and 2 Saturday at 2pm and 7:30pm,
Parts 1 and 2 on Sunday at 2pm and 7:30pm
Running time for Part 1 is 2 hours and 40 minutes (including a 20 minute intermission). Part 2 is 2 hours and 35 minutes (including a 20 minute intermission). This Harry Potter performance on Broadway is long, but well worth it! Get tickets here!
Make sure you go to the show or shows with a full stomach, because you will be sitting there for a while.
I recommend heading over to The Dakota Bar at 53 West 72nd Street. This is always a festive place to grab a variety of foods, sure to please kids and adults alike. They also won't judge you if you walk in dressed as a Harry Potter character.