Buying your first apartment is as exhilarating as it is exhausting. Once you have the keys in hand, you feel a sense of relief and pride. This is your home, and it's perfect… until it's not.

The small one bedroom that you swore was big enough, now barely has enough closet space for your shoes. The downstairs laundry facility that once seemed convenient enough in your fourth-floor walk-up now has you dreaming of a place with an in-unit washer/dryer.
There are many reasons people outgrow their apartments as lifestyles change and new people come into our lives. But how do you go about buying a new apartment when you have to sell one at the same time?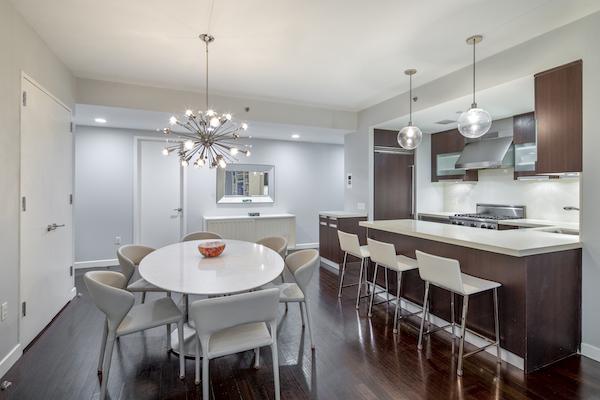 Research Ways to Save on Your Sale and Your Purchase
You probably remember how expensive buying a New York City apartment was the first time around. The closing costs and fees quickly added up. Now imagine paying commissions and transaction costs on two transactions — your sale and your purchase.
Before you rush to begin selling your current apartment or scouring listings to find your next dream home, research ways to save when you sell and save when you buy.
For your current apartment, look for listing agents with seller-friendly commission structures. Similarly, find ways to save on your purchase with a buyer's agent that offers commission rebates, where you can receive a portion of your agent's commission after closing.
Hire a Real Estate Agent to List Your Apartment
While it's tempting to jump right into the search for your next apartment, a better strategy is finding an agent to list and market your NYC apartment; preferably one who doesn't charge an arm and a leg.
An experienced real estate agent will be able to price your home using neighborhood comparisons. This gives you a fair estimate of how much you can expect from the sale, which will help you set a budget for the new place.
When deciding on an agent, don't be afraid to negotiate the listing commission. There are new, smart alternatives to big-name traditional brokerages that have helped sellers to save significantly on the average 5-6 percent commissions in NYC.
For example, sellers who list with Prevu pay a fair listing agent commission of only 1.5 percent with a savings of up to 3 percent with the brokerage's Smart Seller program.
Have a Plan in Place in Case of a Quick Sale
Many New Yorkers start searching for their new place before selling their current apartment out of fear of being temporarily homeless. If your apartment sells quicker than expected, where will you go?
Don't worry. Selling quickly for your desired price is the perfect scenario. There are always options such as a delayed closing, a leaseback of the unit for several weeks, or a short-term rental. Your first priority is to get the best price for your current place.
Apply for a Mortgage Pre-Approval
Once you have a good idea of how much money you'll likely net from the sale of your current apartment, you can factor that in with your mortgage banker to determine how much of a mortgage you can afford on your new apartment.
With your pre-approval in hand, find a real estate agent to represent you on the buyer's side. You may choose to work with the same brokerage that's listing your current apartment; this is perfectly acceptable, though it is recommended to work with a buyer's agent that is a local expert in your desired area.
Start and Finish Your Buying Process Online With a Local Expert
Now that you have a realistic budget in mind and mortgage pre-approval to back it up, feel free to start checking out apartments.
An easy way to do this is to use a platform that brings all aspects of your apartment search together in one place.
Prevu, a tech-enabled NYC-based brokerage, is a great option. You can browse listings, conveniently request tours with the click of a button, submit offers seamlessly online, and keep track of all stages of your apartment search.
Plus, Prevu gives two-thirds of their commission back to the buyer in the form of a commission rebate. For example, if you buy a $1.5 million apartment in NYC where a buyer's agent commission of 3% is offered, you would receive two-thirds of that commission — $30,000 cash back in your pocket.
Schedule Your Closings Strategically for Minimal Stress
Scheduling multiple closings is where things can get tricky. Ideally, you want your current apartment to sell before you close on the new apartment. This ensures that you have the necessary funds available to complete your purchase.
As a seller, you may also want to have your real estate attorney to add language to your contract that gives you a few extra days or weeks to take care of your move. Again, while it's possible to do it all on the same day, having some extra time will make a stressful situation a bit more manageable.
Thinking about upgrading or downsizing your NYC apartment? See how you can save when you sell and also save when you buy with Prevu.