From the High Holy Days to the devoted community of members, there's never a dull moment at Stephen Wise Free Synagogue. Conveniently located at 30 West 68th Street between Columbus Avenue and Central Park West, the vibrant Reform congregation has been an Upper West Side locale for over 115 years. For those curious about getting in on the action, we've put together this handy guide of what you need to know.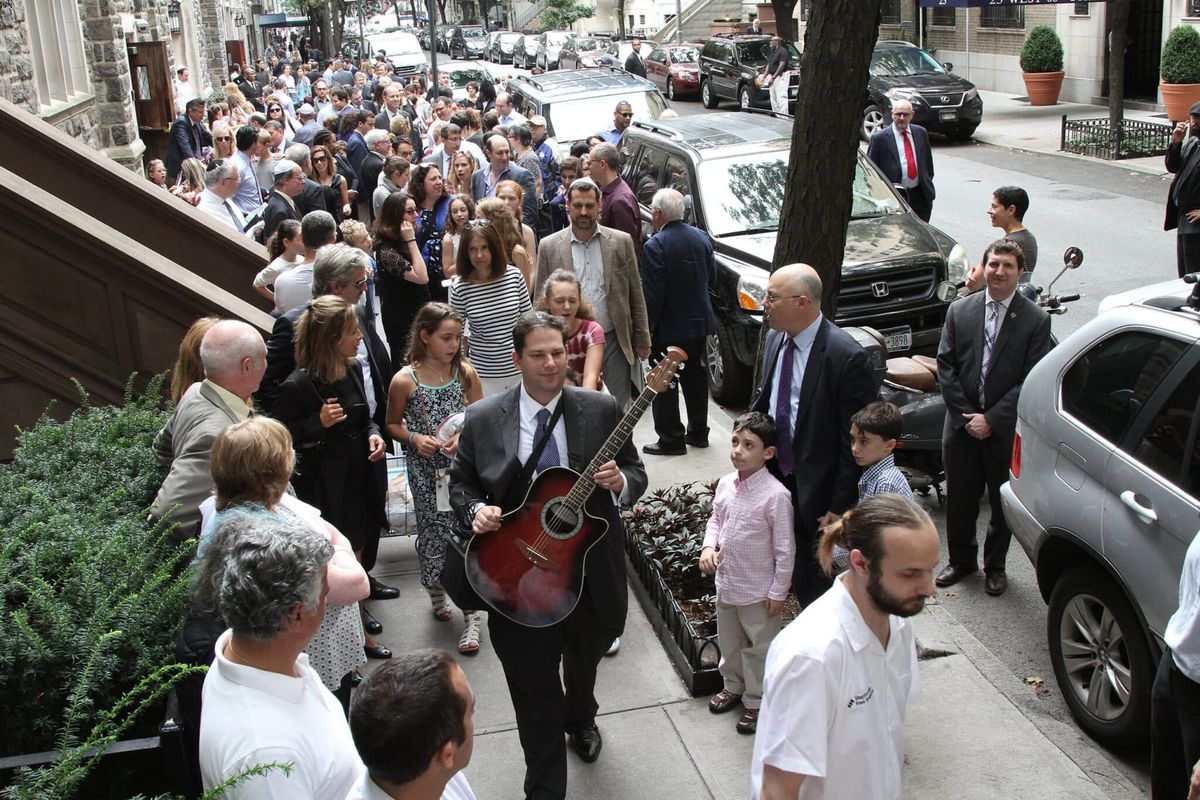 First and foremost, with fall somehow right on the horizon, the time has to come to make arrangements for Rosh Hashanah and Yom Kippur — and these pivotal dates require planning (you can't just throw on your finest threads and strut over to the nearest temple).
In addition to traditional Rosh Hashanah and Yom Kippur service (the full schedule is available here), Stephen Wise is also hosting an online class The Meaning of Yom Kippur, which is open to non-members for just $36. The interactive and exploratory session will set the tone for the new year — providing a framework and model for hopeful, joyful moments ahead.
For the musically inclined, a one-of-a-kind Yom Kippur afternoon service will take congregants through the history of the Jewish people — from Genesis to diaspora, Holocaust to independence — in the form of a musical revue (followed by Havdalah and break-fast). As is the case with other services (including their weekly Shabbat celebration), it will be available via livestream (free of charge) if you're unable to attend in person.
Want a closer look at the High Holy Days at the Stephen Wise Free Synagogue? Check out a service recap from a few years back, and get the full scoop here.
Based on the world-renowned schools of Reggio Emilia, Italy, Stephen Wise's ECC views children as capable, strong, and rich with wonder and knowledge. Every classroom has a teacher who holds or is working towards a master's degree and the teachers meet weekly to discuss ways to better bring Judaism, Reggio-inspired education, and best practices into the classroom. The school also boasts a state-of-the-art rooftop playground, a water play area, and a whimsical indoor playroom — spaces that speak to children's imagination and innate playfulness, and accommodate their different physical needs and developmental stages. Applications for the 2024-2025 school year start soon – request a tour today!
Engaging with core Jewish values and instilling a love for Judaism is paramount when it comes to teaching the next generation about their shared heritage, and religious school is key to keeping traditions alive. Stephen Wise Free Synagogue's program provides ample opportunities for Jewish learning for children from kindergarten through b'nai mitzvah and beyond. The partnership between the whole family and Jewish education is at the forefront of the school's ethos, which ultimately deepens everyone's connection to Judaism. As luck would have it, there is still space available (and even home-learning opportunities). More details are available here, and there's even a virtual info session for prospective students on August 31 at 6:30 p.m.
Did you miss out on the gift of a Jewish education? Or maybe you're just Jew-curious? Enroll in Judaism 101 (four classes are $80 for non-members) and find out everything you ever wanted to know, but were afraid to ask! And for adult learners who need a crash course or a refresher in the Hebrew department, don't fret! Stephen Wise offers weekly Hebrew classes with two tracks for complete beginners or those who are already familiar with the aleph-bet and can read Hebrew words.
For individuals and interfaith couples seeking conversion to Judaism, this welcoming yet rigorous program will help build your Jewish identity, explore crucial questions, theology and Jewish history to help you on your path. Conversion can be challenging, but Stephen Wise seeks to make the process as streamlined and open as possible. If this sounds like something you may be interested in, please sign up here and a member of the congregation will reach out.
Now's the time to join the synagogue that's right for you! At Stephen Wise, new members are always welcome — and they encourage participation from any person seeking a connection to Judaism and Jewish life, regardless of their religious upbringing, race, gender identity, or socioeconomic status. New members under 30 are eligible for a special rate (about a 90% discount) — and while the synagogue relies on membership dues, they believe cost should never be a barrier to being part of a Jewish community.
If you want to learn more, visit swfs.org or contact Stephen Wise's director of member engagement, Isaiah Benedek, at (212) 877-4050, ext. 223, or ibenedek@swfs.org.