The Central Park West Historic District runs from 61st Street to 97th Street. In this article, I will discuss the buildings located between 61st Street and the south side of 77th Street.

To read about the second stretch (the north side of 77th Street to 97th Street), click here.
I have a personal connection to the starting point of this district at 61st Street. In the 1980s, there was a place known as The Conservatory Cafe, located in a building which was then known as the Hotel Mayflower (which is now the expensive condo known as 15 Central Park West). When I moved to Manhattan, I worked there as a coat checker.

Advertisement
During my "stint," the late actress Ann Miller lived on and off at the Hotel Mayflower, as she was staring in the Broadway production of "Sugar Babies" at the time.
This hotel had its share of distinctions. It was the home of Patrick Sullivan, a creator of the cartoon Felix the Cat, and of Max Schaffer, the operator of Hubert's Museum on West 42nd Street. It was also where the Bolshoi Ballet troupe was staying during August of 1979, when one of its leading dancers, Alexander Godunov, defected to the United States.
Be that as it may, working as a coat checker at a restaurant mostly frequented by those living in the hotel rooms above it was not very profitable, since diners did not need to wear a coat to get downstairs.
However, on occasion, the space was rented for holiday office parties and attendees usually wore (and checked) their coats. Additionally, every now and then, if someone, like say, Carly Simon, came in wearing a very expensive coat, they usually had me watch it. I remember the night she insisted I keep it way in the back of the coat room and when I went to retrieve it I got my foot caught in a mouse trap.
So much for my story of an experience at 15 Central Park West.
Years upon years later, in 2004, developers Will and Arthur Zeckendorf bought the famed Hotel Mayflower and several adjacent lots on the Upper West Side for just over $400 million, with the goal of creating the city's most exclusive residential building.
Only one thing stood in their way: A 73 old recluse named Herb Sukenik, who refused to move. But after being given $17 million, Sukenik did move from the now renovated 15 Central Park West.
Less than a block northwest (63rd Street) of 15 CPW stands a building (25 CPW) known as The Century. It was constructed in 1931 and designed by the firm of Irwin S. Chanin.
Just slightly northwest, the Ethical Culture Fieldston School (ECFS), also referred to as Fieldston, can be found at 33 CPW. This is a private independent school in New York City.
Right next to the Ethical Culture Fieldston School is the side of the building which houses The New York Society for Ethical Culture (NYSEC). The entrance is on the north side of West 64th Street, immediately as you round the corner from Central Park West.
NYSEC is a 142 year old humanist community dedicated to ethical relationships.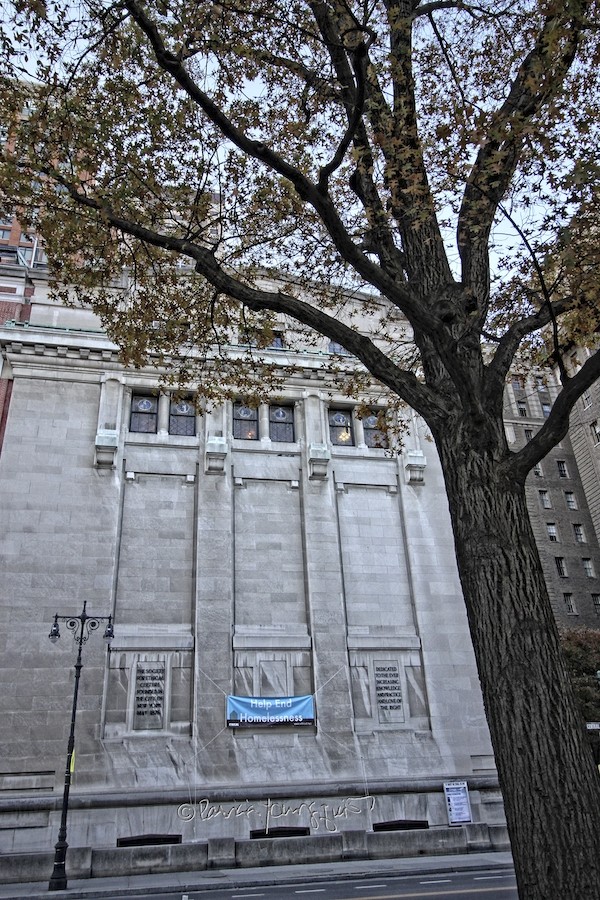 I am happy to say that I spoke at their Speaking of Science series last November when I discussed the topic of wild birds and what they teach us about finding our true voice as well as bullying.
In any event, heading directly north from NYSEC (just across the street from their 64th Street entrance) is Harperley Hall, an apartment building at 41 CPW with an entrance on the North side of West 64th Street.
Henry W. Wilkinson designed this twelve story building in 1907.
It consists of approximately 85 units and is noted for its beautiful central courtyard that features a manned gate.
Harperley Hall is perhaps best known for being the setting of Madonna's long-lasting legal feud, which she eventually lost.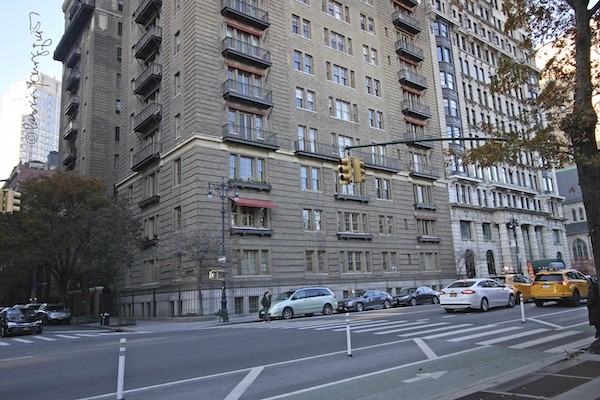 Directly to the north of Harperley Hall is where The Prasada is located. The Prasada was built between 1905 and 1907. Initially, the building contained only three apartments per floor, an eight-room apartment at the rear and two ten-room apartments spanning the front facing Central Park.
Today, those residing there and who have windows facing north have a view of The Evangelical Lutheran Church of the Holy Trinity.
The cornerstone of the church was laid on November 9, 1902, and was dedicated on May 10, 1904. The structure along with its sanctuary furniture and ornamentation have been designed by William Schickel.
The Evangelical Lutheran Church of the Holy Trinity's gothic revival style is derived from southern Germany and France.
The next building in the Central Park West Historic District is 55 Central Park West, a nineteen floor co-op built in 1929 and designed by the architectural firm Schwartz & Gross. This building holds significance in American popular culture because the plot of the 1984 film Ghostbusters revolves around it. Although the building does not have an official name, it is referred to as The Ghostbusters Building or the Shandor Building, the fictional name it is given in the film.
75 Central Park West is the next building mentioned in the Historic District heading north from its starting point at 61st Street. This fifteen story apartment building is known as The Chatham Court, and was designed in 1929 by Rosario Candela for Fred T. Ley & Company.
Directly north of this building is The Second Church of Christ Scientist.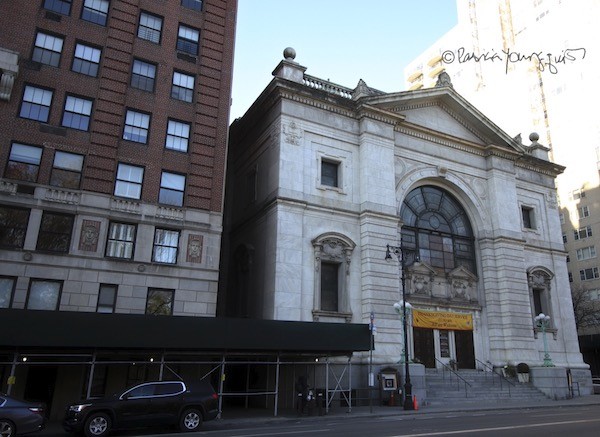 88 CPW (also known as The Brentmore) is next in the line up. It was designed in 1910 by Schwartz and Gross. I'm told that Paul Simon lives there but I've never seen him during any of my visits (I knew the sister of a famous American playwright who died in 2005).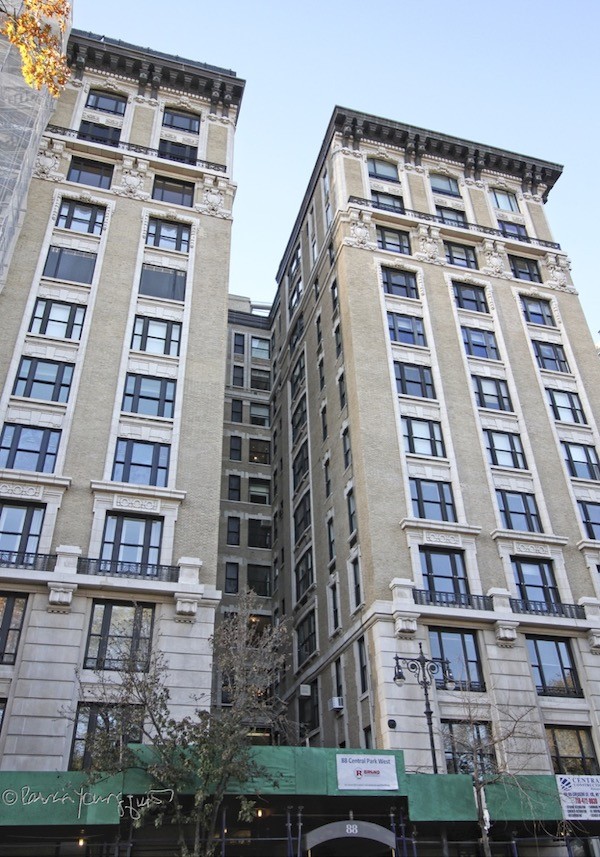 Next we have 91 CPW, a fifteen story, limestone-clad building put up in 1929.
I have been in this building countless times to visit various people, all of whom exercised their bragging rights that because of their Central park views, they could have breakfast in bed while watching the Macy's Thanksgiving Day Parade make its way down Central Park West.
91 Central Park West was in the news in 2014 because Giorgio Armani, who owned a penthouse there, purchased the rest of the floor so he could have a full-floor penthouse. The penthouse floor was once owned by William Randolph Hearst.
Congregation Shearith Israel stands directly to the north of 91 CPW. Congregation Shearith Israel – often called The Spanish and Portuguese Synagogue – is the oldest Jewish congregation in the United States. It was established in 1654 in New Amsterdam by Jews who arrived from Dutch Brazil.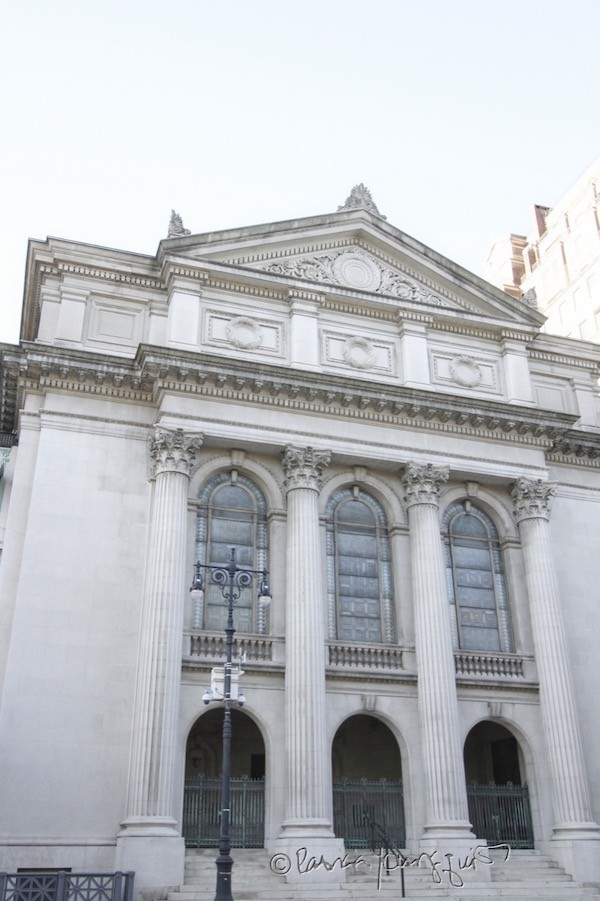 Directly north across West 70th Street, 101 Central Park West stands. The building's main entrance is on CPW, between 70th and 71st Streets.
The windows on the building's north side are often peered into by a number of character balloons as they "march" along the CPW portion of the Macy's Thanksgiving Parade's route
This is evidenced by photos taken in bygone years of "participants" who will not be here this year.
Famous residents I've met in this building include actress Marge Redmond and her ex-husband actor Jack Weston, hat designer John P. John, and the late news anchor Peter Jennings.
Just an aside: I met Redmond, Weston and Mr. John while as the song goes, "working as a waitress in a coffee shop;" however, I met Mr. Jennings by chance while walking up CPW one evening after a difficult day at Hunter College, where I was a teacher at the time.
Here's what happened: I was walking up CPW, carrying a very heavy bag of papers to grade among other items. I set the bag on a curb with a huge sigh when out of the blue, a tall man swooped it off the ground and offered to carry it for me. As we headed up CPW, making small talk, he said, "I hope you aren't bringing your work home with you…"

Advertisement
I was about to tell him about my woes at work and in life, but decided to be more carefree and asked him where he worked.
"World News Tonight," he answered. Upon hearing this, I told him that an ex-boyfriend of mine worked at that show and wondered aloud if he happened to know him.

The man then pointed to 101 CPW and said I live there, but I'll carry the bag to your building for you. Upon arriving where I live, he set the bag down, bent down to get very close to my face and asked, "Should I say hello to your ex for you?"
Then he turned on his heel and disappeared. Only then did I realize I had been talking to Peter Jennings. I was certainly in my own world news that night!
But on to the next building of the Historic District's listing for CPW: 115 (also known as The Majestic).
Like the building where Jennings's had lived (101 CPW), this building has three entrances, the main one being on CPW.
In 2018, there was a fire in an apartment that faces the 72nd Street entrance, but thankfully no was hurt and the damage to the building was minimal.
The building's windows offer residents opportunities to "spy" and wave to a number of character balloons in the Macy's Thanksgiving parade as they "march" along the CPW portion of Macy's Parade route.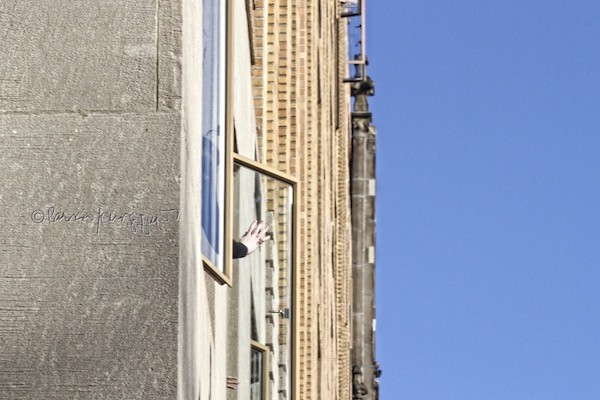 Just north of The Majestic is The Dakota; which is followed by The Langham at 73rd and CPW (more on that after I tell you a little about The Dakota).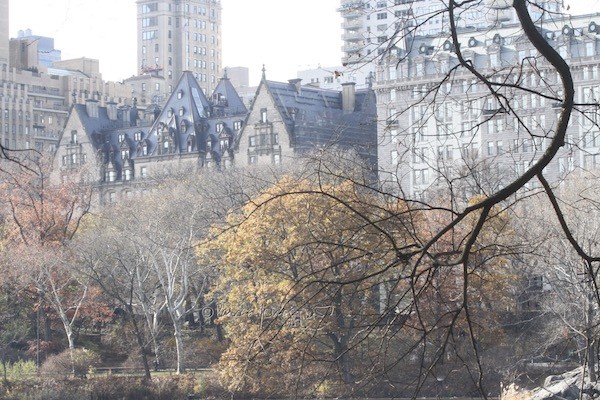 The Dakota's entrance is on 72nd Street, where tragically, John Lennon was assassinated on December 8th, 1980.
Evidently, the building has no fire escapes as architect Henry J. Hardenbergh purposely avoided them. He instead slathered mud from Central Park between the layers of brick flooring to fireproof and soundproof the building.
One block north of The Dakota is The Langham at 73rd and CPW. The Langham was built in 1906 by Boehm and Coon and designed by architects Charles W. Clinton & William Hamilton Russell (known for many other residential apartment buildings including the Apthorp at 2207 Broadway).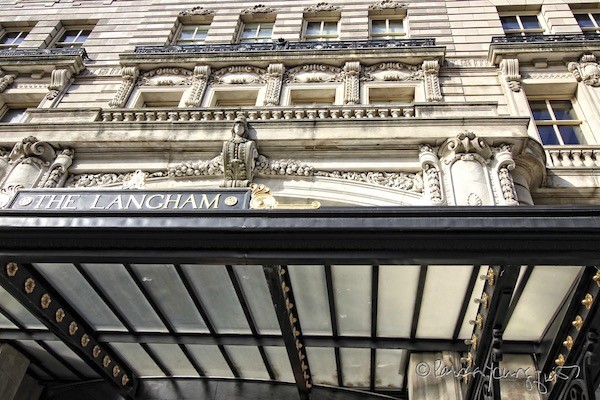 Next up is The San Remo, currently under partial scaffolding. This building was constructed in 1930 and holds the distinction of being the first twin-towered building to rise in New York City.
It was designed by Emery Roth and named for a hotel that previously occupied the same spot. The San Remo converted into a cooperative in 1972. It is twenty-seven stories high, including the ten-story towers. The San Remo street address is 145-146 CPW which is between 74th and 75th Streets.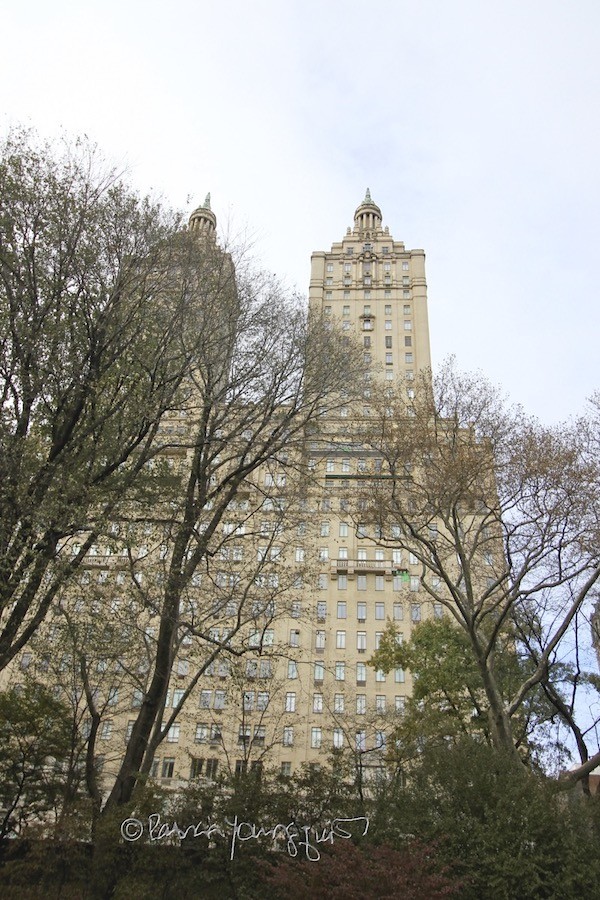 It's worth noting that across the street from The San Remo, on Central Park's side is, a memorial of sorts placed at a street light. The memorial is a plaque dedicated to the memory of Henry Hale Bliss who was the first person killed in a motor vehicle collision in America.
Evidently, On September 13th, 1899, Henry Hale Bliss was disembarking from a streetcar at West 74th Street and Central Park West when an electric-powered taxicab struck him, crushing his head and chest. He died from his injuries the next morning.

Advertisement
Arthur Smith, the driver of the taxicab, was arrested and charged with manslaughter but was acquitted on the grounds that he had no malice, nor was he negligent. The passenger, David Edson, was the son of former New York City mayor Franklin Edson.
Directly north of The San Remo is The Kenilworth at 151 Central Park West. This building was designed by Townsend, Steinle and Haskell in the French Second Empire-style. It was built in 1908 and is a twelve story building with only three apartments per floor, offering views of Central Park.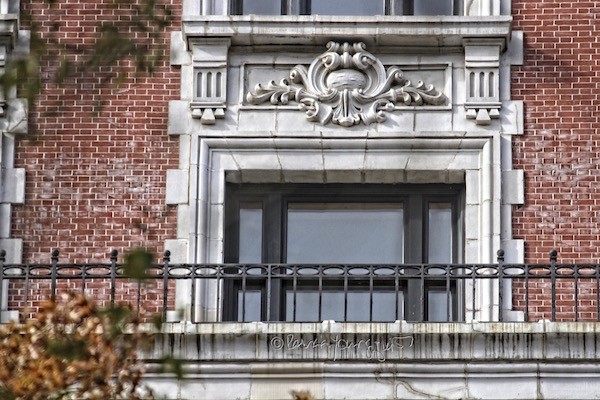 The next building on this first stretch of Central Park's Historic District is Fourth Universalist Society in the City of New York at 160 Central Park West. Its main entrance is around the corner at 4 West 76th Street.
And the last building I'll be discussing in this article is The New York Historical Society, which takes up the block from the north side of 76th Street to the south side of 77th Street, also known as Richard Gilder Way.
The NY Historical Society has entrances on CPW as well as on 77th Street. On the steps of their CPW entrance stands a statue of Abraham Lincoln.
A few yards from this statue is a five-pointed terrazzo and brass star embedded on the sidewalk. This marks the point where the annual Macy's Thanksgiving Parade begins.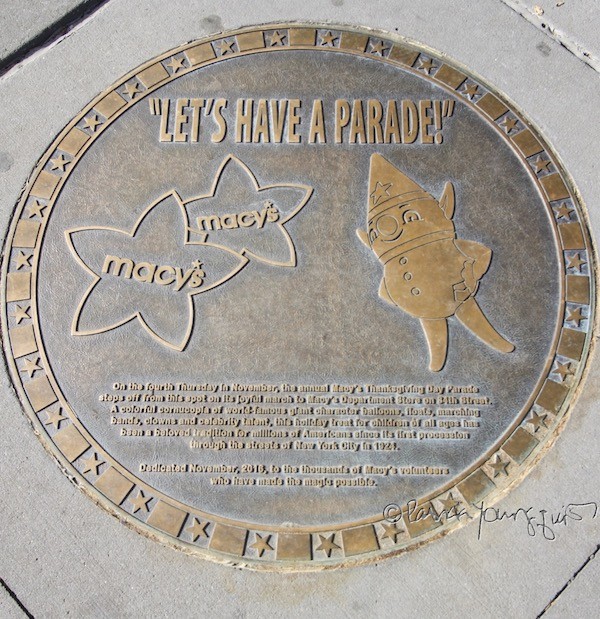 This is a pertinent way to conclude this article describing first stretch Central Park West's Historic District, because all the buildings mentioned here have views of The Macy's Parade when it marches down Central Park West, beginning at the southwest corner of 77th Street making its way all along CPW, before turning at 15 Central Park West (which is the building I started with) to head further south. This year it will do so by turning east onto Central Park South instead of heading down Broadway.