With the pandemic keeping children at home, it's more important than ever to find constructive outlets for their energy. Music is a wonderful way to keep stress levels down while occupying endless hours of home time. Studies show that students who learn to play music do better in other academic subjects as well. The Smith School of Music, located at 131 West 86th Street, offers lessons in guitar (classical and rock), piano, bass, drums, flute and voice – and their program is a wonderful solution for parents seeking a well-rounded lifestyle for their children.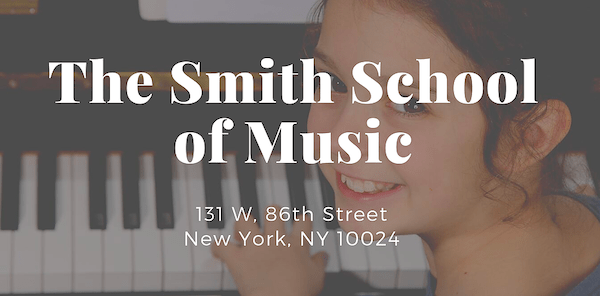 All lessons are currently virtual. While the faculty looks forward to having students back at the school in person, they have had great success managing classes online. The earlier you enroll your child in music lessons, the sooner they will realize their full potential and become successful at the craft. Music is also a lifelong tool that a student can enjoy at any age. While The Smith School of Music takes on students of all ages, they gear mostly towards 7 to 18 years old.
Students from all over the city come to learn at The Smith School of Music. The music school is in the same building as The Smith School, but operates independently and accepts students who are not affiliated with the school. This creates a wonderfully diverse program, which Director Damien Kelly is proud of.
"I came from another country, so I know what it's like to be new somewhere and work hard to find my footing. This is what I want to instill in our students. I am always proud of them for coming into our school to try something new. Our faculty will provide a nurturing and instructional environment to bring out each students unique potential," says Damien.
Damien, whose music is frequently played on national radio stations, has performed worldwide and has won national competitions in Ireland, including at the Senior Guitar and Contemporary Music Centre at the Feis Ceoil.
Damien has also teamed up with his wife, Jessica Kelly, an accomplished flutist. She recently toured with Love Never Dies – Andrew Lloyd Webber's sequel to Phantom of the Opera! Together they have brought together a world-class faculty for the benefit of their students.
Irish vocalist and jazz pianist Anthony Marsden has quickly become known for reimagining classics in a completely original and never-before-heard format. His eclectic style incorporates influences from artists such as Donny Hathaway, Amy Winehouse and Ray Charles, but his music is still firmly rooted in the jazz tradition. Through Anthony's lessons, your child will be able to find and refine his or her own creative voice and style!
Learning to play the piano is said to one of the best building blocks for musicians. Jenny Xu is the teacher parents would dream for their children to learn from. A musical scholarship is often the ambition for serious music students, and Jenny can pave the way for that type of success because she was the recipient of a full-scholarship to Berklee College of Music, among other academic accolades. Jenny has been teaching music to students since the age of 13, even teaching students as young as four years old.
Excellence and mastery are required for all faculty members at The Smith School of Music, and classical guitarist Andrew Mines is an example of both. He's performed guitar with internationally acclaimed and Grammy winning artists, has won multiple awards, and has earned his Masters of Music from the Upper West Side's own Manhattan School of Music.
The philosophy of The Smith School of Music is based on catering to each student's learning style. They recognize that everyone learns at a different pace, so each lesson is individualized. They also believe that it's important for students to have fun, and instill a love for learning to play.
"While lessons are challenging, they are also flexible. We want to instill a sense of self-discipline, which is the backbone of improvement and success, but we find that is best accomplished when mixed with enjoyment," says Damien.
Despite the challenge of virtual learning, The Smith School is well equipment with excellent communication and flexibility to accommodate each family's wishes.
The Smith School is offering free trial sessions for the first 20 people who contact them and mention this article!
See some of their students performing here.
To find out more about the program, please visit www.smithschool.org/music.