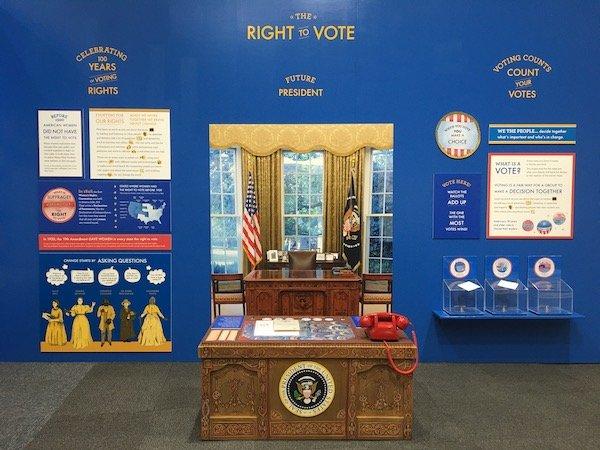 To commemorate the centennial of women's suffrage, and the upcoming presidential election, a new installation at the Children's Museum of Manhattan explores what voting is and why it matters, how people effect change by working together, and the role of the president of the United States.
Underlying the installation messaging is the importance of thoughtful decision- making and open-minded listening, reiterating that voting and community movements are ways we work together for the greater good.
[adrotate group="3″]
The installation is broken into three components:
Area 1 – Your Vote Counts: Visitors "vote" for one of three options by placing a ballot in one of three voting cases. Topics change, and examples include: clean water for all, more parks and pools, free food at schools.
Area 2 – If I Were President: Children pretend play in the Oval Office, taking calls, making decisions, and signing important documents.
Area 3- Moving Forward Together- Suffragists: Visitors explore a wall-mounted finger maze to see which suffragist they are most like, and learn more about the suffrage movement.
Area 4- Share your voice! Visitors can create their own posters, sashes, ballots, and more! By exploring methods used by women to attain the right to vote over a century ago, we see that these same skills and tactics are still relevant today when we want to make our voices heard. Art materials and CMOM educators are available to engage visitors.
"Right To Vote" opened on Wednesday, October 28 on the first floor of the recently reopened museum, located at 212 West 83rd Street (between Broadway and Amsterdam). The exhibit will last for three months and is appropriate for children 2 years old and up. Learn more at cmom.org.
Get the Upper West Side newsletter: