The Children's Museum of Manhattan (CMOM) has a wonderful new contemporary art exhibit called "Inside Art" – where kids can touch, play, and learn about a variety of topics. Walking into the bright 3,000-square-foot-space the first thing that caught my daughter Halle's eye was a large installation that looked like a tree stump.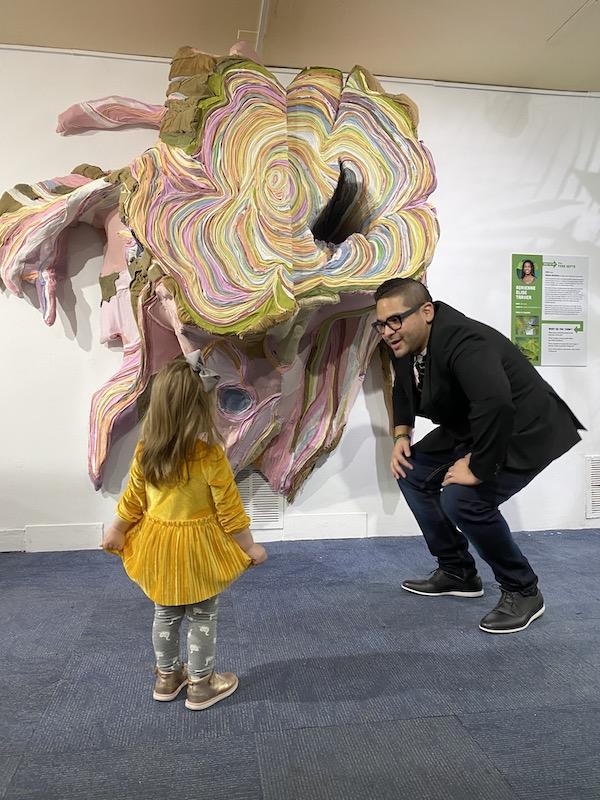 Upon closer inspection, the entire work was made of fabric. David Rios, CMOM's Director of Public Programs and the exhibit's curator, explained that the installation was made from recycled clothing. The artist, Tamara Kostianovsky, was inspired by her father, who loved gardening. When you look inside the tree trunk there is a little surprise! There is a video of a real tree, so that kids are inspired to understand the start of the recycling process.
An inviting wicker tunnel catches Halle's eye. She looked around at the colorful tunnel and decided to crawl right in to check it out. Julie Ann Nagle created a human sized groundhog tunnel with all kinds of comfortable places to hang out inside. Rios explained that in order to make these tunnels, she used a scanner to get 3D renderings of real tunnels. She then crafted everything out of biodegradable materials.
[adrotate banner="87″]
One interesting find during Julie's research was that there were all kinds of bacteria and other little creatures that were helping to keep the borough clean and healthy. Those are represented by the smaller pillows found throughout the installation.
Next up, Halle was enchanted by a colorful world created by Joiri Minaya.
This installation was built to represent different cultures and experiences. Also to address stereotypes associated with the Caribbean.
"A labyrinth is the idea. The goal is make your way through, but also to create your own path, represented by the soft and flexible walls," said David.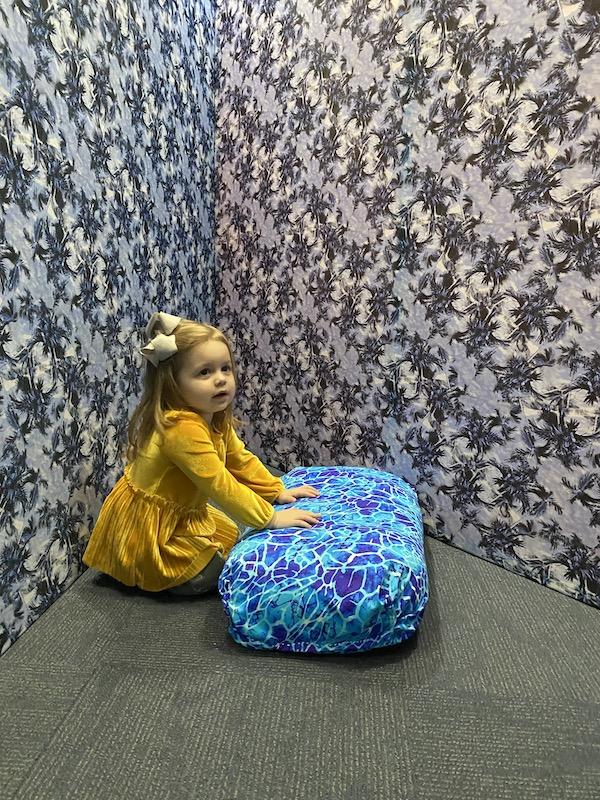 Once Halle finally decided to come out of the maze, she took on another challenge. A massive tabletop puzzle created by Damien Davis. Emily Munro, CMOM's Communications Specialist and Grants Associate, said that it took museum staff quite a bit of time to figure out how to set up the puzzle. While the puzzle is challenging, Halle had a great time touching all the different shapes and putting them together.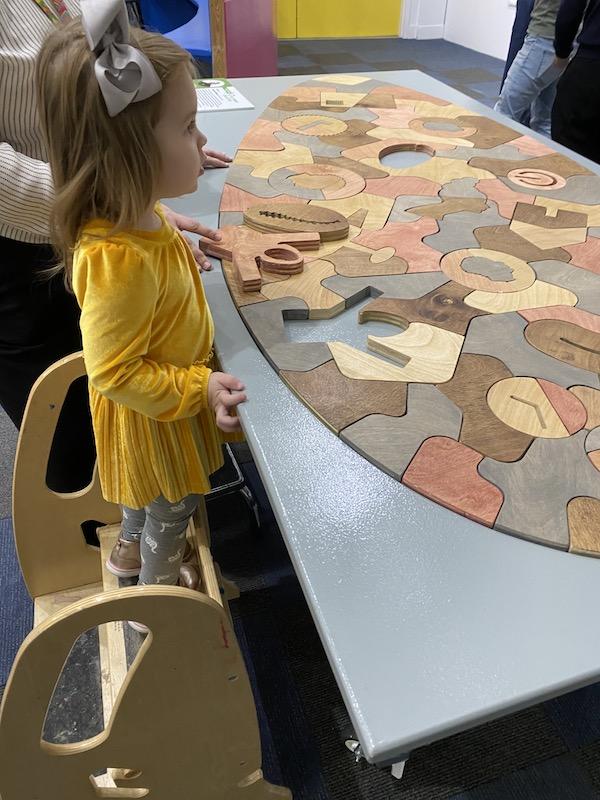 Advertisement
"We've got Dolly Parton, we've got Rosa Parks, we've got Gilda Radner!" Emily took Halle over to the portrait wall of famous American women throughout history.  Leah Tinari's 30 portraits inspire viewers to remember the impact made by extraordinary women throughout the centuries. Halle loved them all, but was particularly taken by Dolly.
There is a lot more to see, and fun to be had. The artists are scheduled to visit the museum for explanations and programing. There are also opportunities for kids to make their own art in the studio. For more information please visit the official exhibit page here.