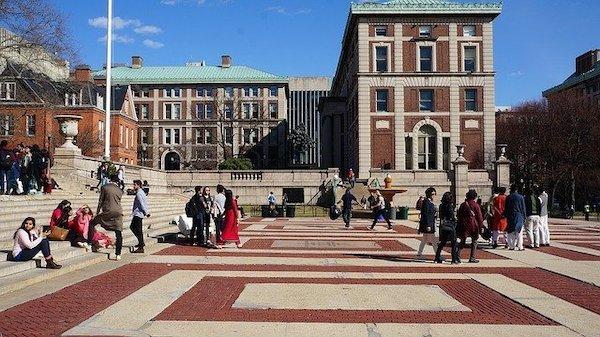 An online petition is gaining momentum with over 1,800 Columbia University students currently signed on, demanding reduced tuition due to "exorbitant fees" and "financial hardship" during the pandemic's economic depression.

Students want to see a 10% decrease in tuition with a 10% increase in financial aid, and none of it should come "at the expense of instructor or worker pay, but rather at the expense of bloated administrative salaries, expansion projects, and other expenses that don't benefit students and workers," the petition cites.

Advertisement
Columbia University froze undergraduate tuition at $58,920 for the 2020-2021 semester, but students
say that isn't enough
– the petition noting how fellow Ivy League institution, Princeton University, has already
reduced its tuition by 10%
for next year.
Speaking with one of the campaign organizers, senior student Willem Morris, on the growth and increased media coverage on their "Tuition Strike: Spring 2021," Morris told ILoveTheUpperWestSide that they "started seriously pushing the campaign about 6 weeks ago," and from the initial support and media coverage, he's confident support will continue to increase.
Over 1,000 Columbia students have joined the tuition strike and our numbers are growing rapidly. Join us in the fight for a democratic vision of the university where students, workers, & the Harlem community are valued above profits. #CUtuitionstrike https://t.co/ImpIt3mooc pic.twitter.com/rMfuIFsvMW

— Columbia-Barnard YDSA (@columbiaydsa) November 30, 2020
Morris and fellow organizers sent a Tuition Strike Demands Letter to trustees and administrators of Columbia University, as well as their affiliate and post graduate schools, Barnard College and Teachers College.
The letter states that "Should the University continue to remain silent in the face of the pressing demands detailed below, we and a thousand of fellow students are prepared to withhold tuition payments for the Spring semester and not to donate to the University at any point in the future."
Get The Upper West Side Newsletter!
In addition to reducing tuition costs and increasing financial aid, the demands of the Columbia University students include:
Ending expansion in West Harlem and providing jobs, education and affordable housing to the people who live there.
Defunding public safety and investing in "community safety solutions that prioritize the safety of Black students and West Harlem residents, and repair harm caused by prior racist practices of Public Safety."
Achieving transparency about university investments and giving the student body a say in where this money is sent. "This includes respecting the referendums at Barnard and Columbia College to divest from companies involved in human rights violations, divesting fully from fossil fuels, and respecting the results of future referendums relating to investment decisions"
Working to meet the demands of campus unions for "improved compensation, benefits, and protections. This includes guaranteeing protections to international students and granting union recognition for MA and undergrad student-workers."
Advertisement
When asked what would make this campaign a success, Morris referenced two other tuition strikes, one at the
University of Michigan in 1973
as well as a strike involving
200 students at the University of Chicago
this spring.
Referring to the more recent strike, he said that "They were able to win considerable concessions with just 200 students. We are already at 1,700 students [1,800 as of writing] and we're very confident that within the coming weeks we will be able to get thousands more supporters. We are confident that we have the power to win every one of our demands but success for this movement includes much more than winning these demands at Columbia. We want this movement to be an example of how students can take their energy and channel it in a way that gives [them] power to make their universities more reflective of their students more democratic values. We hope that students at other schools can look to Columbia like we looked to the movements at Chicago and Michigan and see this tuition strike as being successful and start to take power into their own hands at other schools."
A collection of student testimonials have also been assembled by petition organizers. These include a quote from Columbia student Humberto Romero-Gonzales, who says that "As a low income student it is impossible to meet academic expectations while working and studying full time. Despite, the high cost of Columbia tuition, the lock of monetary resources to pay tuition put mental and emotional weight on my shoulders. After all, while the school is closed, I am unable to use all the resources available at school. To me it is socially unequal to expect us to pay such high fees without almost no financial Aid assistance but can't use on campus resources. It is simply unethical."

Advertisement
In response to the tuition strike, a University Spokesperson told us that "Throughout this difficult year, Columbia has remained focused on preserving the health and safety of our community, fulfilling our commitment to anti-racism, providing the education sought by our students, and continuing the scientific and other research needed to overcome society's serious challenges."
The representative continued to state that "… undergraduate tuition this year was frozen in response to the pandemic. In addition, students enrolled in fall and spring terms may enroll in summer term coursework at Columbia for tuition-free credits at no additional cost. Academic departments and programs have adjusted their curricular offerings across these three terms to allow students greater flexibility in fulfilling their requirements and making progress to their degrees."
We were also told that "50% of Columbia students receive grants from Columbia and the average amount awarded is $52,073," and the school's website (under "Special Covid-related Support) states that "When calculating financial aid awards for students living off-campus, Columbia College will take into account an off-campus living allowance of $4,000 per semester to help with living and technology expenses related to remote learning." More information about Columbia University's financial aid program can be found here.