Ladies (and gents!) who love spa services with expert skill — look no further than BodyBrite on the Upper West Side! Located at 42 West 72nd Street, here lies an oasis of luxurious & affordable treatments which always come with a full consultation by a licensed aesthetician. Read more about them and check out their limited time offer at the bottom of this article ! 
BodyBrite stands out from the competition with their attentive customer service, keen knowledge and fabulous prices.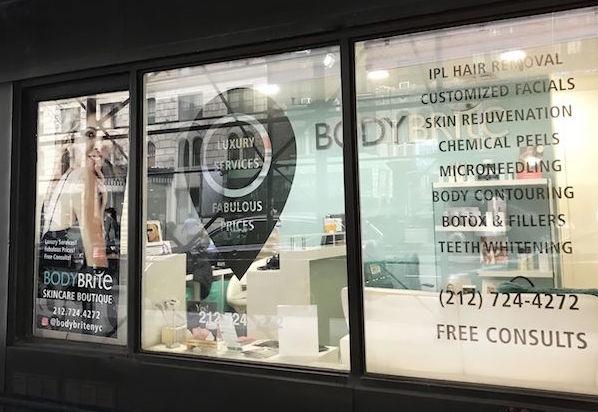 BodyBrite Offers:
IPL Laser Hair Removal (their signature service)
Skin Rejuvenation
Body Contouring
Skin Tightening
Teeth Whitening
Skin Care
Facials (Microdermabrasion, IPL Skin Rejuvenation, SkinCeuticals® , Chemical peels, Organicspa®, Microneedling – Collagen Induction Therapy, Oxygen Treatments)
Reviews From Happy Customers:
"I've been going to BodyBrite since they opened and am so happy to have found a wonderful and affordable place for facials and skin care! I have been thrilled with the hair removal, microdermabrasion and oxygen facials and cannot say enough about their FABULOUS staff." – Nichole, Local Google Guide
"I have had laser hair removal before and BodyBrite by far has the best lasers in area. I went in for a patch test and came back to have a full service done on my arms. The esthetician was friendly and the treatment itself was painless and quick. I look forward to seeing permanent results." – Susan S., Google
For a Limited Time, BodyBrite is Offering Our Readers a Free Facial!
And when you go, be sure to ask them about their additional Intro Offers on IPL Hair Removal, Skin Rejuvenation + Microneedling !
Claim Your Complimentary Facial Here
Head on down to BodyBrite and leave feeling empowered, rejuvenated and ready to shine "Brite!"