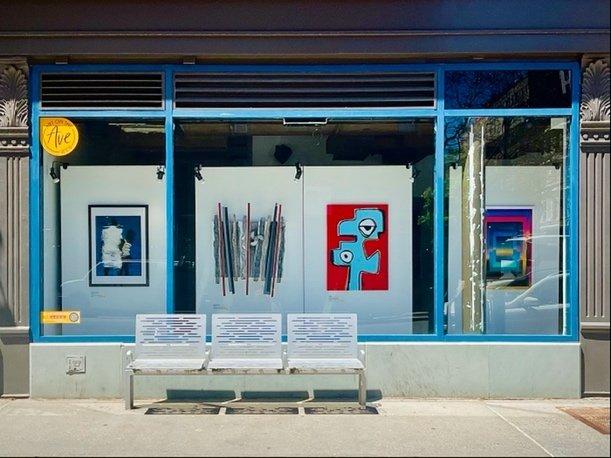 The Columbus Avenue BID has launched the "Creating Tomorrow" exhibition in partnership with Art on the Ave NYC, a New York City-based arts nonprofit. Now in its second year, the program features local artists' work that transform Columbus storefronts into an interactive walking art gallery. The artwork will be on display along Columbus Ave between 68th and 84th streets until June 30.

Work by 21 artists chosen through a public application process is being featured. The works span mediums from photography to oil and watercolor paintings that align with the theme weaved throughout the walking gallery. Participating artists in this year's exhibit include Bryan Byczek, Cathleen Luo, Chao Wang, CLoD, Daisy Undercuffler, Elizabeth McAlpin, Gabriele Roos, Jean Rho, Katie Godowski, Kevin Byrd, King Yan "Fina" Yeung, Laziza Rakhimova, Leslie Jean-Bart, YEN MT, Noel Copeland, Riad Miah, Sage Gallon, Taeesha Muhammad, Terry Frishman, Tina Scepanovic, and Xian Eley.
"Every time we put out a call for artists, we're flooded with creativity — the proposals for this exhibition and their takes on the concept of "Creating Tomorrow" resulted in compelling work," points out Barbara Anderson, Co-Founder and Executive Director of Art on the Ave NYC. "The Upper West Side is an area that combines a vibrant, urban culture with an active, outdoor lifestyle. An art exhibition that can be enjoyed from the sidewalk is a great addition."
All pieces of art will be available for purchase with 100 percent of proceeds going directly to the artist. The program highlighting these local artists was made possible with the support of local property owners.
Added Paynter, "We are honored to collaborate with Art on the Ave NYC and the incredible local talents that have provided their artwork to be showcased along Columbus Avenue. Our area is home to a wide variety of businesses along with schools, museums, restaurants, and residents. We are excited to provide the area with a program that livens the streetscape while presenting ideas about sustainability and the future of our society."
Art on the Ave NYC has launched installations across four districts since November 2020 – Upper West Side, West Village, Downtown, and East Midtown. Throughout those exhibitions, over 100 artists have been showcased and 50 percent of the vacant storefronts that participated were rented within six months of Art on the Ave NYC's activations.