Children's dance and music studio Dance with Miss Rachel opened its Upper West Side studio at 529 Columbus Avenue at 86th Street in February—just six weeks before COVID hit and in-studio classes were suddenly not an option.
Overnight, like many small local businesses, the growing studio had to rethink its approach to children's programming. Classes quickly rolled out online as "DWMR at Home", and every offering was made available to all enrolled families live via Zoom and on-demand via YouTube to be as flexible as possible to families who found themselves scattered all over the country while working (and schooling) from home. Students had access to a growing library of classes of all styles—so kids (and siblings) who had enrolled in perhaps a single Ballet class could now try Tap, Broadway, or any other style whenever it was convenient.
"I realized I had to stop trying to just 'make it through this' and shift my thinking to how I could make this an opportunity—especially for our families," said owner and director Rachel Cantor, who launched her first location in Tribeca in 2012, growing to 700 students in two locations by 2020.
"The question became, 'If I were starting out in this virtual world, how would I translate my program?' I had to think, 'Now that we don't have those four walls, how do I sustain that closeness? What are these small things we can do to make the kids feel connected—like we are together?' That's as important as perfecting your arabesque."
New formats rolled out every week, from "Teacher Story Time" to "Sing-A-Long/Snack-A-Long", a live, interactive daily snack break paired with a musical theatre piano singalong, to themed virtual parties with costumes and props kids could make at home.
As summer hit, demand grew for in-person, outdoor classes—throughout NYC in parks and rooftops and in The Hamptons. So DWMR happily went wherever kids were ready to safely dance together.
On September 21, after dance studios got the green light to re-open following careful safety protocols, DWMR's UWS studio re-opened after 6 months to welcome a limited number of small and private classes of up to six students each, with staggered times to avoid crowding. Anyone two-years-old or older wears a mask, temperatures are checked upon arrival, and dancers are spaced six feet apart. "DWMR at Home" now broadcasts live virtual classes from Tribeca, while "DWMR To Go" offers outdoors classes in NYC and The Hamptons.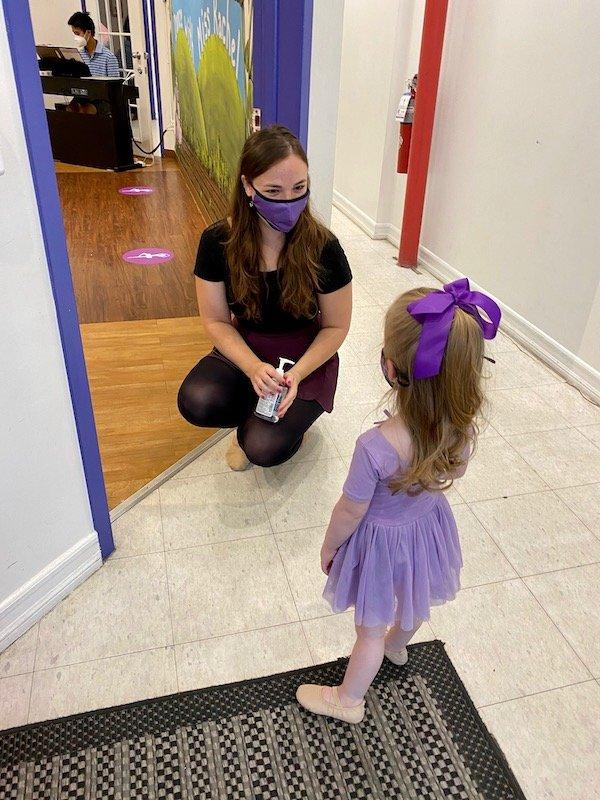 Fall Session 1 is now enrolling and runs through November 24, offering Ballet, Tap, and Musical Theatre for ages 18 months and up in-studio, virtually, outdoors, and in The Hamptons. Private Voice and Piano are also offered in NYC and online.
"Our expansion to the Upper West Side was always a dream of mine," said Cantor. "When COVID closed our doors, we weren't sure we'd be able to fully realize that dream. Now six months later, we are so thankful for the chance to dance safely together again with the UWS community who had given us such a warm welcome. This is only the beginning."
For schedules and information for all formats—in-studio, virtual, outdoor, and Hamptons—visit www.dancewithmissrachel.com/uws, email uws@dancewithmissrachel.com, or call (646) 470-4551.