Would you visit your dentist's office in your free time, just to say hello? I have never met anyone who would answer yes to that question until I found some of the best dentists on the Upper West Side … at Central Park West Dentistry. CPW Dentistry offices have such a positive vibe that any anxieties or inconveniences that you associate with going to the dentist will dissipate as soon as you speak to the staff. Being overdue for a cleaning, I made an appointment to visit the office. Based on the visit, I decided to write a recommendation in case anyone is looking for a new dentist on the Upper West Side.

Let's start with making the appointment.
CPW Dentistry has the most flexible hours of any medical office I have ever encountered. They are open early and late, and even on holidays. And the ease of making an appointment does not stop with extended hours: you can even text them to arrange your visit so there is no need to call an office and wait on hold. There is also online scheduling which means you can easily schedule next day emergency appointments in the middle of the night. When you make an appointment, you will be met with positivity. No judgment about your needs. I found this to be a common theme at this Upper West Side dental office. No lectures – just making sure you are taken care of.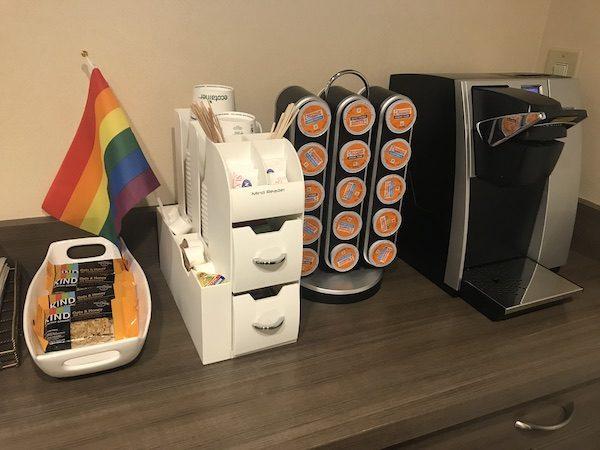 Speaking of being taken care of.
I felt great from the moment I arrived at the office. When you walk in, you have access to Wi-Fi, snacks, and coffee. The space is clean and welcoming. Mallorie was seated at the front desk and greeted me with a smile. My favorite part of the office is that the TV in the waiting room streams fun facts about their staff. It's nice to know a thing or two about the people who will be taking care of you!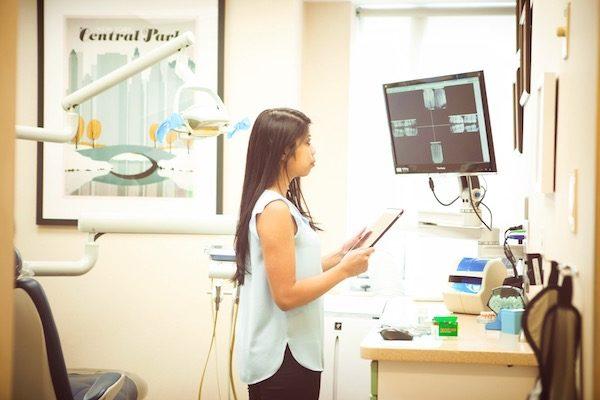 Lana is the most knowledgeable dental hygienist I've ever met.
She made sure I understood each step of the exam process.  I always knew where I stood in regards to the care I was receiving. She asked for my permission before starting to do any work and explained exactly what she would be doing. I asked Lana how she handles people who come to the office with anxiety. She said,
"We go at each person's individual pace. We do what the patient feels comfortable doing that day. Sometimes we give people earplugs, or have them listen to music they like. Blankets can also help. The goal is to feel relaxed."
She also explained to me that the practice not only has a full team of dentists, but if you need an oral surgeon, or other specialists, they have specialists who come to their UWS locations. This is a game changer. No more showing up to a new/strange office when you are already uncomfortable. All the care you need is coordinated under one roof.
When Lana completed the cleaning, I met with Dr. Piamonte.
We went over my records and x-rays, and he did a comprehensive exam, including the oral cancer screening. His personality fits well with the practice as he has a positive perspective on care. He explained to me that I could reverse some of the damage to my teeth with medicated toothpaste. This was quite a shock to me! I thought the damage was damage done, and I'd just have to deal with it. Nope! Dr. Piamonte is all about preventative care so that you don't have to do complicated procedures in the future.
A happy and dedicated team of Upper West Side dentists.
One of my favorite parts of the visit was hearing about how long each of the hygienists and dentists have been with the practice.  You could tell that people really enjoy working there, and this in turn makes for an enjoyable experience. Lana told me how "families will come in for an appointment, then they'll go to the park. We have a great relationship with the Upper West Side community and that is really special." I can confidently say that after meeting these great dentists on the Upper West Side, I am now someone who would go visit my dentist's office just to say hello!
CPW Dentistry participates in several dental insurance PPO plans and offers rewards programs and packages.
For a complimentary take home whitening at your first wellness visit, please mention seeing the article on iLovetheUpperWestSide.com!
25 West 68th Street, Suite # 1A
25 Central Park West, Suite # 1B
(212) 579-8885
office@cpwdentistry.com