The Upper West Side is a great place to be a dog. Big or small, all dogs are welcome at these UWS establishments. The next time you are going out to have a drink or a bite with friends, don't forget to bring your best friend with you!

Fred's Restaurant
476 Amsterdam Ave (83rd Street)
Fred's is named after an adorable black Labrador Retriever who was bred and trained by Guiding Eyes for the Blind. This family-oriented restaurant is covered with pictures of dogs and is a local favorite for brunch on the UWS. Sit outside and you can have your dog at the table with you rather than tied up on the sidewalk. Or bring your dog to the bar. Try Fred's mac and cheese!
Advertisement
Amity Hall Uptown
982 Amsterdam Ave (between 108th + 109th Streets)
Known for their crave worthy menu, this place is super dog friendly! When the weather is nice, dogs are welcome to come hang out on the patio. They are given doggy bowls when they show up to hang out. If you plan to come for bottomless brunch and stay for a while, your dog can enjoy their brand new patio furniture that will be out this Spring.  Prince can't wait to go back this Spring!
Amsterdam Ale House
340 Amsterdam Ave (76th Street)
Meeting friends for an evening brew? I'm sure it will brighten their day if you bring your dog along with you. Amsterdam's Ale House has plenty of outdoor seating, even in colder months, so you can bring your dog with you. Beer lovers from all over the cit, and world come here for their extensive selection of 30 draft beers and ciders, and 40 bottles and cans to choose from! The burgers here are also well known, especially by Prince, who always gets a few bites!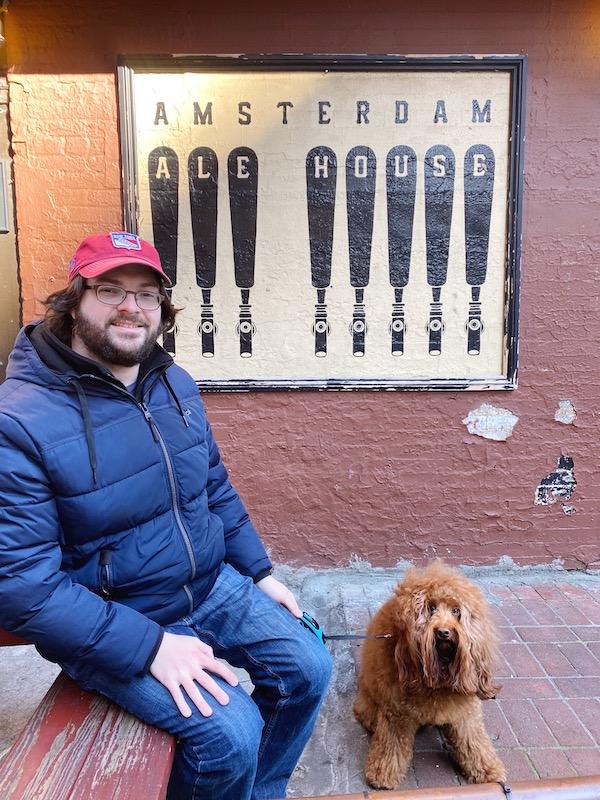 Arthouse Hotel New York City
2178 Broadway (77th Street)
The lobby of this trendy hotel is the place to be for any fun loving Upper West Sider who wants to sip some whiskey and hang with their pooch. From the lounge area to the libraries, your dog will enjoy the cozy vibe right by your side because they are allowed to get comfy with you right on the couch. During the winter months, it's a great place to have your dog socialize as well. We have had a few meet ups with Prince and his friends during the holidays in this hotel, and everyone always has a great time.
Shake Shack
366 Columbus Ave (77th Street)
You may have seen that this location is currently closed, but don't worry – they will be back soon with a renovated interior! One thing that needs no improvement is the dog menu at Shake Shack! You can choose from the poochi-ini (vanilla custard, peanut butter, and dog biscuits) or the bag of bones, both of which your dog will love. Prince favors the poochi-ini. There is plenty of seating near Shake Shack, including the park benches that line the block near the American Museum of Natural History. It's a great space to sit and people watch, but chances are if you're with your dog and he or she is eating a pooch-ini, people will be watching you.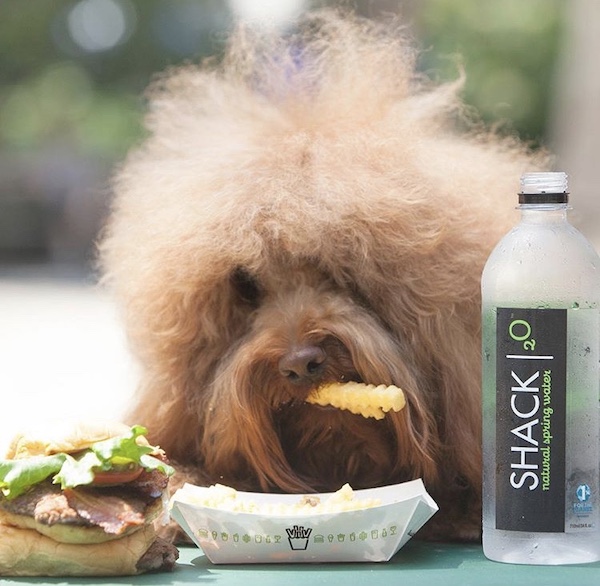 shakeshack.com/location/upper-west-side/
Advertisement
Starbucks
Technically dogs are not allowed inside, but I've seen plenty of the locations on the UWS look the other way because the employees treat them as part of the neighborhood. It's only fair that when you pick up your morning coffee, you grab a Puppuccino for your dog! Don't worry, it's just a little cup of whipped cream and it won't make your dog super hyper. Prince is a regular over at the 71st and Broadway location. He'd love to see you at his coffee spot!
Giacomo Fine Foods
269 West 72nd Street (between West End + Broadway)
This quaint UWS spot is known by locals as a great place to pick up your staples, and enjoy a bite to go with your pup! Giacomo's has a bench right in front of their shop, which they love seeing used by neighborhood dogs. Almost every time I go by there, someone is sitting outside enjoying a bite with their dog. If you are looking for a fresh baguette, some veggies sides, or deli meat, check this place out with your pup.
Pier i Café
Riverside Park South at 70th
Looking for a beautiful place to enjoy the sunsets? Look no further than Pier I Café, an outdoor venue with incredible views over the Hudson and plenty of room for your pup! This is a perfect place to come relax after work or into the evening with a good selection of food and drinks. Prince can be seen here almost every night during the summer.
Ellington in the Park
West 105th Street in Riverside Park
Conveniently located right by the 105th Street dog run, this two-level outdoor bar and restaurant is a great place for humans and dogs alike. The upstairs level features waiter service, with a full bar and live music on the lower level.
facebook.com/ellingtoninthepark
Advertisement
Bob's Your Uncle
929 Columbus Ave (between 105th and 106th Streets)
This charming, quirky bar has long been known for its canine customer base. Bob's is equipped with fun games, a whole bunch of Moscow Mule variations, boozy hot chocolate and jello shots, and a wall of famous Bob's (Bob Marley, Bob Barker, etc).
Here's Prince at the bar after a very ruff day.
A lot of Upper West Side restaurants with outdoor seating will let you bring your dog. Many stores also allow your pets to come inside as long as they're leashed. Some even put out water bowls and treats.
If you have more information about any other dog friendly places, please let us know! Prince would love to check them out!